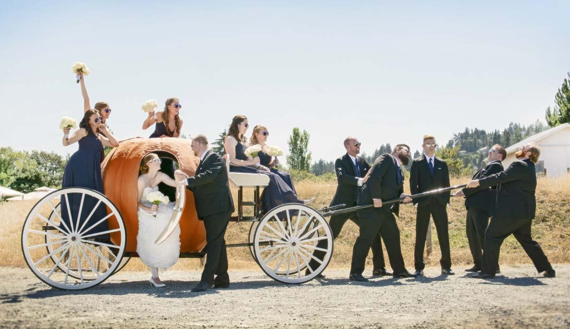 With wedding season starting up, frantic brides everywhere are making first, second and final payments for their big day. I myself have become one of them. The past few months have been draining on my resources but I refuse to become broke from this one (fabulous) event. So I've made some (what I believe are) smart decisions for the wedding to reduce cost without having to give up on the things that I truly care about. So if you don't want to go broke from your wedding, here are some tips to try.
Buy a used wedding gown. There is absolutely nothing wrong with a preloved dress. You can find consignment stores in your city of choose an online site like preownedweddingdresses.com or stillwhite.ca that carry hundreds of used dresses. If you start looking for a dress early, there are plenty of alternatives to buying a dress at full retail.
Let your bridesmaids wear what they want, just choose the colour. The matching dresses can be very nice, but for those on a budget let your girls choose the dress they feel the most comfortable in. This can also save them money, because (if you choose a simple colour) they will be sure to wear it again. Having a variety of styles and materials in the same colour can make for interesting photographs and adds personality to your wedding party. I actually prefer the variety in photos and decided to do this with my girls.
Skip the tacky favours. Let's be realistic, no one needs those personalized nick-nacks. They end up either in the trash or in someone's basement. Instead of spending the time and money sourcing these, choose something edible or even have a sweet table. No need to have a take-away AND a sweet table. Provide take-out containers and let your guests fill to their hearts content.
Choose a buffet style meal. This is a nice alternative to a 3 course meal because guests can choose what and how much they want to eat. This also reduces waiting staff costs which can be hefty if you have a large wedding.
Forgo the videographer. Sorry to all of the amazingly talented videographers. I'm sure they do an amazing job but let's face it, how often do you think you will watch the wedding video? Sure it's great to have to show the grandchildren someday but does the cost outweigh the value? I suggest taking the money you want to spend on a videographer and put it towards your photographer budget. Photos will always be displayed in your house and in albums. Plus, photos are a much better thank you gift.
There are many other ways not to go broke when planning your wedding but these four tips are a good place to start. Let's strive to have nice weddings but even better marriages.
Share your wedding saving tips in the comments below.
Follow HuffPost Canada Blogs on Facebook