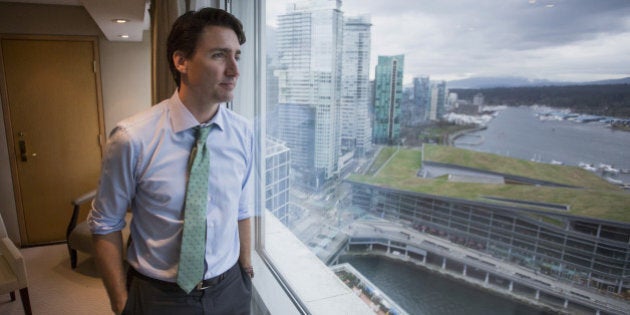 The Trudeau government announced a new ministerial panel with a mandate to review Kinder Morgan's proposal to build a new, export-only crude oil pipeline from Alberta to Burnaby. Wait -- a new panel? But what about the National Energy Board? Isn't the NEB panel set to give the thumbs up to Kinder Morgan this Friday?
Don't worry, there's nothing much going on here. Just a mini-sham consultation process designed to give the Liberal government political cover as it decides how to best sell this pipeline to the public. To see through this smokescreen, the important thing to remember is that cabinet will still be making the final decision on whether the project goes ahead.
Kinder Morgan's project would see one super tanker per day passing though Vancouver Harbour and a pipeline as big as the Skytrain.
Just in case you missed it, Texas-based Kinder Morgan wants to build a new pipeline through B.C. to export nearly one million barrels of diluted bitumen per day to China and other countries. This isn't the Northern Gateway pipeline proposed by Enbridge, but a different proposal along a different route right through the Lower Mainland.
If built, Kinder Morgan's project would see one super tanker per day passing though Vancouver Harbour and a pipeline as big as the Skytrain running through densely packed residential neigbourhoods and the traditional territories of dozens of First Nations.
The National Energy Board will table its official review of the new pipeline this Friday. After being gutted by Stephen Harper, Justin Trudeau promised during the election that the Liberals would overhaul the NEB review process. But since then, it's been nothing but business as usual from the new Liberal government. In fact, the NEB is still using Harper's unfair rules and Harper's hand-picked appointees.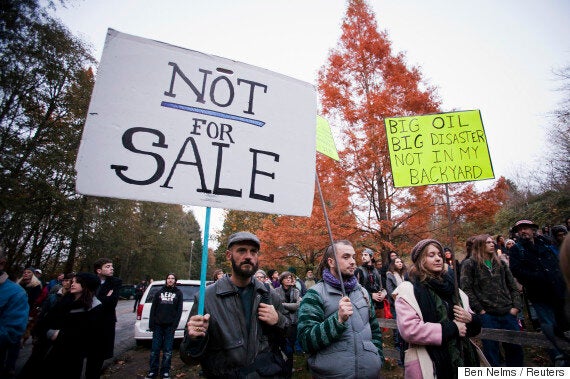 Demonstrators hold signs while protesting against the proposed Kinder Morgan pipeline on Burnaby Mountain in Burnaby, British Columbia November 17, 2014. (Photo: REUTERS/Ben Nelms)
Opposition to Kinder Morgan continues to grow across the province.
Tens of thousands of those living in Metro Vancouver don't want to see their Harbour turned into one of the word's largest oil-exporting ports. With 40,000 barrels having already leaked from Kinder Morgan's current pipeline, my constituents in Burnaby are worried about the risk of another on-land spill.
Premier Christy Clark; Opposition leader John Horgan; First Nations leaders such as Grand Chief Stewart Phillip; Vancouver Mayor Gregor Robertson; Burnaby Mayor Derek Corrigan; labour unions and environmental organizations have all expressed opposition to the Kinder Morgan pipeline.
They oppose the project because it is a bad deal for B.C. Because we face all of the risks but get none of the benefits. Because the pipeline will be built by temporary foreign workers.
They oppose it to protect our environment. To protect their neighbourhoods. To protect the integrity of Indigenous lands.
The public shouldn't be fooled by thinking the new fig-leaf panel has any power to do anything. It doesn't. It will wander around various communities, ask some questions and then produce a report for Cabinet. The report will be stern and the panel will say it heard a lot of opinions.
But in the end, it will be Trudeau who decides. This "new" consultation is just a fog to give the government some cover after they broke their promise to overhaul the National Energy Board review process. Those who were shut out of the NEB's official review by Harper won't be brought back in any meaningful way. Don't expect any funding for participants.
Follow HuffPost Canada Blogs on Facebook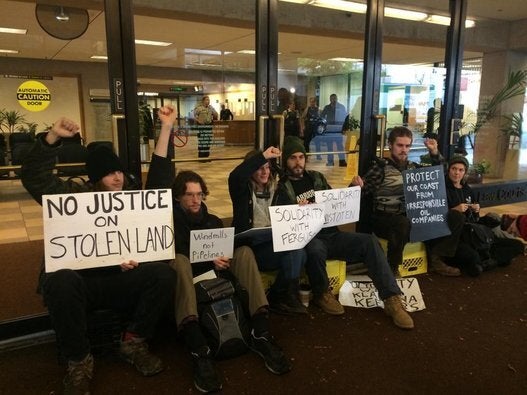 Kinder Morgan Pipeline Protest, Fall 2014