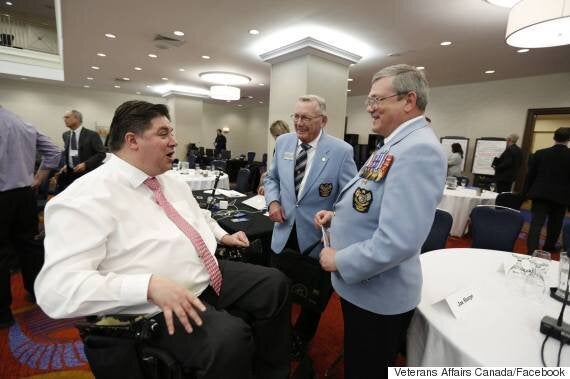 Minister of Veterans Affairs Kent Hehr speaks with attendees at the second Veterans Affairs stakeholder summit.
To date, it was the department's largest and best-attended, and he made some invaluable contributions both as a member of the greater assembly and individually when we had an opportunity to speak one-on-one during a lunch break.
Bruce points out in his piece that Budget 2016 did not include all of the items in the mandate letter I received from Prime Minister Justin Trudeau when I took office as minister of veterans affairs in November 2015.
These frustrations are understandable after a decade of inaction on a file and a New Veterans Charter that was supposed to be a living document, but was never allowed to grow.
While we do mention $5.6 billion in financial security -- including: increasing the disability award from $310,000 to $360,000 in line with recommendations from the Veterans Ombudsman; increasing the Earnings Loss Benefit from 75 per cent to 90 per cent; increasing access to the upper levels of the Permanent Impairment Allowance and renaming it the Career Impact Allowance so that its name is in better keeping with the intentions of the policy; reopening the 9 VAC offices closed under the last government; hiring enough staff to bring us to a 25-to-one case manager-veteran ratio; and increasing access to Funeral and Burial Services by increasing the estate exemption from $12,000 to $35,000 -- we do not mention future commitments like the Veterans Education Benefits or ending the marriage-after-60 clawback.
What the budget does say about many of those remaining commitments, including the pension is:
"In consultation with the veterans' community, the government also understands there is a significant desire to better design veterans' financial support programs going forward -- and that the government should take the appropriate time to work with veterans to ensure programs meet the needs of those injured in the line of duty.

Over the next year, the government will work with the veterans' community to examine the best way to streamline and simplify the system of financial support programs currently offered by Veterans Affairs Canada and National Defence for veterans and their families. The overall objective of this work will be to ensure that the government delivers programs and services in a way that is veterans-centric and facilitates a seamless and successful transition from military to civilian life."
This came out of the very first stakeholder's summit that he and I attended just weeks out from my swearing-in. Veterans and veterans groups said it well and said clearly that we need to get this pension option right, and not to rush it.
Veterans Ombudsman Guy Parent stated clearly: "I believe that the government is moving in the right direction to shape tomorrow for Canada's veterans and their families. While Budget 2016 is a promising start, we need a clear action plan and an evidence-based evaluation approach to determine what the impact of these changes will be on veterans and their families."
I'll admit there were some tense exchanges as a couple of veterans expressed their frustration with the current system of veterans' benefits and the department itself. These frustrations are understandable after a decade of inaction on a file and a New Veterans Charter that was supposed to be a living document, but was never allowed to grow.
I share many of their frustrations, but felt it was important that all participants had an opportunity to voice their opinions: good or bad.
As a government we need to hear them all.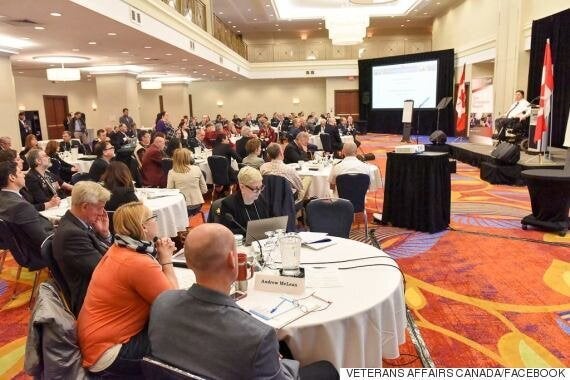 The second Veterans Affairs stakeholder summit drew close to 100 veteran advocates to discuss priorities and issues that affect Canada's veterans.
On the second day of the summit, we held an open town hall streamed on Facebook and invited questions from the stakeholders present and those across the country, because this should be an open process by default.
I do take issue with Bruce's allegations of bullying. The summit was a safe place for stakeholders of all backgrounds to voice their concerns, and no one was at any point limited or prevented from speaking -- and that needs to be made clear.
I look forward to hosting the next stakeholder summit and hope that Bruce will continue to contribute and bring a valuable insight to the table. If we are to provide better financial security and the benefits veterans need, when and where they need them, we will need his experience and expertise along with that of countless other veterans across the country.
Follow HuffPost Canada Blogs on Facebook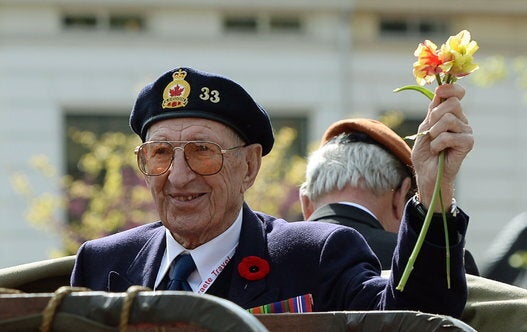 Canadian Vets Mark VE Day