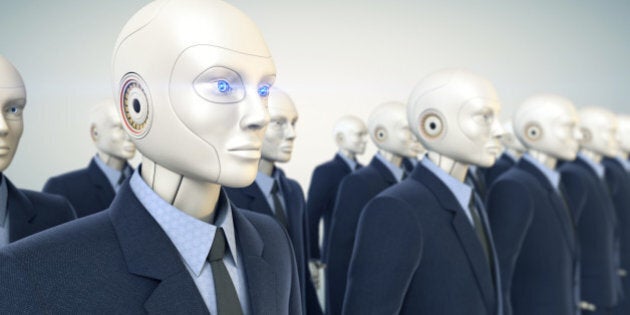 The evolution of banking began the first time someone traded one stone for another somewhere in Mesopotamia. As we stand on the cusp of the Fourth Industrial Revolution, the cycle continues and we see that the advent of Finbots and robo-advisors is met with equal parts excitement and mistrust. I admit it seems counterintuitive to imagine that something called artificial intelligence could actually make banking more personal, more human. But, it's true.
Technology grants us both opportunity and responsibility. At its core, innovation is about making something better. Improving a product or a process so that it has a positive impact on more people. It may begin as an intimidating or abstract thought, but if it's successful it will always crystalize into something that impacts real life in a good way. As creators, it's our responsibility to make sure the things we build cultivate growth and success for as many people as possible.
The first ATM was introduced in Japan in 1967. Also known as cashpoints, they were buggy and limited, yet their potential was undeniable. They represented convenience, access and innovation, even if they had limited amounts of cash available and required plastic tokens to be used. Remember, this was a world before debit cards or credit cards and personal cheques were commonly used.
Cash fueled commerce and ATMs presented the opportunity to go shopping on a Saturday even if you'd missed the teller on Friday afternoon. In 1973, IBM and Lloyd's Bank introduced the first networked ATM, which offered the freedom of access internationally. In 1977, Canada's first ATM appeared in Saskatchewan. It was owned by the credit union now known as Conexus. Fast-forward a few years and they're in every store on every corner in every town. It was all met with the same skeptical enthusiasm that greets any great change.
But bank tellers were not rendered obsolete despite a lot of hand-wringing; they continued to service customers who chose to visit the bank in person within specified hours. The relationship was made stronger because of the new accessibility and improved services. A service evolved to meet the demands of a changing culture.
In less than twenty-years, online banking has become the primary way of banking for the majority of Canadians. Forty three per cent predict that they will use mobile banking in "the near future" and overwhelmingly value its convenience, accessibility and time-saving benefits. Digital banking assistants--"Finbots"--will help integrate transactional banking with daily actions. They provide insight and advice that is not traditionally available to consumers without six-figure investment portfolios. They will lower the costs of services for the provider and the consumer and they will allow a greater level of customization of services through data science and machine learning. Finally, they will allow the banks to cut down their workforce with massive layoffs and focus exclusively on growing their bottom line, right?
I say wrong. Finbots, like the ones Grow is developing with our financial institution partners, are the perfect way to free up time for experienced financial advisers to focus on the human elements of relationship building and managing services that are more complicated and personal. Less time focused on filling out forms and completing mundane tasks, leaving more time focused on you and your unique needs and concerns. The benefits of a digital banking system extend to both providers and consumers.
Digital banking, Finbots and robo-advisors have the potential to improve the banking experience for everyone--provider and consumer. We can work towards providing objective investment advice, free of vice and bias. Think of the pain and loss that could be avoided if human error and greed were removed from finance. Imagine if we could remove the weight of unmanageable debt with smarter risk assessment. What if we could help people make better decisions about their money and offer access to knowledge currently limited to high-earners and high-rollers? We can. We can do that and more with the power of digital banking. And we can do it for everyone, everywhere.
The answer lies in the willingness to cultivate partnerships and a new ecosystem that values experience and promotes skills development. It will demand patience and passion, creativity and collaboration. Already, traditional financial institutions are connecting with Fintech startups to build new functionality and improve services; cross-channel cooperation means that new skills are being taught and personal growth encouraged.
This next step in the evolution of banking has the potential to renew the passion of people who have become disengaged from jobs that are, frankly, already mostly automated. It will attract new ideas and people from other disciplines, drawn by the potential to change the fabric of commerce and culture. Evolution is in our DNA. Without the ability to adapt we would still be swimming around in the depths. Change is what we do. With the freedom of creation comes the ownership of invention. It means that everyone who wants to, gets to come along for the ride.
Digital banking sits right at the intersection of place and purpose. It serves a specific category of needs defined by convenience and accessibility. Its ubiquity reflects our 24/7 on-demand culture. If you need it, it's there. If your needs outpace the abilities of a Finbot, there is service available for you, too. This is about choice--what could be more personal than that?
Kevin Sandhu is the founder and CEO of Grow. Grow is reinventing banking by leveraging the power of technology to make personal finances understandable and anxiety‐free.