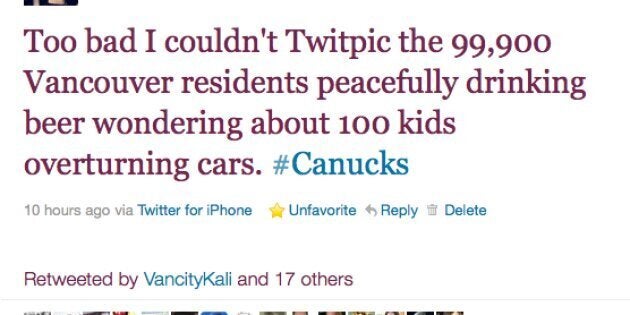 I finished a quiet dinner in Vancouver's Yaletown neighborhood Wednesday night and began walking back to my downtown hotel. As expected, the city center was crowded with throngs of people wearing Canucks jerseys for game seven of the Stanley Cup hockey final.
I'd heard there might be rioting whether the Canucks won or lost the game, so I braced for what might be a tricky walk to my room. As the crowd got more dense, I was surprised at how calm everything was relatively calm, though I heard one woman walking quickly in the opposite direction say to a companion, "They're hitting people in the face down on Granville Street."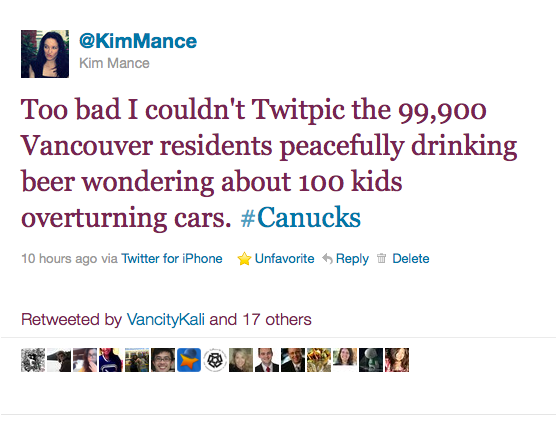 Certain streets -- including the one to my hotel -- had been blocked off by police to prevent looting, so since I was apparently without somewhere to go, I decided to whip out my iPhone and see what was happening on neighboring blocks, as I saw small billows of black smoke coming from a parking garage.
On my way there the entire mob was calm and somber (the Canucks lost, obviously), with a few exceptions: Every couple of blocks there would be a group of 20 to 30 young men boisterously turning over a car. As soon as police would come near, the group would disperse quickly and move to another block. Rinse and repeat.
Some by-standers cheered and some took photos in front of the pillages of these randomly formed groups of young hooligans, but most just stood mouth agape. At the moment a mass of people ran toward me yelling, "Tear gas!" So I decided it was time to go into a bar.
Entering the Railway Club, on the 2nd floor of a building with windows busted out of it, I felt like I stepped into another city. Live music played and groups of people sat happily around drinking beer.
I walked to the back toward windows looking down on the street and met a posse of friendly atheist gamers who asked how it was outside. We watched some videos on my phone, ordered a pitcher of beer, then hung out for hours chatting away about all sorts of things until the streets looked a lot more clear.
They postured that it was a bunch of angst-y suburban teens who mostly came into the city to be rowdy and felt horrible about all the news footage on televisions around the bar, showing what was happening just outside. From my view down on the streets they were right.
Just wish I could've gone around to the many pubs, bars, homes, apartments, hotels and other places around the city filled with calm and peaceful Canadians and tweeted photos and video footage of them. It would've definitely overwhelmed the groups of young nutjobs trashing a few square blocks of lovely Vancouver.
But since I wasn't able to do that, you'll have to take my word for it that the city was filled to the brim with non-violent Canucks fans that night.