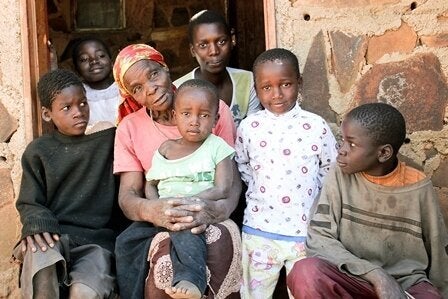 In Swaziland, grandmother Sitobhi Mavimbela is the primary caregiver for nine grandchildren.
This Sunday marks national Grandparent's Day. But while special occasions like Mother's Day are celebrated with gifts, cards and showers of love and affection, Grandparent's Day is different. It's not about flowers and breakfast in bed. Grandparent's Day reminds Canadians to honour grandparents, and not take their guidance, strength and information for granted.
Many grandparents are pillars of strength in their own families, both here and around the globe. For example, just over 20,000 of the children sponsored through World Vision Canada live under the care of a grandmother, grandfather, or both -- with absolutely no one else to raise them.
Children like 12-year-old Ek Isara of Thailand has lived with his elderly grandparents since he was a young boy. His mother works far away in another province of Thailand and his father abandoned his family when Ek was still very young. But despite the absence of his parents, Ek enjoys living with his grandparents and performing chores like taking care of the family's chickens and ducks. To his grandparents' joy, he is also a wonderful cook.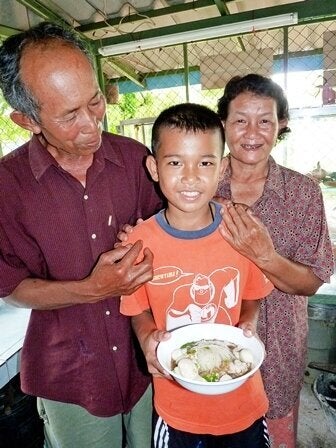 "We are proud of Chang," say his grandparents, calling Ek by his nickname which is also the Thai word for "elephant." Similarly, Ek is proud of his grandparents.
Other children are left in the care of just one grandparent. Four-year-old Innocent of Zambia was born to an ailing mother who passed away before he was even one year old. Innocent's grandmother was left with the challenge of finding him nutritious food, and looking after his health and education. This led her to enrol him in World Vision's child sponsorship program.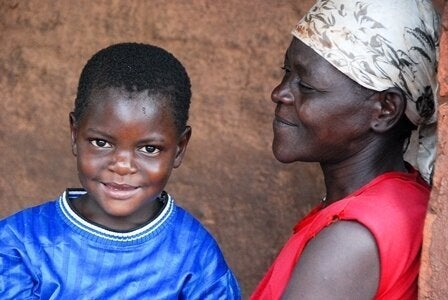 Zambian grandmother Lestina Daka is singlehandedly raising her four-year-old grandson, Innocent.
"I went to a nearby village to seek milk from cows and managed to feed him that milk for about six months," she says. "But World Vision also started supporting us with nutritious supplements like peanuts, some of which we planted so that we could have enough porridge for him to grow up into a healthy child."
Here in Canada, a number of generous Canadian sponsors are not only invested in their sponsored child, but in growing a legacy of giving to pass down to their children and their grandkids. Many of these Canadians are grandparents themselves and are nurturing their own grandchildren through the experience of sponsoring a child together.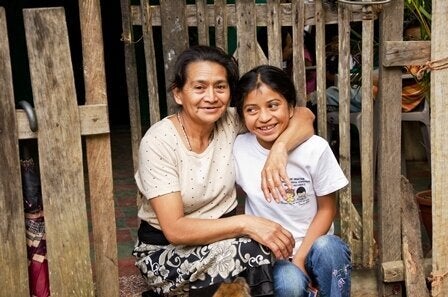 In Honduras, sponsored child Wendy Vanessa is learning to cook from her grandmother. "It's about time I learned to make tortillas," says Wendy.
Vancouver Island resident, Bev Hoffart, is just one of the many Canadians sponsoring a child through World Vision Canada. When she first began sponsoring almost 20 years ago, her own children served as the catalyst.
"My two kids were younger, and I wanted to instil in them that it is actually a responsibility to give back to others if you were in a position of privilege," she says. "Which our Canadian family certainly is."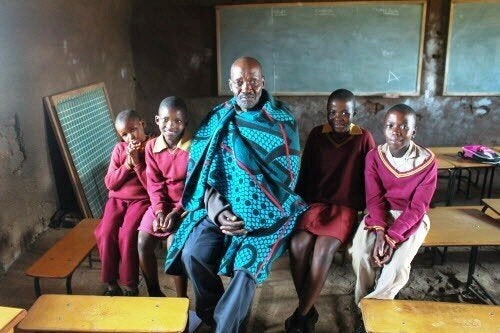 In Lesotho, this 74-year-old grandfather advocated for the building of a school in his community so his grandchildren wouldn't have to walk hours to school and back.
Bev Hoffart is lending her voice to the Just One Child campaign underway on Vancouver Island, to find more sponsors for children overseas. She believes child sponsorship can be used as a tool to raise a family that is socially conscious and aware of the needs of others. It's Hoffart's hope and belief that her children will continue to pass on this charitable legacy once they have their own children.
"Not only has it been gratifying for us as sponsors to see the growth and change in the lives of our sponsored kids, but as parents, to see our own children grow into compassionate young adults," she says. "I trust that those values will again be passed down to our grandchildren, so that it continues even after we're gone."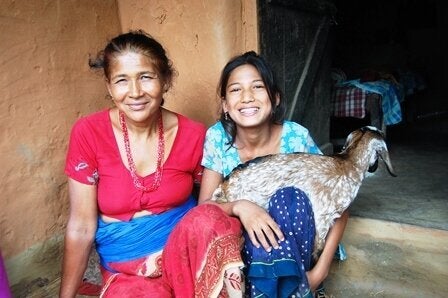 Sonia became an orphan after her mother died in delivery. With the support of World Vision and her grandparents, Sonia dreams of become a doctor so no mother dies of complications again.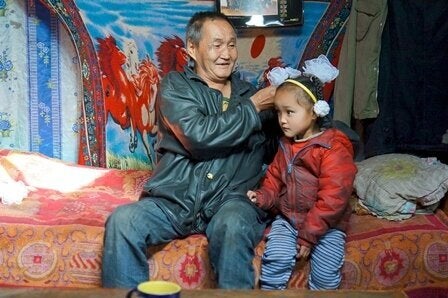 A Mongolian grandfather takes care to style his granddaughter's hair with only the prettiest of hair bows.
16 Celebrity Grandparents