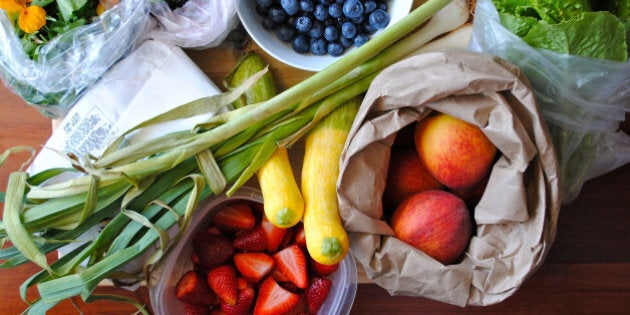 I grew up in rural Southwestern Ontario. Farm country. As a teenager, I spent many of my summers making five bucks an hour on those farms, picking stones, haying, rustling up sheep -- I even got to watch a cow give birth once, in all its goopy glory.
As a result of my rural upbringing, I feel like I've got a decent appreciation of where our food comes from. I can differentiate between a field of wheat and one filled with soybeans. I know better than to answer "the grocery store" to the question "where does milk come from?" And with one whiff, I can tell you if that smell is cow, pig or chicken manure.
Even so, I'm far from an expert. I only need to listen to my uncle Shawn chat about his farm for a few minutes to realize how much I don't know. Or read the label on a box of cereal to be confused about what exactly I'm shoveling into my mouth during Saturday morning cartoons.
Not that long ago in human history, the vast majority of our food was grown a stone's throw away. But with today's globalized food system, a simple plate of spaghetti can consist of pasta from China, tomato sauce from Mexico and a sprinkling of parsley from Italy. Indeed, globalization, technological advances and the move from family farms to massive factory-style operations have meant more and more of us are increasingly disconnected from the food at the end of our forks.
Perhaps in response to food production swinging too far in the industrial direction, the local food movement has picked up a lot of steam in recent years. The demand for everything from local produce, free-range eggs and ethically raised meat has steadily grown. Meanwhile, booms in farmers markets, local food festivals, microbreweries and restaurants serving up dishes from down the road all point to a real appetite for home grown and sustainable fare.
People are more aware of their environmental impact and conscientious about their meals. The question "what's for dinner?" no longer suffices. Local foodies also want to know where that dinner came from, how it was grown and who did the growing.
So your spaghetti hails from the far-flung corners of the globe. So what? Here are a few reasons why buying local matters:
1. Good for the planet. The average meal travels 1,200 km before reaching our plates. That's a lot of oil being burned to transport our pineapple from the Philippines or almonds from Iran. Buying local significantly slashes those food miles and can help reduce your carbon footprint.
2. Good for the conscience. It can be hard to glean much about the swiss chard or deli meat in your shopping cart at the grocery store. How was it raised? Who grew it? What pesticides or antibiotics were used? Shopping at farmers markets allows you to meet the local growers, where you can ask about their practices and learn more about the food you're serving your family.
3. Good for the future. Having a better understanding and appreciation of where your food comes from equips you to take action on issues. Perhaps it will motivate you to vote for someone with a strong rural platform in the next election. Or inspire you to join a rally against a proposed residential development in prime agricultural land. We care more about the things we feel connected to.
4. Just plain good. Let's face it: food that's in season and recently harvested tastes way better than its distant counterparts. When food has to travel hundreds or thousands of miles, they're often harvested early and allowed to ripen on the road. The result is often less taste and fewer nutrients. Food grown close to home on the other hand bursts with party-in-your-mouth flavour.
Five ways to connect with your food
Now that summer has arrived, it's a perfect time to get to know your food. Here are a few ideas to get you started:
1. Shop at farmers' markets. Find local deliciousness while getting to know your local producers face-to-face at your farmer's market.
2. Volunteer on an organic farm. Feel like getting your hands dirty? World Wide Opportunities on Organic Farms (or WWOOF for short) facilitates workshare placements for volunteers interested in getting up close and personal with sustainable agriculture.
3. Plan ahead. Be conscious about what's currently in season and shop accordingly when you're restocking the refrigerator. Make meal plans chock full of local ingredients before you go. A little bit of Googling for local food recipes can help you find websites like Toronto's The Local Dish.
4. Workout your green thumb. What's more local than your own backyard? Starting a vegetable garden may seem daunting, but start small and chat with a more experienced neighbour for some advice. You'll also find a slew of how-to guides online.
5. Join Otesha's Pedal to Plate Cycling Tour. The environmental charity I work for is organizing a local food-focused adventure this July 18-26. It's a chance to spend nine days cycling through the intricate foodscape of the Greater Toronto Area with new friends, discovering the flavours of the food that grows in your own backyard. Meet farmers at the forefront of the local food movement, and pick up a fresh set of culinary skills with the tour's Food Coordinator. Contribute to local farms through workshares, cook for each other with local ingredients and explore the politics of feeding ourselves as you meet with food producers, academics and activists. For more information and to sign up, check out The Otesha Project's website.
Josh Martin is the Development Coordinator for The Otesha Project, an environmental charity that mobilizes and equips Canadians to create local and global change through their individual and collective choices.