What she's achieved as an athlete is nothing less than inspiring. What she's accomplished as a tennis player is precisely revolutionary. And what she's about to embark on as a woman, is simply natural.
Serena Williams is a professional, female tennis player and she's about to be a mother.
The announcement of her pregnancy came last week; her first child due in August with fiance Alexis Ohanian. When she revealed on Snapchat that she was 20 weeks expecting, it meant she won the Australian Open in January with a baby on the way. Winning her 23rd Grand Slam title while eight weeks along is an honourable feat in itself, and choosing to become a mother at this pinnacle time in her life redefines Serena as a woman in a patriarchal industry.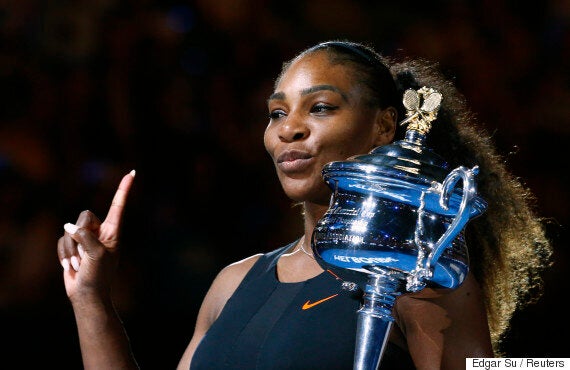 At 35 years old, Serena is part of the modern trend where women are choosing to have children later in life -- typically after establishing their careers. This movement is recipient of untold scrutiny, as it's conjectured over social ideology, human principles, and female identity. Whether or not Serena intended to be part of this movement, she is entering motherhood after accomplishing the best years of her career, and it's a definitive statement of empowerment.
Well before she became the most adorned tennis player in the Open era, Serena had already solidified herself as one of the greatest athletes of our time, and with this next chapter in her life, she's proving motherhood coalesces with womanhood, and a professional career isn't an obstruction between them.
Since Serena is known to us as a professional athlete before a mother, her pregnancy announcement instantly raised doubts of her continuing dominance when she makes her expected return to tennis in 2018. Will she be able to maintain a top ranking? Will she still be able to win more majors? Will she ever singlehandedly own the record for most Grand Slam titles?
Serena hasn't fixed the flawed landscape of women in this industry, but she's started the crusade.
Although these questions are expected, there is also a greater issue that needs to be addressed: Serena Williams owes us nothing and she has every right to never grace a tennis court again, if she so chooses. Yes, it would be a tragedy to tennis and to sports all in all, but Serena has, arguably, nothing left to prove. Since she was 18, we've watched her tennis stardom grow, and within those 17 years, Serena has already done more than her share of closing the gender gap in professional sports.
She's trailblazed for female athletes and altered the perception of women in sports, lighting the path for the next generation to follow suit. As easy as it is, we can't rely on her forever to be the predominant influencer in eliminating gender roles, stereotypes, and biases that's cemented in today's sports culture. Serena hasn't fixed the flawed landscape of women in this industry, but she's started the crusade. And while she's (temporarily) absent from the game, her impact shouldn't perish as a result, but rather be taken as an opportunity for others to pick up where she left off.
When she does return to the WTA, however, Serena will be a mother, and scrutiny on the effects of motherhood is imminent. How this scrutiny will emerge remains to be seen, but it likely won't be as peachy as it was for her ATP counterparts. Both Andy Murray and Novak Djokovic, men's current world No. 1 and No. 2 tennis players, respectively, reached new success in their tennis careers and were heralded after crediting recent entrance to fatherhood. If the result of their newly born children did in any way contribute to their successes, then it's indeed a heartwarming tribute, but to assume Serena will receive the same laudatory treatment is optimistic.
This isn't to say the birth of Serena's child won't be a joyous occasion, and it will definitely be celebrated in the tennis and sports worlds, but the difference is that Serena is a woman and different factors come into play. The physical toll of childbearing may drastically alter her body, and cause speculation on her ability to compete on a high level and maintain a top rank post-pregnancy. Unlike Murray and Djokovic, Serena is entering parenthood after reaching the climax of her success.
It's certainly possible to be a top seed and continue to win tournaments -- as evidenced by Margaret Court and Kim Clijsters; anticipation is also high for the return of Victoria Azarenka this summer -- but since it's Serena, she, her career, and her motherhood will have more difficulty being accepted en masse unless she comes back as that dominant tennis player we're accustomed to.
Serena isn't unfamiliar to scrutiny, though. She's been criticized over tennis, race, body image, and gender norms, and adding motherhood to that list will be undeniably erroneous, but also inevitable. But that's another aspect of being Serena Williams, and it comes with the territory and power she holds. Serena is an admired person for what she's achieved as an athlete, and Serena as a mother will attest to her overall greatness as a woman in the sports world.
Follow HuffPost Canada Blogs on Facebook