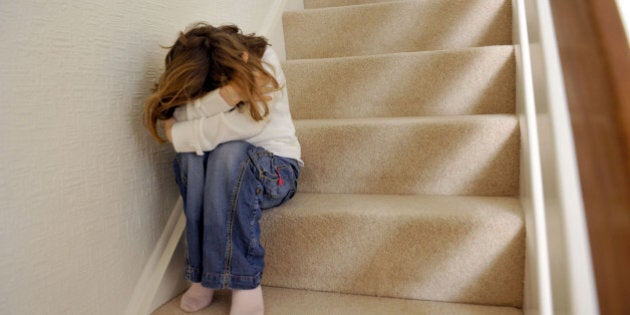 Although the United Nations Convention on the Rights of the Child specifies that every child, everywhere, has the right to survive, grow and be protected from all forms of violence, a new report by UNICEF of 190 countries shows that emotional, physical, and sexual violence is "ever present" in children's lives.
Violence against children is a global "epidemic," affecting millions of young people. Around the world, children suffer physical, psychological, and sexual violence, and are even killed.
In fact, every five minutes, a child is killed by violence; 75 per cent of these deaths are caused by interpersonal violence, rather than by armed conflict. In 2012, almost 95,000 children and adolescents under age 20 were victims of homicide, making it a leading cause of preventable death among children.
Family members, intimate partners, neighbours, other children, strangers, caregivers commit violence against children in the home, community and over the Internet. Two-thirds of children worldwide between the ages of two and 14 suffer physical punishment in their homes.
Between 20 and 65 percent of school-aged children in developing countries reported having been physically or verbally bullied in the previous 30 days. About 120 million girls under the age of 20 have been subjected to sexual intercourse or other forms of sexual violence; and between 100 million and 140 million girls and women in the world have undergone some form of female genital mutilation.
These statistics must compel each of us to take action to eliminate violence against children. We must also be obliged to act by the fact that a child's mental and physical health can be "permanently damaged" by the violence they experience. According to UNICEF, children who are victims of violence exhibit brain activity similar to soldiers exposed to combat, with 30 percent suffering "enduring post-traumatic stress disorder symptoms."
Every Canadian, every global citizen, has a stake in the well-being of Canada's and the world's children. Children are members of our communities, and they are our future. When a child is maltreated, we all suffer. And although violence against children is widespread, it is not inevitable. Momentum is building around the world towards less tolerance for violence against children. In the words of UNICEF, "violence against children is entirely preventable when people come together and say that it is not acceptable. When they make the invisible visible."
Today only 41 countries have explicit legal bans on violence against children. It is time to challenge world leaders to take the steps necessary to provide children with the protection they need, and for an international champion that can translate growing outrage into significant action.
Because Canada has a longstanding commitment to the protection of children from violence, investments in maternal, newborn, and child health (MNCH), and a strong accountability record, our country has an opportunity to lead and raise the elimination of violence against children on the international agenda.
Canadians should therefore ask whether the government will champion protecting children. Will the Government suggest targets and indicators that support protecting children from violence including birth registration, and physical injuries, child marriage, and sexual violence data, "building blocks required to prevent and respond to violence against children"? Will it lead the call for of a Commission on Information and Accountability for ending violence against children similar to the Commission created for Women's and Children's health, and protect the health gains achieved in MNCH?
Violence, just like under-nutrition, prevents healthy brain development in children, and undermines investments in MNCH. Early exposure to violence can also affect the structure of the brain, impacting health, behaviour, learning, and a child's ability to reach his or her potential. Children must not only have the right to survive, they must have the right to thrive.
Will the Government of Canada say violence against children is not inevitable, but that it is preventable? Will the Government take a lead, and make an announcement about protecting children in time for Universal Children's Day on November 20, the day on which the General Assembly adopted the Declaration of the Rights of the Child, in 1959, and the Convention on the Rights of the Child, in 1989?
The time has more than come to eliminate the scourge of violence against children.