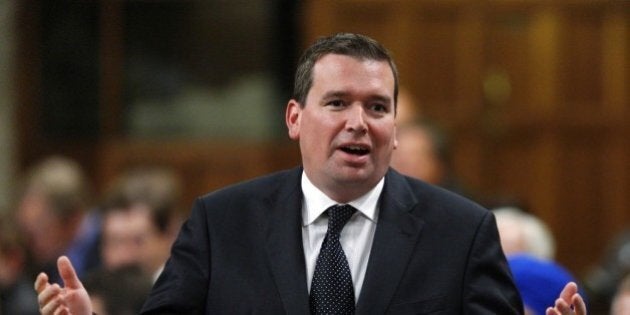 After four years of conflict in Syria, unthinkable crimes continue to occur daily in a place where extremist groups and terrorist organizations, including ISIL, are able to flourish. The Syrian crisis sharply amplifies the turmoil in the Middle East.
Over 210,000 people have been killed in Syria's civil war, and 7.6 million -- half of Syria's population -- have been internally displaced. It is the largest number of people displaced by any conflict in the world.
Another four million Syrians have fled to neighbouring countries, including Egypt, Iraq, Jordan, Lebanon, and Turkey, placing further strain on already challenging conditions, and creating the largest refugee crisis since World War ll.
More than half of all Syrian refugees are children, and the vast majority have had no access to school for months or years, making future recovery for the country even more uncertain.
Over 12 million Syrians are in urgent need of humanitarian assistance. Of these, 4.8 million remain in inaccessible areas, and 212,000 people are being besieged, mostly by government forces. It appears that the international humanitarian response is unable to keep pace with the needs. The extreme hardship endured by millions of Syrians will only become more acute unless immediate political action is taken to stop the violence.
Valerie Amos, the out-going UN Under-Secretary General for Humanitarian Affairs and Emergency Relief, has said, "Syria is the biggest humanitarian crisis we face today. Every child, every woman, every man affected by this crisis deserves our continued support."
If the immediate needs for education, protection and psycho-social support are not met for the 5.6 million children currently living in desperate conditions in Syria and neighbouring countries, an entire generation could be lost and the effects of this conflict will affect Syria and the region for decades to come.
This past week, UN Special Envoy Staffan de Mistura reported to the Security Council that the Syrian Government "indicated it was committed to suspending all aerial attacks and artillery shelling over the entire city of Aleppo for a period of six weeks."
Syria took this decision to allow the United Nations to put in place a pilot project of unhindered delivery of humanitarian aid, starting with one district in Aleppo and building to others. The deeper political motivations, however, remain unclear.
During that time, the Government of Canada will have the opportunity to again, as it has in the past, contribute in a meaningful way, on behalf of all Canadians, towards lessening the suffering of the Syrian people.
On March 31st, the third donor conference will take place in Kuwait. The United Kingdom has already announced that it will pledge USD $150 million at this conference, bringing its overall commitment since the beginning of the crisis to well over a billion dollars. This is the largest amount the UK has ever committed to a humanitarian emergency anywhere, but it believes the contribution is proportionate to the problem, and that Kuwait has shown "remarkable leadership" in stepping forward to host the conference and challenging the world to do more.
When I asked in question period on February 20th whether the Minister of International Development would personally attend the donor conference, pledge, and champion 5.6 million Syrian children, Canada's Parliamentary Secretary replied that: "We are still in consideration of whether or not the minister is going to attend that."
The UN has requested over $8.4 billion in funds to help 18 million Syrians in 2015. With just weeks to go until the Kuwait conference, Canada still has not decided whether to attend or not, while the UK has already announced a major commitment.
The Syrian people need more than our compassion. They need Canada to step up to the plate. The Minister must show up in Kuwait and make a real contribution to the humanitarian effort in Syria.
Mohammad Abu Farah teaches the children at a Save the Children youth centre in Za'atari Camp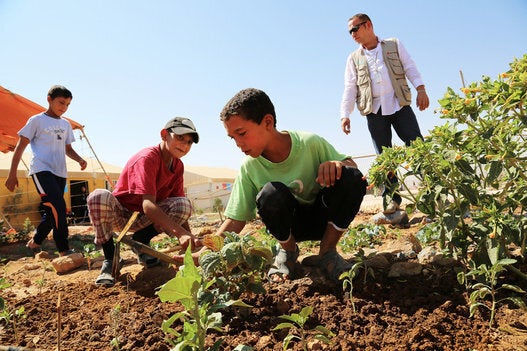 Rosie Thompson/Save the Children
Ma'moun's garden watered by a neighbour's son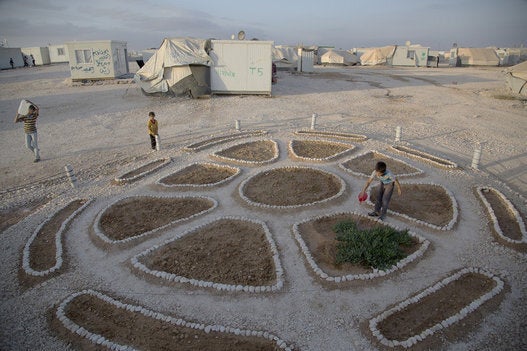 Rosie Thompson/Save the Children
Naji relaxes in his garden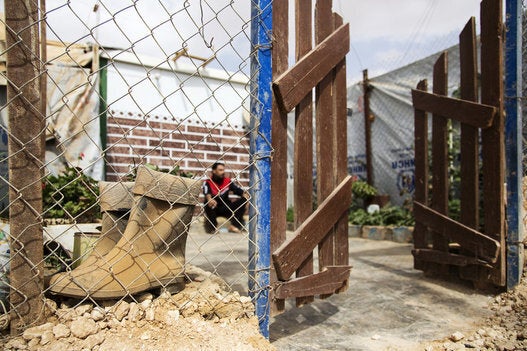 Rosie Thompson/Save the Children
Wardah studies in her family's garden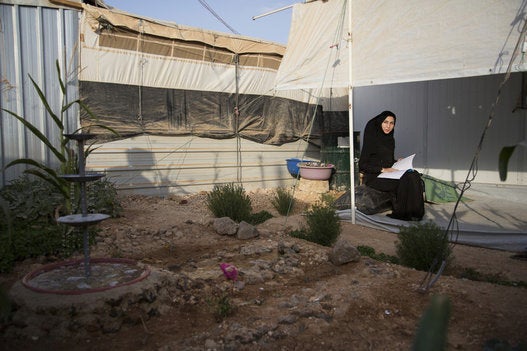 Rosie Thompson/Save the Children
Wardah's niece plays with the families ducks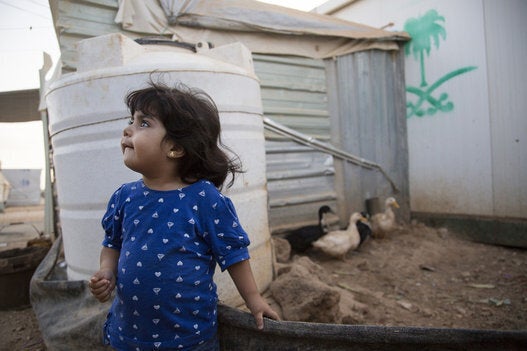 Rosie Thompson/Save the Children
Mazen and his children pick vegetables from their garden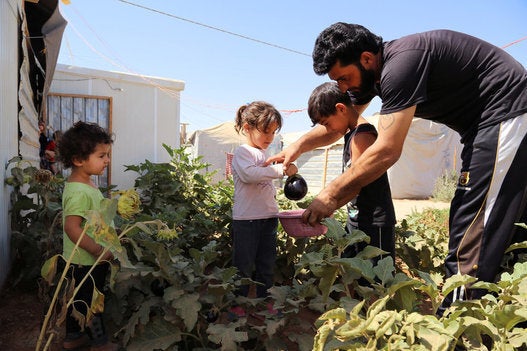 Rosie Thompson/Save the Children
Abu Tarek's son fills the fountain with fresh water, while Abu Tarek watches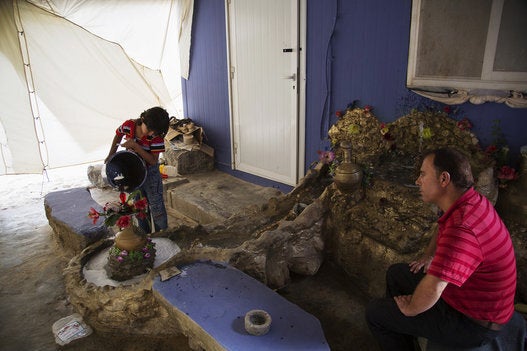 Rosie Thompson/Save the Children
Ali and his family sit in their garden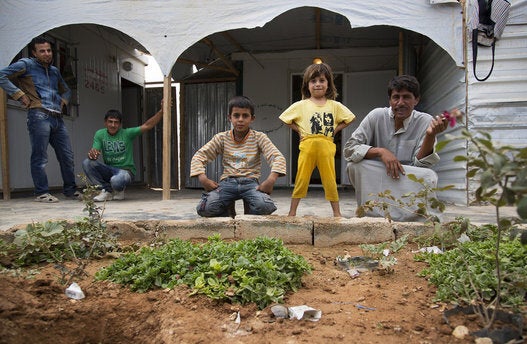 Rosie Thompson/Save the Children
Adham working in his garden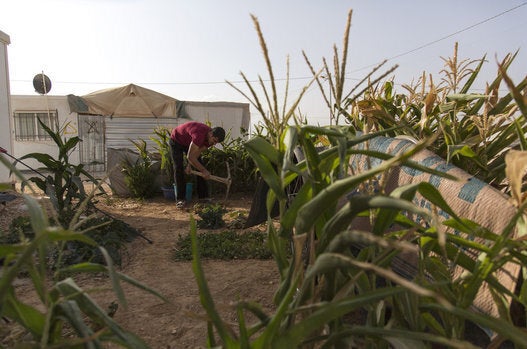 Rosie Thompson/Save the Children
Adham with his tools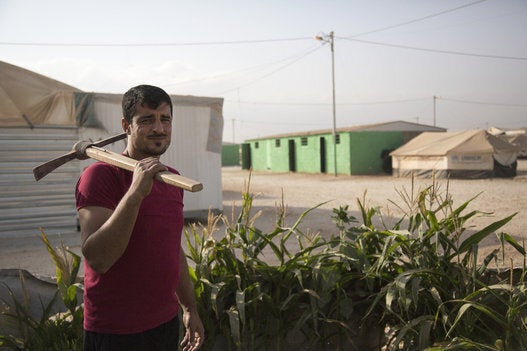 Rosie Thompson/Save the Children
Abu Qasem attends his garden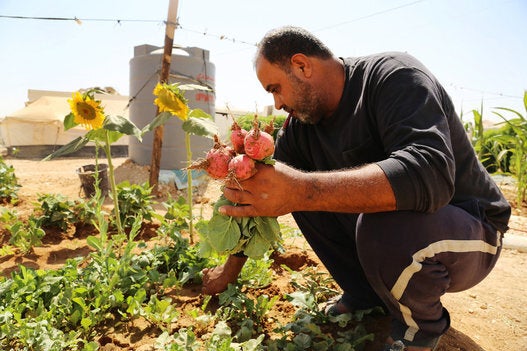 Rosie Thompson/Save the Children
Adel's children play in the garden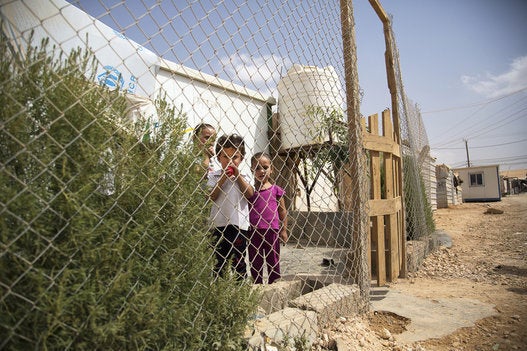 Rosie Thompson/Save the Children
Samar waters her rose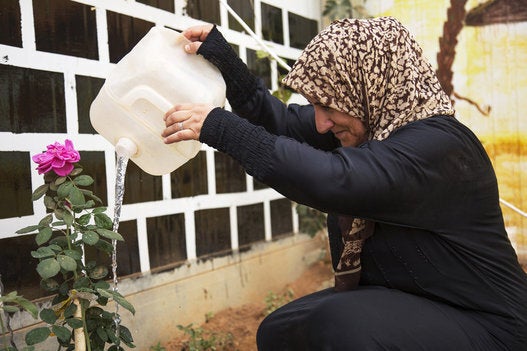 Rosie Thompson/Save the Children