My memory of Dec 6, 1989, is that of my mother's placing a call to me in Scotland, screaming: "Sweetheart, they were your age. ...Their mothers, I can't imagine! I'm sick, just sick. ...Love, he killed them because they were women."
She could not finish. My father picked up the line, his voice cracking: "We all want to hold our daughters a little tighter tonight; you're a long way off. Be safe, just be safe."
Tears rolled down my cheeks, as I explained, helplessly, to my university friends what had happened in Canada: how a young man entered Montreal's Ecole Polytechnique, separated the men from the women, and began shooting.
Twenty-four years later, I still cannot imagine the sorrow of the victims' families, and I am profoundly sorry. I pray that they remain surrounded by those who care about them, and that they feel the loving arms of a nation.
During the days that followed I read what I could about the young victims, so that they would never just be names, lost in a tragedy that shocked and scarred Canada, but that they would be remembered for who they were -- smart, courageous, motivated young women, with bright futures.
I wrote their names in my science textbooks to keep them close, to keep their families close--despite my being thousands of miles across the Atlantic. Each night, my friends and I lit candles in our windows in memory of our fallen sisters.
Then each of us promised to undertake something in their honour, for women and girls. My promise was to volunteer weekly at the hospital.
Today, my friends and I still honour our promise to the victims. And as we shared their stories over the years, promises were made and honoured in many countries.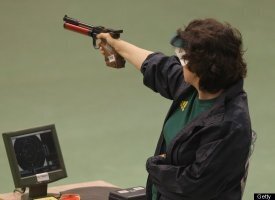 Gun Laws Around The World
When I discussed violence against women and girls with my own students, I struggled to maintain my composure -- remembering the young women who did not have the chance to enjoy what should have been an exciting time in their lives, a time to dream their greatest dreams.
It was the words, "because they were women", that my students could never get past. One student bitterly complained: "Because we are girls, because we are women, because, because, because!"
I was taken aback by this outburst but should not have been. I just hoped that they would not face the hardships I had endured.
Her words sparked a stream of regrets. "Because I was a girl, I was told I would never be as strong as my brother. I am a national athlete; he is not." Another student: "Back home I would never have been allowed to drive because I am a woman; my parents still won't allow it." And another: "My brother can go out with his friends; I need a chaperone because I am a woman."
A male student then jumped in: "Are you kidding me, don't you understand? How can you possibly compare your mere inconveniences to what they suffered?"
A young woman responded: "Perhaps you don't understand. Because we are seen as lesser, we are diminished in our society -- through advertising, media and words. We are paid less, we suffer violence."
He replied: "Do you think we all sit at home in our 'wife beater' shirts, plotting how to put women down, how to suppress women?"
I gasped at the term, but the young woman simply said: "Marc Lepine did." And she was right.
Before he opened fire, he shouted: "You're all a bunch of feminists, and I hate feminists!"
I took a deep breath and addressed my women's health class. "One of you just used the term 'wife beater', and most of you laughed. With such ugly words, you put down women, and you condone violence."
A deafening silence, and then profound understanding. "Instead of perpetuating 'because we are women'", I asked, "shouldn't we take a lesson from the daughters of Dec. 6, who took engineering, a field still male dominated? Should we not live with their courage, should we not honor their memory by being strong women who fight hard for other women and for the issues that still hold women back?"
One young woman responded, "Why don't we each pledge, 'Because we are women', we honour the victims of the Montreal Massacre by... and then we can each honour them in our own way."
The young man, who had earlier used the offensive term, added, "because we honour and respect women."
My students have long since graduated, but each year I still receive letters, "because we are women".
The families should know that their daughters are not forgotten, that they instill courage, that they inspire, and that they remind us all to fight tirelessly to end violence against women. We profoundly thank them for sharing their daughters with us all, and keep them in our prayers.