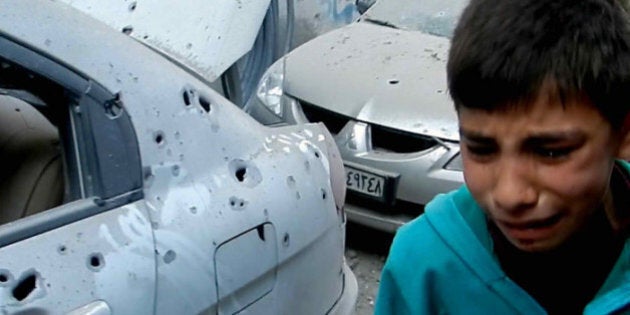 The Syrian conflict is entering its fifth horrific year of escalating violence, with little sign of ending.
More than 200,000 people have been killed, 10,000 of them children. Today over 12.2 million people are in need of humanitarian assistance, including 5.6 million children.
Almost 11 million Syrians have been displaced within and outside Syria, including 3.3 million refugees in Egypt, Iraq, Jordan, Lebanon, and Turkey. More than half of the refugee population are children, and 114,000 children have been born as refugees.
The conflict in Iraq has compounded the Syrian refugee crisis. Many of the 235,000 Syrian refugees in Iraq are located in the same region as Iraqi internally displaced persons (IDPs), putting a major burden on host communities and services.
The worst forms of attacks on civilians occurred in 2014, and safe and unimpeded humanitarian access continued to be a significant challenge. Close to 4.8 million people live in hard-to-reach areas, including nearly 212,000 under siege.
The length and scale of the Syrian crisis is challenging the ability of governments and the international community to meet the need for essential life-saving humanitarian assistance.
The UN and its partners have requested over $8.4 billion in funds to help 18 million Syrians in 2015. Canada must do more to help the people of Syria, and particularly the country's children. As a first step the Minister of International Development and La Francophonie should attend the Syrian donor conference in Kuwait on March 31st and pledge.
The Syrian crisis has been characterised by wide-scale, grave, child-rights violations. Over 2,000 grave violations against children were documented by the UN in 2014, including killing or maiming of more than 1,100 children. Other violations include abduction, arbitrary detention, ill treatment, recruitment and use by armed groups and sexual violence.
For children, these horrors are all that they have known; for adolescents, loss, suffering and violence have not only scarred their past, but also are shaping their futures.
Children are experiencing profound psychological distress, and are at an increased risk of neglect, physical harm, dropping out of school and engaging in child labor, and trafficking. UNICEF estimates that as many as three-quarters of children working on the streets in Lebanon are from Syria; and one-quarter of the Syrian brides living in Jordan were married before their 18th birthday.
UNICEF Executive Director Anthony Lake said, "We need to heal their hearts and minds. And there is so much more to be done." Will Canada therefore do more to support community-based child protection initiatives, and particularly psycho-social support services?
Will Canada do more to support learning? The deepening crisis in Syria continues to put an entire generation of children at risk; there have been 80 attacks on schools, and a total of 2.6 million children are out of school.
Helping the children of Syria, who are the country's future, doctors, lawyers, leaders, and teachers, is investing in the future of Syria.
UNICEF appealed for $US 903.5 million for 2015, and as of March 8th, 2015, still requires US$ 771 million -- an 85.3 percent funding gap.
The children of Syria need more than our compassion. They need Canada to step up to the plate. The Minister must show up in Kuwait and make a real contribution to the humanitarian effort in Syria.