Remember that, a couple years ago, when even David Stern was singing the Canucks' praises. David Stern. That basketball guy who gave us a team, left the car in the rain with keys in the ignition, and then watched Memphis steal our rusty bucket and drive it all the way to Tennessee, where it's still sitting in the driveway. And we didn't even care... because it was a rusty bucket. And who the hell wants to go to Memphis to get it back, or to Memphis at all?
Remember when the Canucks were premium viewing in the Centre Ice Package, when Ryan Kesler and the Sedin Twins were scoring like some gamer was controlling them in NHL 11? Alex Burrows chipped in with 30 or so, and Roberto Luongo could get Vezina nominations and gold medals and we'd ask him, "Hey, why aren't you PERFECT all the time? Flopper! Loser! Sorry, make that Luoser!"
And the fans were into it, too. Even the Americans loved us for what we gave them - a limo ride to Gomorrah, an Olympic experience so terrific it inspired a letter of love from America's foremost broadcaster, and a Shakespearean episode of a Cup Final in 2011, when I was able to personally speak to several crew members at NBC, all of them in love with where they were in the lower bowls of Rogers Arena -- even getting me on live television while my brother and I linked shoulders and blasted 'O Canada' with the rest of that arena's 19,000.
What happened? Where did that go?
Now, the wonderful thing about ESPN's annual ranking -- which spreads every franchise in all of North America's major sports, based on eight categories, and is published in The Magazine - is that it's sort of a fluid, forgiving ordeal. The Canucks have been in the Top 10 or 20 or something before, and they'll be there again. One year, the Buffalo Sabres were No. 1. The Philadelphia Phillies have been, too.
(The Spurs are first this year, by the way. No surprise, and very deserved.)
Every year, a team's reputation in the standings and in its stands -- you know, with its fans -- changes like a wind sock in a Wes Anderson movie. Only the Spurs -- who have been dominant on the court for 15 years, and are beloved in San Antonio, where they're also the only major league franchise -- are safe from blusters and booms.
Some franchises have a history and a culture that can't evaporate with rising ticket prices, shoddy coaching, or underperformance. The Spurs, the Green Bay Packers (8th), the St. Louis Cardinals (19th), the Detroit Red Wings (20th), the Pittsburgh Steelers (38th)... those teams just get it. And even the other ones often find themselves sliding down Bristol's fire poll - the New York Yankees are 86th and the Los Angeles Lakers are 87th, for example.
These rankings are so great because they're sort of stupid. But instead of acting like they're a be-all, end-all, we can just chuckle at the Toronto Maple Leafs (LOL!) and our Canucks, because it's been a crappy, rainy year, and most of us would much rather just drive three hours south to watch a Seahawks game right now, anyway. (The Seahawks finished 3rd, FYI.)
So really, we are the ones to blame for this ranking.
I'm more into both the Seahawks and the playoff-threatening Mariners right now than I was into the Canucks for the past 24 months. I felt a greater connection to the Toronto Raptors this past spring than I did to the Canucks all last year. And I'm not alone - because Seattle and the Raptors are fresh, and the Canucks are the same peanut butter sandwich you've had all your life.
ESPN conducts its research by polling residents and fans in every one of these markets, which is why teams like the Yankees and Knicks (which finished second-last in 121st) can bottom out -- their fans are too smart, too expecting, and too honest about how much they hate the ones that hurt them. And have you ever been to New York? They have a list of insults ready to hurl at anyone they've never seen before, and nerdy Canadians often get the tomatoes. (NOTE: If you're thinking, Oh, well I'm not a nerdy Canadian, you're wrong. All Canadians are nerdy.)
Canucks fans are the ones who refuse to cheer because they came to the game straight from work and they don't want to spill anything on the (Insert Custom Designer Name Here) suit. Canucks fans are the ones that have bailed on their team when the going gets tough -- does anyone remember that black hole from 1997 to 2000? -- and Canucks fans are the ones that somehow ranked their 'Ownership' the best part of this team. (Like, seriously?)
And we'll climb again -- we've got Trevor Linden, a new coach and a new general manager, and a team that's as deep through four lines as any of the teams we've had since 2012, for real. So we know this ranking is trivial and clumsy, and we know it's just for fun.
But still... it hurts, right?
It hurts to see four NHL teams in ESPN's Top 10, and it hurts that those four teams are the Anaheim Ducks (2nd overall), the Los Angeles Kings (5th), the Tampa Bay Lightning (6th), and the Chicago Blackhawks (10th). So, our biggest rival, and a bunch of rollerblading sunny American parking lots? Just great.
But it also hurts because the good times weren't that long ago. It's like aging, when you lose your hair or get fat or start carrying your kids around in one of those ridiculous chest-strollers -- your high school yearbook is still in your office, so close and yet so far. You still have the photos from college, from that one great trip, the times you won't remember but can't forget. Blah blah blah. All that stuff.
You never knew how hot you were when you had it going on. It's like when that girl you always had a crush on tells you, "Oh, I always thought you were so cute. You should have asked me out." And your only answer to that is, "You know my name?!"
And seeing these flimsy California teen-beat teams on the magazine covers, it just makes you sad.
But hey, whatever. We're more mature now. Right?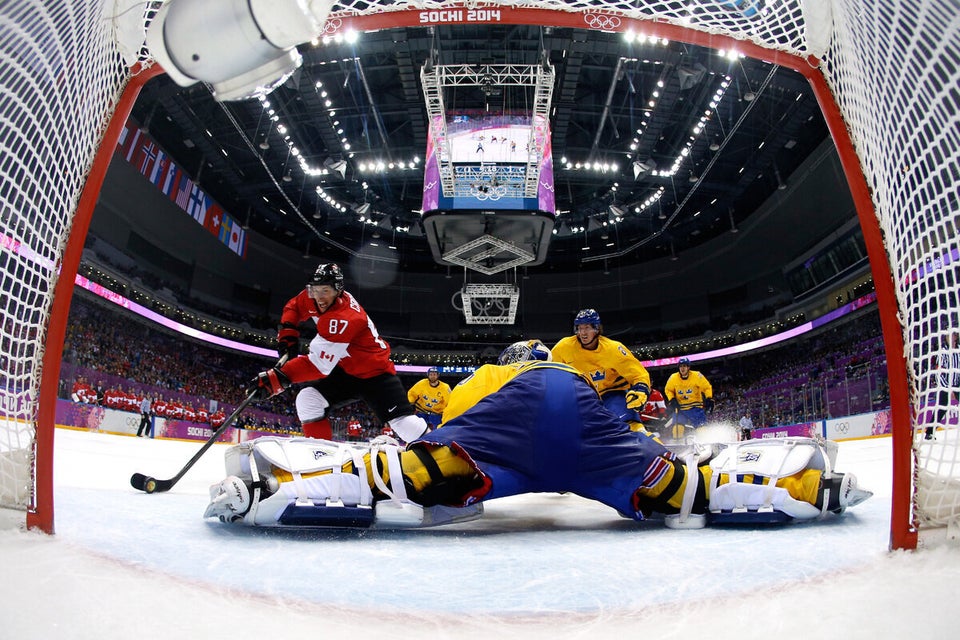 PHOTOS: Hockey Gold Medal Game