The Toronto Maple Leafs say they didn't mean to "snub" their fans last week, after a surprise 5-2 win over the Stamkos-buoyed Tampa Bay Lighting.
Whatever. If I'm a Leafs fan, I hope they did.
This team -- or any Canadian club, for that matter -- only plays well when it has no other option. And sometimes, that means doing it in spite of your fans, not with their support. Support makes you complacent. And in Toronto, where there's no other franchise that matters like the Leafs matter, their fans' relationship is as parasitic as it is loving.
It's loving in the sense that, when times are good, there's nothing better. Those people pack Toronto's wide, frozen squares and stare at the jumbotrons and big screens littered inside and outside across Canada's greatest downtown.
But when it's not working... well, the negative effects of heroin come to mind. Not that I'd know, I suppose.
The fans will pick them apart and leave the pieces to play. And then they'll ask, why aren't they winning?
So when the Leafs get blown out in back-to-back embarrassments, first 6-2 by Buffalo and then 9-2 by Nashville, and fans start throwing jerseys on the ice and calling for everyone's head other than their own, and then the Leafs go out and split the atom against Tampa Bay... well, again, any conscious fan should consider that maybe their love-hate back-and-forth with their beloved Buds is better balancing on the side of hate.
Guitarist Robert Johnson found he could get more done with the devil than he could with God. Maybe the Maple Leafs are the same.
Because in 2013, when they nearly knocked off the Boston Bruins in the first round of the Stanley Cup Playoffs, in their only taste of postseason action since two lockouts ago -- that's 10 years now, in case you're ignoring the numbers -- I can't remember anyone believing in them until they were forced to. Until Toronto's success was slapping them in the face, begging to be paid attention to.
Nobody thought they were a playoff team; nobody thought they'd come back to beat Boston down 3-1 in that series, or even tie the series. And the minute they started believing, probably the minute the Leafs took a late 4-1 lead in that Game 7 they'd go on to blow, it all crumbled in front of them.
They thought, "How could that happen?" But they knew exactly how and why it could happen, because it's what's always happened.
Whenever you can regurgitate a stat like that without surprising yourself, you know it's bad.
And in Toronto, it's better bad. It's better like this, with the Leafs believing in only themselves -- believing in nobody but whoever's in that locker room. That means not trusting the always-mocked, never-defined, too-general media -- going to the mattresses, so to speak. Burying themselves in their bunker until they're one with Lord Stanley's handiwork.
And it means, doing it for nobody but themselves, not even their fans. They can't afford to give a damn about anyone who's buying tickets or tossing jerseys, because they're just the mob, after all.
VIDEO: Fan throws jersey on the ice; Maple Leafs lose 9-2 to Nashville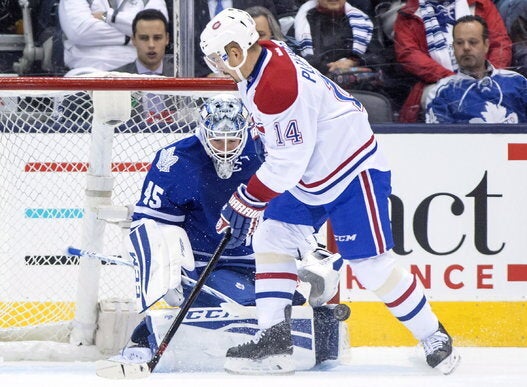 Canadiens vs. Maple Leafs, Oct. 8, 2014