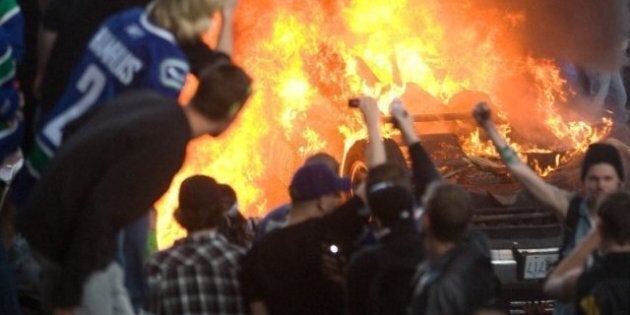 The words have been said, the tears have been shed, and the wrong people's blood has been bled.
At least, some of the wrong people's blood. I have no remorse for those who rioted, broke glass, and smashed ass, and I have little remorse for those who stood around to watch, to film, to "be there" while the city was burning.
Even if you "didn't do it," you still did it. Even if you didn't throw a brick through the window of The Bay, even if you didn't help flip that police car on Georgia Street, and even if you weren't that useless moron who was photographed lighting the towel on fire that was lodged in a police car's gas tank... trust me, you still "did it."
I was filming stuff on my iPhone for about 20 minutes, and then I got out of there. I didn't want to be a part of that crowd. I didn't support it. I didn't want to even be a part of that city.
Unless you were trying to help the police, unless you were escorting old people home safe -- old people who probably walked out the same diner they've been going to for 70 years and thought they had crossed over and landed in Belgrade, not Vancouver -- and unless you were genuinely trying to stop our city from burning, you should not have been there.
You have no excuse. You were a part of the problem.
The worst part about that night, besides the millions upon millions in damage -- and, trust me, the damage will be much more than the Vancouver Police Department will ever say it was -- was that we forgot about the on-ice product. We forgot about what our team had done for us.
The worst part about that night was that those people -- those block-headed stupid people who covered their mouths, who drove from all around the Lower Mainland looking for a riot to happen, who hate their fathers and thought they were being noble by "sticking it to the man" while stealing Coach purses (yeah, you're really anti-commercial, aren't you?) -- is that those people were hoping the Canucks lost.
They wanted chaos. They wanted to start a fight.
They were like those idiots who go into a bar and hope that someone "bumps" them the wrong way. They bring a girl out with them, not because they want to be with the girl, but because they want some other guy to "look at her the wrong way" so they can start something.
Ironically, these sound like things we hear about boys in Boston. On this night, they came from the Lower Mainland, they came from the Fraser Valley, and they came from the lowest point of humanity.
I wanted this Cup so bad. I wanted it for so many people, for so many reasons. I thought I wanted it for the city of Vancouver, and for the province of British Columbia, and I still do want it for them -- for us. That said, that small number of you who participated in a riot that made a hockey game look like an austerity measure can erase yourself from the conversation. You can join the ranks of those bandwagon jumpers I called out in round one, when we almost blew that series to the Chicago Blackhawks. You're like those soldiers in the war films... you know, the ones you know are going to die because they're peeing themselves in the front lines.
I wanted this Cup, and I didn't want it for the party. I wanted it because I wanted it. Like the way Henrik and Daniel wanted it, the way Kesler wanted it, and the way Luongo wanted it. I wanted it not for the party, but for the relief.
I wanted that feeling that comes with relief -- that feeling that we had after we beat Chicago. I didn't want to go to the Roxy when we won that night, and I didn't want to get drunk. I wanted the utterly sweet feeling you get when the weight rolls off your shoulders, and you can collapse to the ground and hear somebody say, "It's all right. Everything's all right. We did it."
I wanted that moment to bask in the sun. I wanted it all to be ours.
Real Canucks fans didn't burn things, didn't break things, didn't hope to. We couldn't, because we didn't have the strength. Real Canucks fans were the countless ones like me, who could barely stand to watch the third period or the Bruins' celebration, but they did... because that's what hockey players do.
Real Canucks fans realized it wasn't their night -- wasn't their year, or wasn't their decade -- and proceeded to shake hands with the Bruins hands around them, just so they could touch the hand of someone who had that feeling of relief that they wanted. Real Canucks fans had honour, like hockey players have honour.
There's a reason the handshake is hockey's trademark post-game ritual... no other sport carries the weight of manliness, of gratification. The Super Bowl isn't even about football anymore, and the NBA has become a league where you need to cheer against one team (you know what team I'm talking about) to have a rooting interest. Soccer is about dollars. Baseball is baseball... lost in a world of tainted syringes and inflated egos.
Real Canucks fans were like me on Wednesday. They stumbled out of Rogers Arena, or out of some downtown bar, or out of their friend's house, or out of their basement, with no purpose, no feeling, and no hate. They didn't despise our team -- they loved our team. They rode the SkyTrain home, trying to fight back tears, trying to ignore the idiots around them who thought it would be wise to offer their two cents on why the Canucks lost, on what they thought happened, on what some host on the Team 1040 said that morning.
Real Canucks fans drove their girlfriend home -- an hour's drive from Vancouver to White Rock -- and didn't say a word to her the entire time. They couldn't. Not out of spite, anger, speechlessness, or to ignore her. They just couldn't. There was nothing left to say.
I realized long ago that there were only a few people who could compete with my emotional involvement with hockey, and I've spent a lifetime dealing with that (heavy is the crown). For moments, I wondered why she kept talking to me on that ride home, wondered why she couldn't realize I didn't want to speak.
Of course, that's ridiculous. It's a damn hockey game. I'm ridiculous.
Nobody can measure up to that, nobody should measure up to that.
But, for one night, it was between me and the game. Me and the team. Me and myself.
And, in the end, it didn't turn out the way I wanted... on the ice, and on the streets.