Diana Starobinskaya via Getty Images
I wrote this post two months ago, as I sat in the Heathrow Airport crying from the experience I had had 12 hours earlier. This is the story I've been too scared to share. The conversations going on in Canada this week regarding sexual assault, and today's Huffington Post Canada homepage helped me find the strength to put this online. Thank you for that.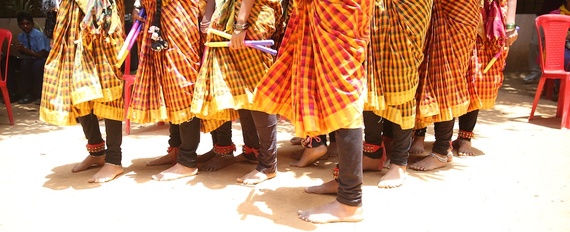 I have power. I have the capacity to articulate and share stories that deeply affect me in the hopes that they may resonate and shift the lives of others for the better.
But there are moments when I feel powerless, or as though someone is working to take my power.
My last night in India had a moment like that. It shifted my experience for me, and I'm still working to process what has changed.
He said, "men will be men."
This man, whom until that point, I felt I could trust and feel comfortable with, was coming onto me in spite of knowing the context with which I was visiting India and knowing, considering his position of power, that his actions were completely inappropriate.
In that moment, I felt my complexity of being reduced to simply being an object of this man's sexual desires.
He manipulated my friendliness, my culture, my joy for life, and passion for my work as an open invitation to remind me that I was indeed in the centre of Delhi. The city where a year before a woman was brutally raped on a bus and eventually left for dead.
This is not okay.
I was there to witness the empowerment of women. And in that moment I felt the reality of women's daily struggle and experience hit me like a bag of bricks. This interaction triggered a slew of emotions and memories in me -- anger, sadness, pain, bewilderment and a flashback to my experience with being harassed and stalked in university.
What made me think I was suddenly immune to the harassment and abuse that millions of women across the world go through everyday? What made me think I would never be a victim again?
A girl can dream.
In that moment, I felt the pain of so many women, all at once. It wasn't at all about the man standing in front of me, but of the shared experience of fear and pain of women everywhere.
The heaviness lingers. It's laced in the tears streaming down my face.
This experience was an important reminder that the work I seek to do -- to empower and share the stories of women in India, in North America, and hopefully around the world -- is my true calling.
We must be let to feel safe. Mine was an uncomfortable situation that I had the power to walk away from. Most women don't have that choice and agency.
This is why the work I witnessed in India is so incredibly important.
In India, the capacity for growth and change for women is remarkable, there are millions of women entrenched in extreme poverty, without education, forced into child marriages, without the means or support to prove what they are truly capable of.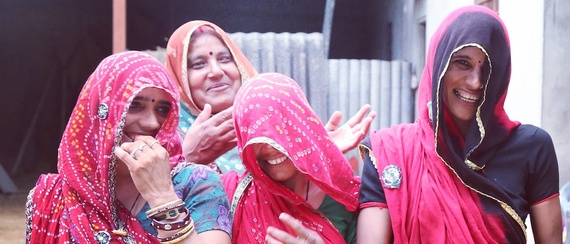 The daily plight of women in India is beyond reason for most North American women.
An example of this is the existence in India of a caste for prostitution. The women and children born into this caste are born into a life of prostitution and are likely never to escape. My brain can hardly begin to comprehend that truth and I was blessed to meet a couple combating this truth everyday through education and training.
What I Heard
Of the women I met during my time in India, there was one common message.
Being trained with skills, having someone (or many people) believe in your success and capacity to work and to be able to economically contribute to the community built their confidence, and as a result, helped them believe in themselves and their capacity for success.
This is transformative change.
At a skills development centre outside of Delhi, I sat amongst the older women as they shared their stories from their self-help micro-finance groups. One woman took a seat right in front of me and asked what my favourite Indian song was. I told her, and she asked me to sing it for her.
So I started. It was one of my mom's favourites. Suddenly the woman beside me started playing a hand drum and the rest of the women started singing along. Before we knew it, we were all dancing together.
As I danced alongside these vibrant, tenacious, strong women, I felt something shift in me, and I started to weep. We were so powerful in that moment.

What I know for sure
All anyone wants in this life is to be heard and to know that someone, somewhere believes in them.
You, my beautiful friends, family and readers, provide me with this knowing everyday. What brought me to tears that day with these women is that I deeply feel this knowing for all of the women I have met and will continue to meet on my journey.
We simply are powerful beyond measure, and no man, woman, experience or thought should ever take that away from us.
So with this post, I am standing up. I am standing up to the heaviness I've held for the past two months and for most of my life. The incident in India was not my first, or last, experience with harassment and attempted belittlement based on my gender. But it will be the last where I hand my power over. I feel sorry for whoever dares to try it again.
Because if men will be men, I will continue to be the strong, independent, powerful woman who refuses to accept that as the rationale for abuse, harassment and inequality for myself and for other women around the world.
After all, I am a phenomenal woman, and I know my power.
I think it is important to share that I did report the man who sexually harassed me. It took a week in my sweatpants, a lot of tears, self-blame, and incredible support from my friends and family to file my complaint. To anyone reading this who is searching for the courage to report their abuser, know that there is a community here for you. We are with you. Always.
MORE ON HUFFPOST: