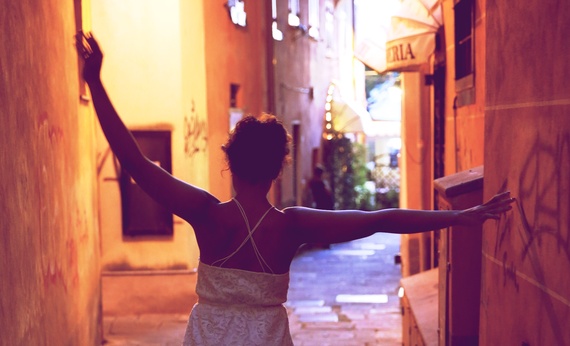 There's a part of me that wishes I were sitting next to Mitch on the flight I was originally set to be on. The one bound for Ottawa that left Geneva two hours ago. Instead, here I am waiting to board my flight for Bangalore, India and I am feeling incredibly unsettled.
The thing is, I wanted this. The moment I was asked to join in on Coca-Cola's #5by20 Women of the Web tour in India to highlight their work with Indian women and girls, every bone in my body told me I was going to go regardless of the obstacles I knew were going to come with getting an Indian visa outside of Canada. I was determined to make it happen, so that's exactly what I did.
Over the course of eight days, I highjacked our vacation plans in Italy, applied for an Indian visa in three different countries (being denied in two), crossed a border passport-less, stood in the hot and humid hallway of the Indian embassy in Rome for seven hours the Friday before my flight waiting for a 10-minute meeting with the Indian consular to convince him that I indeed was worthy of entering the country on such a short timeline, all while still being present enough to take in the beautiful country we were lucky enough to visit.
I (along with the amazing people who supported me through it) did all of this to be here, in this chair, about to board this flight.
So why am I afraid? Why do I feel insecure and unsure of what's about to happen?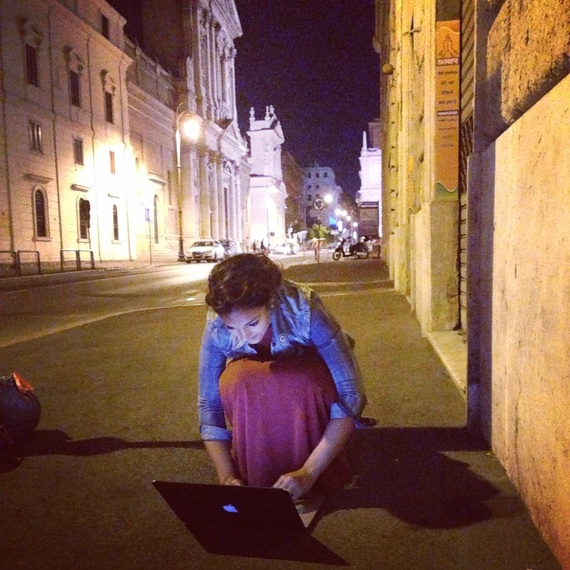 "I looked up the way I was going and back the way I come and since I wasn't satisfied I stepped off and [found] me a new path." ― Maya Angelou
On Taking An Unknown Path
A few days ago, I started reading the book The Alchemist, Brazilian author Paulo Coehlo's masterpiece about the power our personal commitment and drive to enable the universe to give us what we most deeply desire - to allow us to reach our greatest purpose and potential.
As I sat yesterday, finally relaxing, this quote for The Alchemist really stuck with me:
"It's the possibility of making a dream come true that makes life interesting... There was nothing to hold him back except himself."
In the midst of all the awesome of the past few months, I've realized that I actually have no idea what I am doing -- I have no idea if what I am doing is going to 'work' in making me conventionally successful. But I do know that my dream and calling in life is to do exactly what I am doing, it's undefinable right now and doesn't make a lot of sense, and that is both liberating and terrifying all at once.
What I've come to notice is that our deepest moments of transformation are always incredibly uncomfortable. This is because we are unleashing a part of ourselves that has been waiting to shine for so long. This has been a profound truth in my life the past few months.
I have been graced with a number of pivotal opportunities the past little while - lots of hard work followed by small breakthroughs leading to even bigger breakthroughs. A few weeks ago at the Annual Curators' Meeting for the Global Shapers Community in Geneva, I was sharing how grateful I was feeling with a friend and fellow Shaper. He said to me, 'You realize you've passed your personal 'Tipping Point', right?'
My initial reaction was to laugh at the audacity of his statement, but there's a part of me that knows deeply that this is the case. Things have really started to hit a strong flow both personally and professionally, and as wonderful as it's been, I have never been more terrified that the pieces won't add up.
What has helped push through, is realizing that this fear, uncertainty, and insecurity that emerge in the face of amazing growth and opportunity are simply a reminder that I am indeed on the right path. I am living my truth and purpose, and it's meant to be hella scary.
When Things Get Stressful, This Is What We Do
What I'm learning is that if we keep dreaming, working hard, being mindful, authentic, and joyful, the universe will conspire in our benefit (thanks for that one Paulo).
It absolutely is not easy to leave what we know best and what makes us the most comfortable, but if we are bold we can completely transform our everyday lives for the better. Every moment can and will be great (even the failures).
So to the fear that is bubbling inside me, I say thank you - thank you for the reminder that what lies ahead is going to change everything in the most excellent ways possible. Also, thank you for completely unhinging the control freak in me. I don't know what's coming next, and that is okay.
I do know that right now, it's time to board this flight and to prepare to share the stories of the female entrepreneurs and girls I am about to meet in the best ways I can. Stay tuned for their stories over the next five days and send questions my way that you'd like me to ask the Coca-Cola team. Alright... let's do this!
What has been scaring you lately? Are you able to harness that fear, and heaviness to help unlock your next success? Share in the comments below!
"People need not fear the unknown if they are capable of achieving what they need and want." - The Alchemist