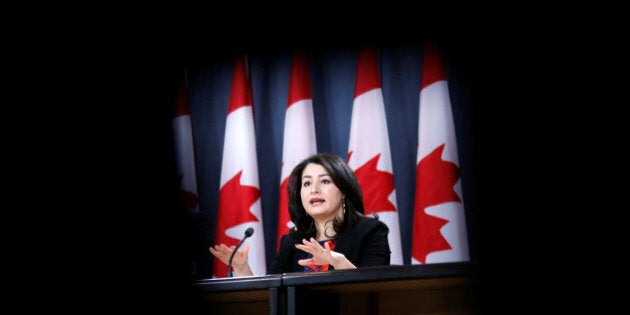 Disclosure: I ran for an opposing political party last federal election, and currently run a decision-making company which does not use third-party foreign privacy trackers and prioritizes on privacy and security.
On Twitter, I have recently bet my friend, Liberal MP Maryam Monsef, $1 million that I could impact the outcome of the results of the Liberals' new online electoral reform survey, MyDemocracy.ca. I also bet the minister $200,000 that I could have those results tampered with and manipulated, including entering multiple attempts to take the survey.
I've also asked that she stop leaking the personal values and votes of Canadians with several third-party foreign companies, which is exactly what this website is doing right now.
As a privacy and security expert, I concluded that the MyDemocracy survey is not just ineffective in its stated political objectives, it's literally giving up the privacy of Canadians in real time. This is really dangerous, not only from the various privacy trackers -- which you can see using the EFF's Privacy Badger plugin -- but scary when you realize that this issue applies to all of Public Safety's websites I have tested.
That's right -- by visiting the the Canadian Government's Public Safety websites, they are intentionally using third-party scripts in their website code to gather and provide your online behaviour and activity to foreign companies and governments.
How valuable will this information be for the Liberals' next election?
Consider that this information is effectively politically profiling any Canadian who participates in this survey. How valuable will this information be for the Liberals' next election?
This also applies to things like the terribly worded and biased National Security survey that is happening right now. What will the American government/companies do with all of the data that the Canadian government is openly sharing with them in real time?
Adding more to the "dumpster fire" that is the MyDemocracy survey, NDP MP Nathan Cullen and others excoriated it in the House of Commons:
Finally, as University of Victoria Assistant Economics Professor Rob Gillezeau tweeted, there exists an obscure clause in the MyDemocracy survey's privacy agreement that is obviously very problematic:
If you don't like the idea of your personal information, votes and activity going to foreign companies and governments, I would not enter any information on any (government) website that EFF's Privacy Badger is showing contains third-party privacy trackers.
To my friend Maryam Monsef, who I know does not have a technical background and is doing her best in her new challenging and critical role:
I request that we get a commitment from our government that they will stop using foreign privacy trackers, as well as a commitment they will not use this data after the survey is complete, if they don't choose to just abandon the survey data altogether.
Follow HuffPost Canada Blogs on Facebook