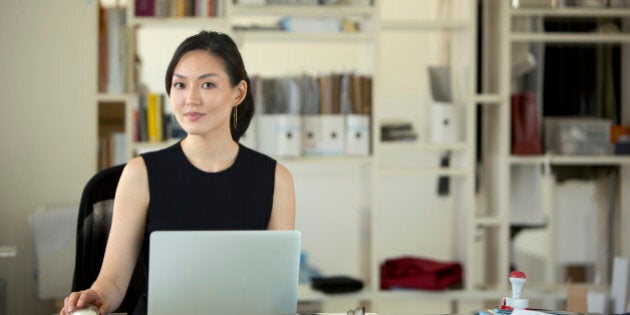 I attended the Women Presidents Organization conference in New Orleans last week, along with 800 WPO members who own companies that generate over $2 million dollars in revenue.
The WPO is a 15-year old organization with 1700 members in 10 countries. One of the 50 fastest growing companies in the WPO grew from $38 million to $700 million in 4 years. Holy smokes!
I expected a great conference because of the fantastic program and amazing guest speakers. But I didn't expect to smash through three self-limiting beliefs about women.
I actually didn't think I had any limiting beliefs about women in business. I identified as a feminist at 10 years old. I've long been a "women can do it all" evangelist. I'm now a 42-year-old female business owner. And yet, in the room of these 800 uber talented business women, I was in awe. Beyond that, actually. I was gob smacked. I had never been surrounded by so many successful women. At that moment, I realized that I still had some deep, latent belief that this was an exceptional event. That it's somehow extraordinary for women to be this successful.
But that's not true. Because when I spoke to the women at the conference, it was abundantly clear that they are smart, talented and determined -- just like most of the women I know in my life. The only difference is that they chose the entrepreneurial route. They jumped in, they took the risk, and they've persisted to success. The 1700 members in the WPO have created businesses that employ over 142,000 people worldwide. That's 84 employees per member!
My second eureka moment was when I learned more about the businesses they own. They represent a cross section of industries, including: information technology; oil and gas; plumbing; electrical; drywall installation; transportation; staffing services; medical supplies - the works!
I was overly impressed by the drywall, plumbing and manufacturing businesses that I believe aren't traditionally female. Women are creating hundreds of millions of dollars of revenue in these businesses. Here is another limiting false belief to release once and for all.
And then, I was actually moved to tears by my third realization.
I sat in workshops on strategic growth, exit strategies and conflict resolution. No matter what the topic, women were connecting with each other and listening to the stories of their whole lives. Kids, health, love and divorce were on the table, punctuated by, "How can I help?" and "I should introduce you to..."
I contrasted this to the last conference I was at in mixed company. The male-led conversations were more critical and positional, about demonstrating their knowledge, punctuated by a dirty joke, f-bomb and an invitation to golf and go to the bar.
Nothing wrong with that. I like a good joke and going to the bar. But I also like being my authentic self. At the WPO conference, women demonstrated their female qualities without apology. In fact, women's natural leadership tendencies to convene, facilitate and define problems for team resolution were well on display. According to a number of workshop and keynote speakers, female leadership traits are in high demand and our working culture is now valuing these traits more than ever.
My third false belief to drop once and for all is that I don't have to act like a man in business. Women can be women and be successful.