Dad,
I thought my life ended the day you died. I was always by your side from six to 16.
Tickle me dad, try to make laugh, I would squeal as your little girl.
You taught me how to comb my hair into a neat ponytail without any bumps.
I used to say, Dad stop, when you would press your face next to mine in the mirror and smile. Now, I want to see your face next to mine more than ever.
I want to hear you call me your brown-eyed girl again, just like Van Morrison sang it:
With you, my brown-eyed girl,
You, my brown-eyed girl
You taught me how to play soccer, the sport I love the most. Sometimes you yelled at me too much from the sidelines. Sometimes it made me play better, but some days I got discouraged. But you were always there, standing on the sidelines.
You taught me to appreciate classic rock, or what you called, "good music." You told my younger brother Johnny and I to listen to the lyrics. At the same time, you always told me to turn the 'rap shit' off when we'd battle for the radio dial on a long drive. Now, all I listen to is classic rock and you're not here to tell me about all the shows you snuck into as a teenager. Johnny and I saw Neil Young in person last year - he arrived at the red carpet just as we arrived at the theatre. Did you make that connection happen?
You taught me to enjoy food and eat healthy. I miss your grilled vegetables, rice dishes and stews. But, I also have a sweet tooth like you mostly for ice cream and junky chocolate bars. You'd be so proud that I recently showed my boyfriend Kavi your trick to boil pasta -- tip the lid and let it cook on medium heat. He's a great cook. You would have fun together in the kitchen.
You taught me to respect my Italian heritage and embrace it. There are tons of Italians in Melbourne, where I've been for the past two weeks. A man in his 70s named Tom takes care of a garden in the backyard where I'm staying. He brought us homemade wine, pancetta, and salami the other day and we enjoyed everything under the setting sun. It was a moment you would love; sitting on the porch in the morning or in the backyard by the trees in the evening. A place to sit and contemplate and watch the world in front of us; an opportunity to think about the lives we're living.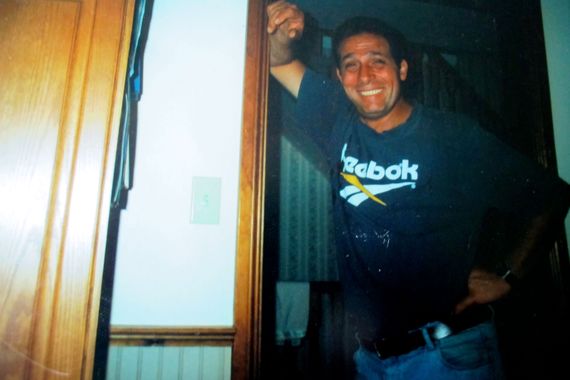 Dad, this is the one photo I brought with me while traveling
The last time we spoke was in 2006. I was in Toronto in my room in the house I was renting with friends. I was 19 in my second year of college. It was evening; my desk lamp lit the room as I studied. I can't remember exactly what we discussed, but I remember feeling happy. I could hear that you were happy, too. I remember my last words were to call me lots.
We were starting to talk again after a falling out. We had an argument after you told me that you were done raising Johnny and I. That year I picked up the phone many times to call you, only to realize that I could never talk to you again. I remember calling mom after these realizations, often while I was leaving campus. I sobbed as I walked among the evergreen trees at dusk to the streetcar stop.
You've been gone for eight years this November 14, 2014. It was a rainy, dreary day at 7:30 a.m. on a Tuesday morning when you died. I still vividly remember my body shivering and shaking at the gravesite as I laid a rose on your casket. From that Tuesday, I would dread every following Tuesday and count the days and weeks that you had been gone.
I don't count the days now like I did then. But every year, two weeks before your anniversary my body knows the day is coming. I get agitated and I get tired from knowing you're not here. I want my own space. I cry and I get angry with you for leaving mom, Johnny and I behind. It has taken me eight years to rebuild my life and I'm still going. While you make me mad sometimes, I celebrate your life on every anniversary by doing the things you loved -- eating chicken wings and enjoying a beer. A friend of mine, who lost her father to a heart attack a few years after you, shared this idea with me.
I miss talking to you for endless hours about what I'm writing or what's happening in the news. But you would be happy that I have an amazing partner in my life, whom I can continue these conversations. He's smart and curious just like you. Some days I say to Kavi that I can't believe you'll never meet, especially when the things you love are so similar: cooking, food, beer, music, history. I guess that's why people come in and out of our lives.
Now I'm living in Australia. I'm six months into traveling the world. I quit my job, left my apartment and shook up my lifestyle to follow my dream. I've played with elephants, climbed a waterfall in Laos, and trekked through mountains in Vietnam. The adventures will continue. India, Japan, and Singapore are on my list.
I know you'd be proud of the career I built so far and the young woman I've become. I know long-term travel wouldn't be your thing for need of security and comfort, but I know you'd be proud of my courage. I know you'd be calling me a lot. You'd love the photos. You'd share the stories with your carpenter friends. We'd talk about the Vietnam War and the Killing fields in Cambodia. You'd tip your history cap and give me your own opinions of these tragic events.
My heart jumps a little when someone asks, "so, what do your parents think about you traveling?" Some days I acknowledge you've passed, and other days I just let the effort of an explanation go by and say something generic. I don't want to cry anymore.
Your son Johnny moves to Edmonton on November 16. I'm excited to see my little brother pursue a career in carpentry and live in a place that suits the lifestyle he wants. He wants to be in the outdoors, just like you did. He's also making beautiful wood furniture like you did for mom's apartment when you were in your mid-20s. He's a smart kid; his charm attracts all kinds of women, and he looks after his older sister.
Mom, or Fluffo, as you called her -- I still don't know what that nickname means -- continues to be a pillar of strength. You'd be so proud of mom - she's pushed us through eight years to work hard, to be happy, and to go after what we want. She kept encouraging us to do what will make our father happy. We're standing healthy and happy today because of her perseverance.
It's mom's turn to build the life she wants. She'll still worry about us being so far away from home, but I've told her that it's time to look after her self. You wouldn't believe her natural tennis skills, but maybe you're watching from behind the cage and giving her extra strength in her swing.
What about you? What would you look like now?
Would you have gray hair? Would your heart still be sick?
Would we be close? What would you think of the lives we're living?
Did you know you were going to die? You were supposed to travel that year with mom and you didn't want to fly. You loved traveling.
I will never know the answers. But, I am sure of this: when I have to eventually tell new people I meet that you passed; I can say that although you died young, you lived the best 51 years you could. You never took anything or anyone for granted. You owned everything you had. You treated your family like gold.
Every morning when I rise, I pour a glass of water, walk outside, and feel the sun on my face. Last night I sat on the porch by myself as the sun set. I sipped a glass of red wine. The cool air raised the hair on my arms, as I looked out beyond the rose bushes to watch the birds fly from tree to tree. These are some of life's beautiful moments that you taught me to enjoy.
Of all the lyrics from your favourite classic rock artists that you told Johnny and I to remember, these ones most ring true today from Trooper:
We're here for a good time
Not a long time
So have a good time
The sun can't shine everyday
My life changed the day you died. Only a few weeks before you had said that you were done raising us; but in the 19 years that you raised me, you raised me well. I'm doing what makes me happy. I'm supporting other young people without a mother or father. I'm travelling. I'm writing. I've found a partner that I want to spend the rest of my life with. Fear won't stop me. I will be strong. I will live the life I want today, not tomorrow.
I always feel you around me. Whether you were the waves crashing into the rocks on the Californian coast (where I cried a few tears on your anniversary last year), or you were one of the endless stars twinkling above me on the Gili Islands in September, you're guiding me along my path.
People say time makes coping with loss easier. I agree that it does, but I have to say that my aches and anger don't go away with time. I miss you every day. I believe that I will miss you for the rest of my life.
I know you and Nanny, your beloved mother, are up in the clouds making pasta and watching what we're doing.
So, today on the eighth anniversary of your death, I offer you a salute, a cheers, from my backyard to yours.
I love you Dad, always and forever.
Love your brown-eyed girl,
Kris