Getty
I used to think that the Australian lifestyle romantically embodied wearing surf shorts and bikinis all day, all year round, until I moved to Australia to live in Perth and now I see how people are really dressing.
I was surprised by how stylish Perth men and women are within a state that is so isolated from the rest of the country -- its closest neighbour, Adelaide, is almost 2,000 kilometres away. Perth is as remote as it gets, yet style is often only recognized or associated with big city innovation and designers hailing from trendy Melbourne and Sydney.
Perth is chill and life is slow. People dress to the relaxed vibe of the city more than the weather itself. Perth can peak to almost 40 degrees Celsius in the summer, but I still see people wearing their Blundstones proud. It doesn't appear that anyone is out to impress; rather, the goal is to be comfortable and enjoy fashion.
Remember the Birkenstocks you wore with white socks in high school? They're a staple shoe for any age, minus the socks.
Yet comfort doesn't mean compromising style. Comfort means simple cuts, fabrics, and colours worn stylishly. Many emerging designers like my current favourite Monster Alphabets to established labels like Morrison are delivering these styles to Perth women.
Australian women are beautifully relaxed, exuding confidence and cool whether commuting on the train, walking through the central business district, or attending a party or city event.
Today as I was crossing the street in my neighbourhood, I noticed a young woman with a shaved bowl cut in slouchy jeans and iconic John Lennon frames. I thought she looked edgy, and as we passed each other on the street I realized she wasn't in her 30s, more likely in her 50s. She looked great.
Older Australian women are among the most stylish I've ever seen in my travels, even over the confidently dressed women of Italy. They don't over-complicate or get too fancy with their fashion choices. Taking the train is a good place to spot this style. I've checked out women in their 40s and 50s more than ever for inspiration; eyeing their fun, fashion jewelry and edgy designer shades.
Young women carry the same style philosophy. Long, loose dresses in patterns or neutrals are common for the summer months; they're not tight or too billowy; there's style in the flow and length of the dress with recent observations like a side peek of a lace bandeaux, and a peep of matte black sneakers underneath.
This past Friday evening I joined the Dumbo Feather Magazine event as part of the Perth Writers Festival in the hip neighbourhood of Freemantle, where my admiration of modish-dressed Australian men and women culminated in only a few hours. Freemantle, also known as Freo by locals, is a major port city with close access to beaches, so you wouldn't necessarily expect such a cool, cultural crowd to reside and hang out within its walls.
Kate Hulett of lifestyle emporium Kate and Abel, where these stylish men and women mingled, is a classic simple and stylish dresser. You can count on Kate for a great dress and shoes. Hulett wore a '70s-inspired bright-hued, geometric patterned dress by Australian designer Mister Zimi. Hulett wore no jewelry, with her chestnut brown hair tied up; the cut above the knee, half sleeves, and her cowhide chunky wooden heels were all that were needed to set this classy look.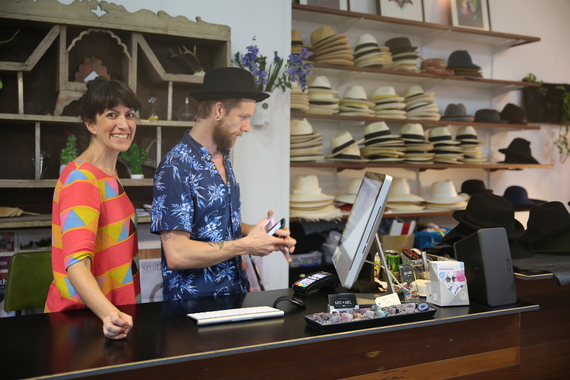 Kate Hulett and Matt Bale of Kate and Abel in their shop
Photo credit: Dumbo Feather
In between my bites of brie cheese and sips of chilled Sauvignon blanc, I spotted a young girl, who I confidently pointed out to my boyfriend and suggested that's how I picture my daughter dressing one day. She wore a navy blue and white polka-dot skirt that whooshed around as she played; a T-shirt with a big sparkly star on the front, and neon yellow jelly sandals. Her happy spirit matched the bright colours and magic moving through her clothing.
All of my examining and iPhone snaps were taking place within an old Australian department store called Many 6160 that was converted into a space for artists to gather, collaborate, and sell their designs: purses made of Portuguese cork, to a pop up gallery of paintings and illustrations. This burgeoning scene is a testament to the growing creative culture in Perth as innovative minds reclaim once abandoned and ready for demolition spaces.
The most stylish man of the evening was an older gentleman that I never got to meet. Upon seeing him, my boyfriend said, "I want to look like him when I'm older; he's a man of importance."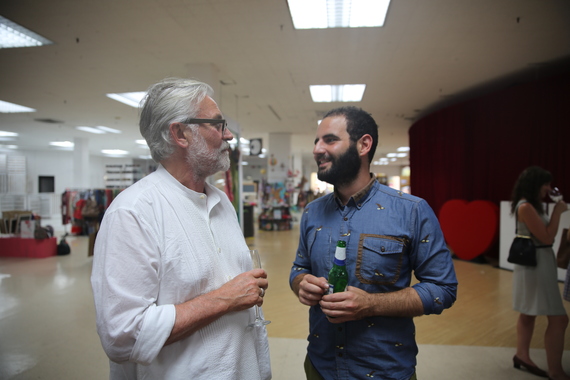 Photo credit: Dumbo Feather
He wore a thin white cotton tunic with linen salt and pepper pants, strappy brown leather sandals, and thick-rimmed circle frames. His white wispy hair nicely sat back from his face. Maybe he was a man of importance or maybe he was simply a confident and content man; at least that's what his fashion said.
The style stories coming out of Perth are endless and exciting. In the next few weeks the Western Australia Fashion Awards will recognize the innovation and creative edge coming out of an isolated state that has inspired me to look at style differently than the tired and exhausting see-and-be seen exercise of many big cities.
ALSO ON HUFFPOST: