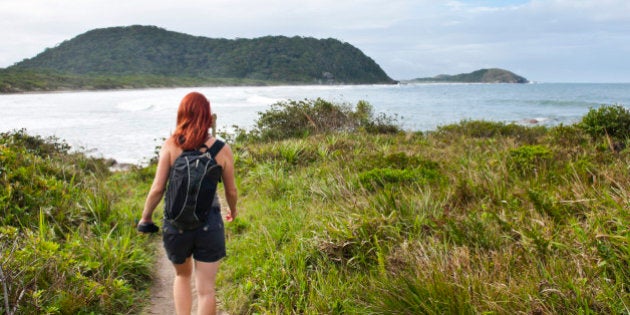 A mirror. That's what my 12-year-old self said I would want as my survival item on a deserted island.
In high school, I wouldn't leave the house without eyeliner on both lids.
One night in college, I was already late for a party, but still spent an hour on my hair to look good for everyone else.
A mosquito net. That's what I treasured most this past August while on a remote island in Cambodia for three nights. There was no mirror and I had no idea what I looked like.
I left Toronto four months ago to travel the world indefinitely. In that time, I've become more comfortable wearing little to no makeup and not fussing with my hair. I've become more comfortable with myself.
This morning, I combed my hair, brushed my teeth, put on moisturizer, sunscreen and lipstick and dressed. I was ready in 10 minutes. I've been doing this routine in busy cities like Bangkok, where women are meticulous about their makeup and take countless selfies; or the small island of Gili Air, near Bali, where I wear my bathing suit all day.
But, it wasn't until my boyfriend and I were having dinner recently in Bali -- surrounded by immaculate vacationers -- that I realized a change in comfort. I sat in flowy pants, a loose tank top, hair in a bun and no makeup. This moment brings me to my first of three lessons I've learned while traveling:
I want to be clear: this is my experience in self-image as it relates to many areas of my life including the pressures of Western ideals to constantly be beautiful, the need to be polished and professional in past corporate settings, and even living up to family and friends' perceptions of health: shiny hair, nice skin and being slim and stylish. This set of expectations over the years fuelled a habit of self-judgment. But, everyone's experience is unique. I know a lot of people who have never worn makeup and that's normal.
I bought a pair of goofy, orange, sweat- and water-proof sandals before we left Canada. I would have never bought this style for the summer in Toronto. I'd look dorky and they wouldn't pair with anything I owned. But I knew I needed reliable shoes for long days of walking and treks. I wear these sandals to the beach, dinner and hiking, and I once, although hesitant at first, wore them with a dress for an interview with an editor.
This same principle of comfort has translated to an important wardrobe of cotton dresses, flowy pants, and often tying my hair back.
On past trips to Europe, I had ignored my mom's insistence that I bring comfortable shoes for walking and instead wore the fashionable sandals with little to no sole that had my feet in agony at the end of the day. I wanted to look good all the time, and that meant looking like what I read in magazines or saw on TV.
I don't let things make me feel beautiful
In high school I had to wear a uniform. Once a month we were allowed a dress-down day, where we could wear our regular street clothes. I would often be at the mall the night before looking for a new outfit because I didn't want to be seen wearing a look people already knew.
I didn't realize how much clothing I had accumulated -- wasteful and shameful -- until I rummaged through endless bags and hangers of clothes that needed a home only weeks before our trip.
Before we left, as someone who loves fashion, I worried about how I would feel wearing the same shirt and shoes everyday. It was hard at first -- I missed the ability to exercise my style or choose which shoes I wanted to wear.
The less I focused on how I looked, the more I strengthened other areas of myself-the health of my stomach that I have long struggled with, getting the rest I need after a long day of travel (I was always on the go in Toronto), or spending less time getting ready so I can spend more time experiencing a city or moment.
I focus less on external beauty to strengthen internal confidence
I was Skyping with a girlfriend when she asked a question that I presume was more like a statement from one of my recent photos, "I guess, you don't really wear makeup most days?" The photo she might be referring to is one with my boyfriend that I wasn't sure if I'd post because I didn't want everyone to see me without makeup. In turn, no one seemed to notice.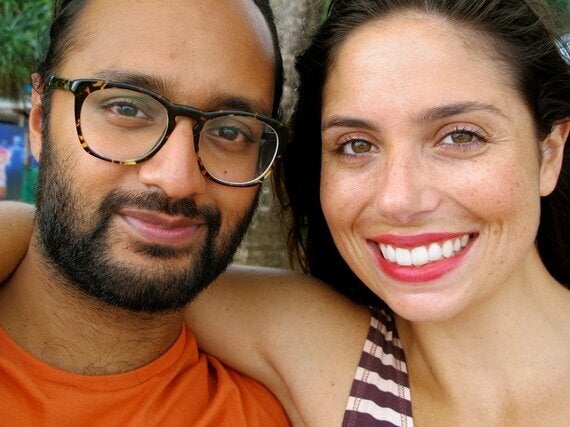 Writer Kristen Marano in the photo she hesitated to post because she wasn't wearing full makeup.
While I didn't wear much makeup when I was living in Toronto and working a busy agency job, I never would have left the house the way I do now for fear of judgment or not looking good enough.
Currently my eyebrows are the most grown out they've ever been. They could contend with my boyfriend's mini unibrow or the latest runway trend. The truth is, I want them to be threaded, but most places in Asia offer only waxing. In the meantime I'm OK with baring them.
Travelling and working gives me the freedom to design my days, which means endless time to contemplate about my life. I can choose to spend the time picking at potential physical flaws or reassert my time in other areas.
I just got through a full book, which I hadn't done in years in Toronto. I blamed my inability on my job at the time, where the pressure to consume constant information meant skimming articles and constant distractions. In the past two weeks I finished three books and the ability to recite and more clearly talk about ideas with my boyfriend or friends is rewarding. It's a confidence booster and a new affirmation of my self-image. It's becoming an important part of who I am and that's pretty cool.
I've never known what people mean when they talk about finding themselves in travel. But, if I'm to find a meaning for myself it would be that when you're forced to shower in cold water for days on end, wash and brush your teeth in a moving train cabin, pee in a hole and sweat under 40 degree sun, I've learned that I'm a stronger person for these experiences than making sure my hair looks perfect, constantly touching up my makeup or wearing shoes that aren't comfortable on long treks.
Perhaps a stronger self-image comes with growing up. I think my friends in their 30s might tell me that. But, I'd like to attribute it to my travel experiences that are putting priority on who I want to be. From a mirror to mosquito net, I'm redeeming myself.