My father was a carpenter, which is why I find woodworker Erin Malloy's work so fascinating. She's a woman who works everyday in a woodshop in Victoria, a state in the southeast of Australia, and competes in an industry that is traditionally dominated by men.
Erin salvages different types of wood, including cuts in cherry and walnut, and creates kitchen essentials like cutting boards and sugar and salt spoons. One spoon can take three to five hours to make. Erin starts by using a carving knife to scoop the the spoon; she then uses a bandsaw to cut the shape, and last using a knife, Erin files, sands and polishes the wood. The spoon is given a quick dip in boiling water to raise the grain, Erin sands a bit more, and then uses mineral oil and beeswax to seal the utensil.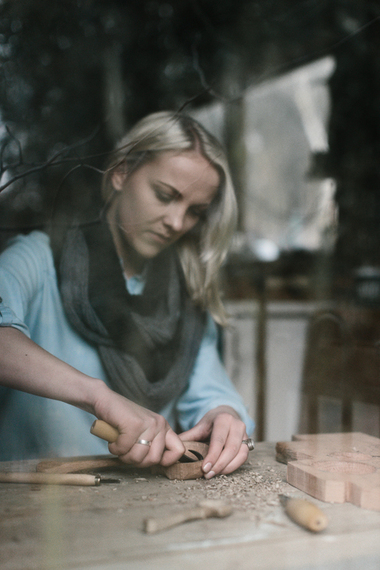 Erin Malloy uses a Swedish hook knife to carve a piece in her woodshop. Photo credit: Erin Malloy
For artists who work on their own day-to-day, collaborations are important to extend exposure of their products. Erin's products are used by stylists across the country for long table dinners and workshops, and Erin has collaborated with fellow artists in different Australian cities. She recently worked with a ceramist, whose small bowls in addition to Erin's spoons, could make a complete set for someone's kitchen.
Erin and I recently talked about her career as a woodworker:
Woodworking has traditionally been male-dominated. How do you define yourself in this industry?
I have found that it is more important to be authentic and accessible than overly confident to define myself. I'm constantly trying to focus on my perfectly imperfect aesthetic, relationships, and collaborations to help me differentiate myself in the field. Promoting sustainability by using reclaimed and recycled timbers also helps set me apart.
Tell me about the woodworking industry in Victoria, Australia.
Through sourcing timber to buying tools, there is an air of camaraderie, even though there are very diverse age and skill sets. It's an important part of the inner workings of the industry in Victoria; it's like a large community that encourages learning and educates one another to preserve and promote the traditional techniques of woodworking. As everyone is like-minded, if you have a problem that needs solving, someone will generally know how to help.
When are you most creative?
My creativity usually peaks late in the evening when I'm tired, just after the logic part of my brain has gone to sleep for the day. This loosens my focus, making it easier for me to think creatively. If that doesn't work I like to make some noise, or play some music to let my brain feed off the unpredictability of what's going on around me.
How do you prepare for a day in your workshop?
My morning generally begins with feeding the dogs, and making myself a coffee, to which I generally go outside for a stroll around the backyard. After that it's breakfast, a morning run before checking emails, another coffee, and then into the woodshop to get dirty.
Follow Erin through her creative process and craftsmanship.
I'm fascinated by creative women -- their passions, challenges, and contributions to society. If you know a creative woman to feature, please tweet @kmarano.
For more stories about creativity and business, sign up for my newsletter, Creative Women Weekly.