Therapy
I've always believed that Valentine's Day was a time to extend love to anyone or anything in your life that you appreciate. For me, fashion has always been the number one "thing" that I love.
My Nonno -- Italian for grandfather -- was a shoemaker, so I learned at an early age the value of strong craftsmanship and handmade goods.
I recently graded fast-fashion retailers on their efforts to improve their manufacturing conditions. Now, I want to give a little love to five of my favourite designers who sell fashion made by hand, so you can buy something for your special someone.
Product: Men's shoes
Made in: Okara and Lahore, Pakistan
Material: Leather from Lahore
Markhor is a startup that is working to connect customers directly with their craftsmen. It's a huge undertaking in an industry where it's often difficult to even trace the life of a T-shirt.
Markhor handcrafts three types of men's shoes in sleek pure black or tan leather: the loafer, a lace-up dress shoe, and the kaptaan chappal, a traditional Peshawari sandal.
Shoes are made by indigenous craftsmen in Pakistani villages and towns, who have been handcrafting shoes through family generations over 1,800 years.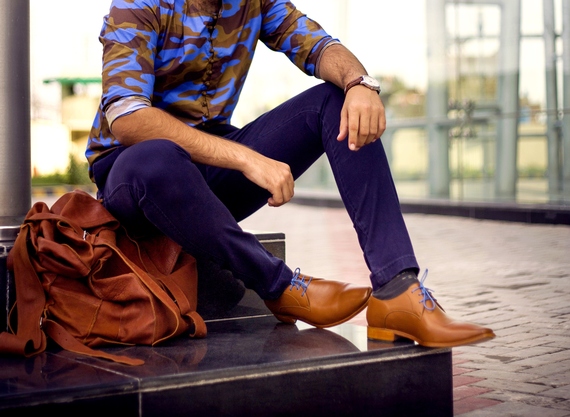 The Derby by Markhor
Photo credit: Markhor
What's to love: Markhor takes a simple, yet detailed approach to design. One pair of shoes takes up to five days to make. Touches like brass hidden eyelets, cow leather sole, goat lining, built-in ankle support and no-slip grip create a classy and strong men's shoe that's worth the high price tag.
Consider this: You can find beautiful shoes in major Canadian cities, or you can have a handmade shoe with a story for yourself to appreciate and to share with others.
Product: Leather clutches
Made in: Sydney, Australia
Material: Leather from Indonesia; shibori, a Japanese tie-dying technique, sourced from Italy
Founder Imby Langenbach started making clutches out of her Sydney home in 2013 when she needed something practical and light to throw her keys and phone in. Now, women all over the world are carrying her attractive range of supple leather clutches.
Langenbach's enthusiasm for her designs shows in her online store -- she calls her clutches 'ladies,' to give each clutch a persona based on colour and design with names like Queen B and Bella.
What's to love: Many things. Each piece is made to order, meaning every clutch is uniquely your own. Picking a colour is like picking a nail polish hue from your favourite company -- you have a lot to choose from.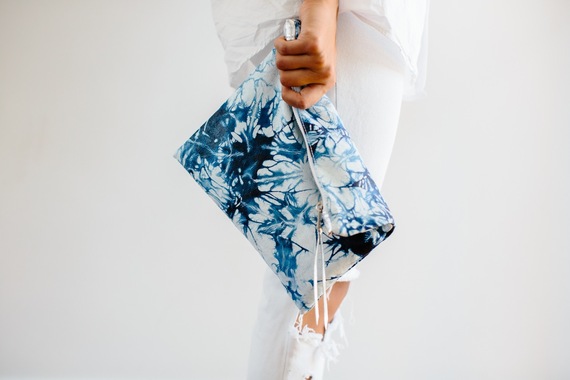 A clutch from Therapy's shibori range
Photo credit: Therapy
Consider this: The shibori range is one of the most unique and beautiful looks I've seen for a clutch, even among high-end designers. It's a design process not often seen in North America, and while its clean whites and vibrant blues are most fresh for spring and summer, these clutches could add a bit of edge to a fall or winter evening look.
Product: Women's wood necklaces
Made in: Philippines
Material: Mango wood and white wood
Everything about Melbourne-based Elk exudes a bit of casual cool, and it starts with the mindset of Founder Marnie Goding. I met Goding at a creative women's event where she was speaking, and carrying through this vibe in her Elk apparel and shoes.
I particularly admire Elk's wooden necklaces, because they're a refreshing and affordable alternative to the swath of fast-fashion focused jewelry popularly shopped by young women in Canada. They're also the kind of company that has designs for a wide age range -- what I like is very different from what my mom likes, and Elk covers that.
What's to love: Elk takes good care in its jewelry making process. Natural materials, dyes, and waxes are used. The colour palette of earthy pastels makes these necklaces a chic accessory over neutral shirts, denim, or dresses, and you can change up your look by wearing a necklace chunky, layered, short, or long.
Consider this: While Elk's jewelry isn't made in Melbourne, Elk shares its jewelry-making process in photos, revealing techniques and stages of design.
Product: Women's wool toques
Made in: Bavaria, Germany
Material: Baby alpaca, and merino and Peruvian highland wool
I met designer Chiara Weiss, 21, while traveling from Thailand to Cambodia. An architecture student based in Bavaria, Germany, Chiara started hand-knitting wool toques in 2010 out of her home garage, and since then her creations have been sold in German and Italian shops.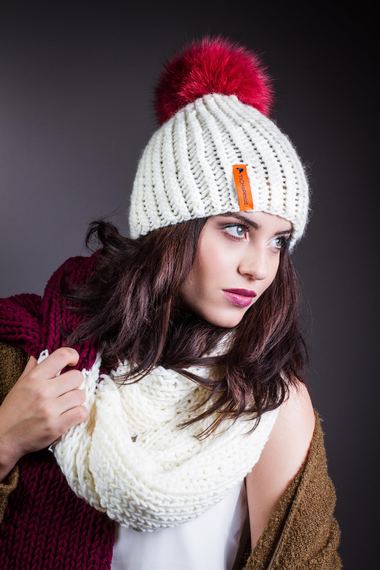 A toque from the TsCHipfelmütz collection
Photo credit: TsCHipfelmütz
What's to love: Chiara's design mind clearly translates to her fashion creations: her winter toques are made for function and style. Soft and durable fabrics like baby alpaca wool create warmth, and signature features like a berry red fur bobble add a vibrant touch. Toque colours range from cherry red and cobalt blue, to neutrals like cream and grey.
Consider this: Chiara's choice of fabric like baby alpaca has no lanolin, a wool grease, which makes her toques hypoallergenic, and a happy choice for people who have sensitive skin.
Product: Women's scarves
Made in: Toronto, Canada
Material: Cotton and silk remnants
Toronto designer Karen Carrillo is one of the eco-brains behind beloved fashion and art non-profit cooperative Freedom Clothing Collective (FCC). FCC curates and sells Canadian fashion designs, like Carrillo's silky handmade scarves.
What's to love: Karen uses lightweight soft cotton gauze that adds warmth and breathability, without having to wear a heavy winter scarf. The beautiful range of colours she uses in one piece add brightness to a neutral winter outfit.
Consider this: Karen uses cotton and silk remnants from high-end designers and creates her own look through a technique called ice dying. Ice dying produces a variety of patterns and delays the release of pigment, creating a stunning collage of colour reminiscent of the wings of a butterfly. This technique means no two scarves are alike.
ALSO ON HUFFPOST: