Kristen Marano
When I shop, I want to know how the pieces I like are made. I look at the tag. I ask where the fabrics are from. I read about the designer. These details reveal the process of a piece that earns a hanger in my closet.
In my travels through South East Asia I've been disappointed by the remnants of Canadian fast fashion. At a market in Bangkok, I walked by a pile of denim shorts with Joe Fresh tags for $7 each. In Hanoi, stores named Made in Vietnam are packed with locals shopping for endless dresses, skirts and blouses, which clearly have gone unnoticed by factories making clothes for retailers like Zara and Forever 21.
I'll never know where the denim is from and who made the shorts. Large retailers can't and won't reveal the details unless they're obliged by a tragedy, leaving customers uneducated in the origin of their clothes and accessories. To openly reveal process gives due diligence to the customer and strengthens the authenticity of the designer.
This type of sharing is what separates Heather Smith's designs of Laos-based shop Passa Paa from fast fashion retailers and puts a value on owning her pieces. Smith is debuting her designs in San Francisco at the upcoming Renegade Craft Fair on July 19.
When I visited the Passa Paa studio -- meaning the language of cloth -- in mid-June, Smith, London-born and dressed in faded gray skinny jeans and a butter-yellow spaghetti strap shirt, was working tirelessly to prepare for the fair. Her production team of a local tailor, printer and weaver create accessories from tribal traditions of Laotian weaving and dying using hemp and indigo processes, which begin with Smith's eye for modern and edgy aesthetic.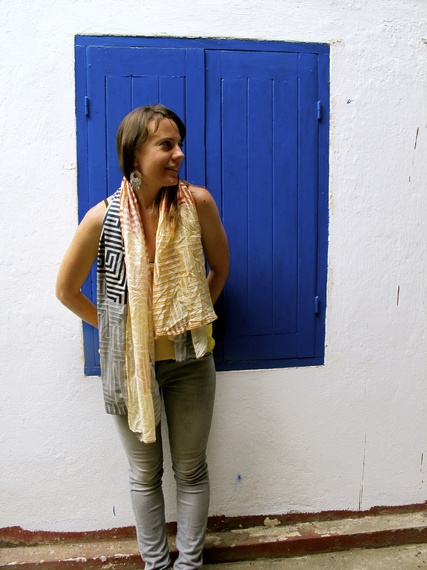 Smith inside her studio. Photo credit: Kristen Marano
A walk down a short set of stairs reveals a bright, white-walled studio anchored by a cherry red floor. Got Vilasing, Passa Paa's Laotian printer was swabbing thick black paste onto a large rectangular screen. She pressed firmly on a rough cut of hand-woven Lao hemp and lifted the screen to reveal a print of bold interlocking crosses. This print, once dried, would be the main design for clutches, which also come in royal blue and sky blue. Three to four inches of supple black leather sourced from Bangkok would make the base of the bag. The inside of the bag would be lined with 100 per cent cotton. From studio to shop, this was the first time I experienced the process of clutch making. I now appreciate how Smith's one-off designs can cost upwards of $100USD.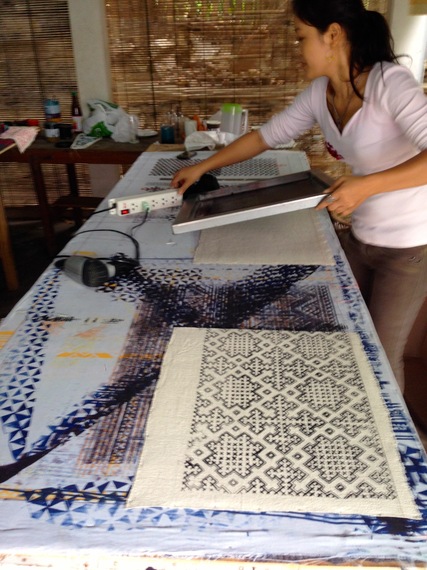 Photo credit: Kristen Marano
When I ask why she's based in Laos despite her roots and more access to Western shoppers, Smith tells me she's passionate about helping provide locals, particularly youth, with an opportunity to exercise their creativity in a small country where resources and opportunities are limited. In fact, Smith's team is compensated more than three times the minimum wage in Laos and given benefits, further reinforcing the value of everything in her shop.
Smith, educated at the Chelsea College of Art and Design, says her pieces attract two personalities of women: the smart, sophisticated older woman, who carries her oversized tote bag through the streets of New York City. The other personality is a bohemian and free-spirited younger traveler, who finds comfort and chic in the infinity scarf. Smith adds that local Laotian women and expats will also stop by her shop to pickup a fun clutch for the weekend.
Clutches getting final touches at the Passa Paa studio
Photo credit: Kristen Marano
Her Laotian organic cotton hobo messenger bags, chic hemp, leather clutches and tote bags, and bright orange and aqua textile art pieces, among other items, will be on sale at the Renegade Craft Fair in San Francisco from July 19 to 20 and in Los Angeles from July 26 to 27. Prices range from $45-$150.
For more information and to order online visit Passa Paa website. The Passa Paa studio is located at 79 Ban Vat Sene in Luang Prabang, Laos.
ALSO ON HUFFPOST:
Christina Dean Wears Secondhand Clothes For A Year