I was once asked in a business meeting what I do for fun, and I stumbled to say something beyond what I do for work. I left that conversation embarrassed and ensured that I would always have something to say about myself that didn't involve my career.
Toronto Singer Katherine Langdon found herself in a similar situation a few years ago. She was working in public relations, and despite being in a promising job, she was unhappy because she wasn't listening to herself and facing underlying issues of confidence. She made a decision to leave her job to explore a career in music.
As she describes it, the decision wasn't to fulfil a goal to be self-employed or a famous singer; she wanted to define her life, not let her work define her life.
Langdon is the vocalist of Lady Be Good, a Toronto jazz band.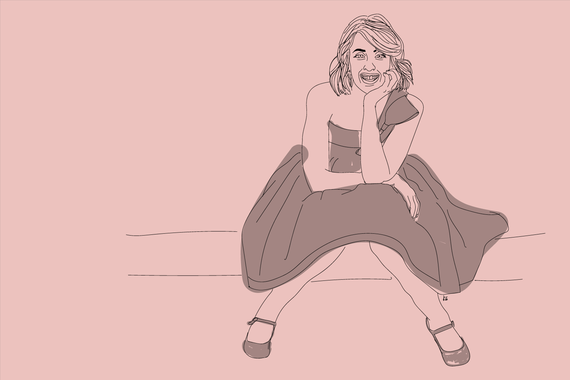 Photo credit: Kavi Guppta
Today she shares moments of her hustle, as she tells it; advice to make a career leap, and what you can do to start defining your life:
Tell me about about being a jazz singer.
My background in music comes from taking lessons as a kid in both piano and voice.
I'm an introvert so I was never one to demand attention for my singing or drop everything for the chance to sing in front of others. I sing because it's natural to me. In fact, it's such a personal part of me that it takes effort to make myself get up in front of others to do it. Not exactly conducive to a successful career in the arts. I spend a lot of time pushing myself to get in front of new people, make new connections and build my own projects.
What were your early influences?
As a kid I thought singing could only ever be a hobby. It was the teachers I had from elementary school through to graduating with a music degree who edged me forward and enabled me to find the confidence to take one step at a time on my own.
Musically my early influences were the 1990s and 2000s R&B divas: Mariah, Beyonce, Whitney, Brandy, Lauryn Hill, and as I got older I branched out to other artists. The through-line has always been a strong female voice; the more distinctive the better.
You worked in public relations for many years before leaving your job to start a career in music. What emotions were you feeling at that time and how did you deal with them?
I graduated from Humber College's Bachelor of Music program and then a year later went into a graduate course in public relations. That decision was made at a vulnerable time in my life when I had lost my confidence and as a result, my direction in life. I'm grateful that I got a job in public relations with a wonderful company that offered me many experiences my peers did not have. At the same time, I was very unhappy because I wasn't facing the underlying issues of confidence and listening to my intuition. My decision to leave was not one that I took lightly. It took me six months of planning, lining up my finances and waiting for my lease to run out on my apartment. It also took sacrifice. I was fortunate enough to be able to move home for a year, save on rent and instead keep my car so I could still drive to gigs.
What advice do you have for other people looking to make a big career change?
Realize what you are willing to sacrifice in your daily life to make it happen. Where can you make financial changes that are maybe temporarily uncomfortable but doable? The biggest sacrifice I couldn't have understood was the never-ending hustle. You are always looking for your next job and that can get tiring. Also, find a support system. Being self-employed can sometimes get lonely which makes it easier to get lost in the weeds of your own anxiety. Reach out to people who have made a similar move or a friend who is open-minded and understands what you are trying to achieve.
What does it take to continually create? Give a recent example. Why is this process important to you?
Finding the desire and confidence to continually move forward and create is challenging. I know I haven't mastered it yet.
But the one thing I've learned is you have to be willing to sacrifice the status quo to follow your intuition. When you have an idea you need to act on it right away in some way. The longer you let an idea sit and fester, the greater the chance for some outside element (or your own negative thoughts) to interfere and throw it off course. That's not to say that you should sit around waiting for inspiration to strike. The other side of creativity is showing up to do the work every day. This is the part I'm working on. It takes time to build up the resolve to show up every day and put the time in without judgment of the output. It's like a callus you build up over time. The more you show up for yourself, in a creative setting or not, the easier it gets to show up.
What else?
We tend to define ourselves by the work that we do and how successful we are at that job. As I've gotten older I've realized that my goal was not to be self-employed or a famous singer, but self-empowered.
To define my life on my own terms and challenge myself to always be evolving. Making a huge career change isn't for everyone. I know I was lucky. I know I had advantages others don't and I know that I was young enough to make this kind of risk a little less risky. But that doesn't mean you should let your work define you. Pick up a creative hobby completely outside your comfort zone. Go to the dollar store and pick up some paints and a cheap canvas and have a go at it. Join an adult choir. Sit down and hand write a short story once a week. Do something that expresses who you are, not who your job defines you to be.
Follow Katherine on Twitter, and check out her podcast Big Voices about the craft of singing for some of today's top vocalists.
I'm fascinated by creative women -- their passions, challenges, and contributions to society. If you know a creative woman to feature, please tweet @kmarano.
For more stories about creativity and business, sign up for my newsletter, Creative Women Weekly.
Follow HuffPost Canada Blogs on Facebook
ALSO ON HUFFPOST:
39 Stunning Images Celebrating Women Around The World