Getty
It's no secret that the majority of people who make our clothes live on hardly any money. Low wages don't change whether our clothes are made in a poor country like Bangladesh for $68 per month or in a wealthy nation like Canada, where American Apparel pays its garment workers $2,000 per month. These wages aren't enough to cover the basic costs of living and rising inflation.
So, how much should we pay the people who make our clothes?
In my opinion, the appropriate wage would be set against local economics to cover basic living conditions like food, housing, and healthcare, and ensure that people can take care of their families without having to work multiple jobs.
I'd like to see affordable brands like Joe Fresh, H&M, and Forever 21, increase the cost of their garments -- an $8 T-shirt could become a $15 T-shirt -- and in effect increase garment worker wages. The cost would still be incredibly cheap for the Western consumer; and if adopted by several brands, this practice could have a large-scale outcome.
I asked three experts to answer the question, what is a fair wage? Three distinct ways to rethink fair wages emerged:
1. Where people live shouldn't dictate wages
Michael Lavergne, Supply Chain Consultant, Canada
Lavergne shared the Living Wage for Families Campaign in Vancouver, Canada. It's a wage formula that is also being picked up by regions in Ontario and Alberta.
The organization puts a living wage rate for Metro Vancouver at $20.10/hour, double the minimum wage of $10.25/hour in British Columbia, to cover basic living expenses such as food, clothing, shelter, transportation and childcare. This rate is fair and honest given Vancouver is one of the most expensive cities in Canada. The current minimum wage would be difficult for even a student or couple to live at a basic level as costs rise in the province.
Lavergne, who has worked with global brands for more than 20 years, also singles out H&M for its work in fixing fast fashion. "No one gets everything right but for a large corporation their engagement and openness has been refreshing," said Lavergne.
H&M recently released a sustainability report showing its efforts to apply a fair wage system. H&M Global Press Officer Elin Hallerby said that the company's first evaluation of a factory in Cambodia shows that overtime hours have decreased and wages have increased, but Hallerby said she couldn't share exact wages.
The current minimum wage in Cambodia is $128 USD per month. But, it's a poverty wage, and not enough to cover basic living costs. The Asia Floor Wage Alliance, an international group of trade unions and labour rights activists, calculate a living wage in Cambodia at $396 USD per month, which is more than three times the current minimum wage.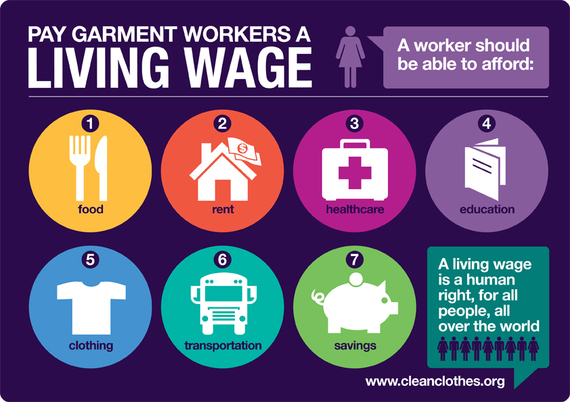 2. A fair wage is a real wage
Elin Hallerby, H&M Global Press Officer, Sweden
H&M is expanding its negotiation of fair wages towards what they're calling "real wages."
Hallerby told me that this year H&M will be launching a new method to evaluate the performance of their suppliers. This includes collecting data and conducting assessments to ensure that all workers are paid according to their skill and performance.
"It is also important to encourage governments. Government is a key stakeholder and plays a significant role in creating a legal framework and ensuring fair and regular wage reviews," said Hallerby.
Beyond H&M, I'd like to see a network of retailers proactively create a set of standardized wages that are mutually beneficial among retailers, government, and investors. Currently, there seems to be more competition than collaboration among retailers-H&M couldn't provide specific wages for the first factory under its fair wage system in Cambodia for competitive reasons.
3. There's a difference between minimum wage and a living wage
Tarsha Burns, Founder of Organic Bed Threads, Australia
Burns runs a small ethical bed linen company in Sydney, Australia, that employs female garment artisans in Rajasthan, India; this state is among the highest paid regions in the country for garment workers.
Burns believes that a fair wage should be double the minimum wage.
"I have been told by my current manufacturer that we pay our workers more than the minimum wages declared by the government," said Burns. "A fair trade/living wage is higher than the minimum wage and is designed that a full-time worker would be able to support themselves and a small family on that wage," she continued.
When I asked Burns if her workers are more interested in fair wages or benefits, she said, "I have spoken at length to the women artisans, some are married and some are young single ladies. They all viewed that receiving a fair wage/living wage was the most important as it was immediately felt, and they could plan for their own future and those of their families."
Organic Bed Threads works with artisans to continue the tradition of handmade, artisan techniques like embroidery and appliqué
Burns admits that her manufacturers all seem to conveniently avoid the issue of what workers should be paid in exact Rupees. Her manufacturer has never shared the wage of her workers, despite constantly asking, Burns told me in a recent email.
She shared this chart of minimum monthly wages for garment workers in Rajasthan, India. At a minimum, garment workers get paid 189 Rupees or USD$3 per day, which is considered on the higher end for garment workers in India. But, this amount is just over the World Bank's poverty line of USD$1.25 per day, making it an extremely low wage.
Despite global economic differences, it's astonishing that a human being could be expected to live on nothing.
ALSO ON HUFFPOST:
Bangladeshi Factory Survivors