I learned about the Saigon Flea Market when searching #saigon to find places to wander. The photos of vintage jewelry and print-screened bags revealed similarities with Toronto's Junction Flea or New York City's Brooklyn Flea, both outside markets that attract trendsetters on the hunt for special vintage clothing, jewelry and antiques.
I was instantly intrigued. I've always loved shopping in markets and buying jewelry from vendors when I travel. I want unique pieces that no one else will have. I look for quality items without paying an inflated price often available from mass retailers.
That's why I love what Founder Moon Doan is doing in Saigon -- she's creating a new fashion experience. Doan is a young, ambitious designer working to bring her growing love of fashion and individuality to other young locals and provide a unique shopping experience for foreigners.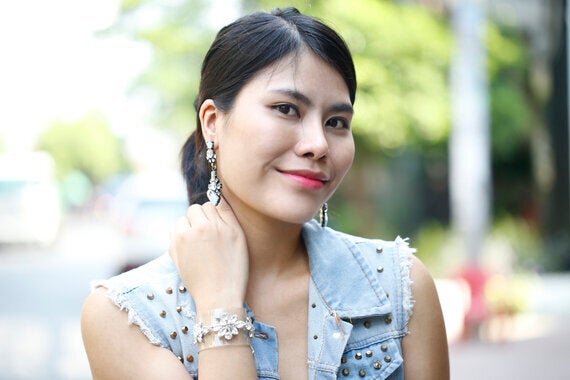 Moon Doan, founder of Saigon Flea Market, became fond of flea markets at a young age when her mother would take her to the Northern Vietnam countryside to buy handmade goods from farmers. Photo credit: Kristen Marano
Once a month on a Sunday from 11 a.m. to 8 p.m., 30 vendors put their handmade designs on display from antiques and art to vintage clothing and home ware for more than 1,000 visitors to browse and buy. The vendors make up talented artists in fashion including stylists, journalists, magazine editors and fashion bloggers.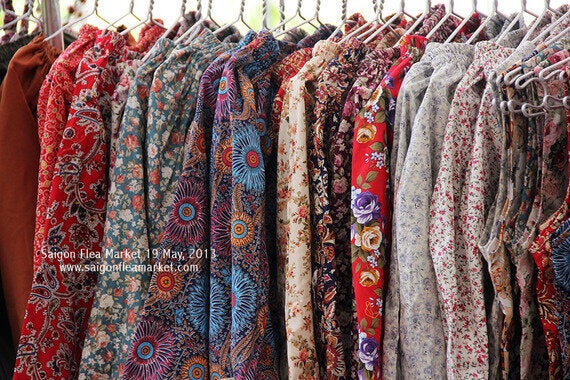 A rack of colourful, patterned vintage button-up shirts on display at the Saigon Flea Market. Photo credit: Kristen Marano
The market is located in district seven, where many locals and neighbourhoods reside. A taxi ride away from the centre, the location brings travelers away from the hustle and bustle of district one to see how the locals and expatriates are living for an authentic and less touristy experience.
When I ask Doan over email why the market is important for the community she says,
"...there are a lot of shoppers who are already bored with malls and boutiques in the centre...the Saigon Flea Market is a new place in town to find unique items."
There are few experiences like the Saigon Flea Market for young Saigonese, who according to Index Mundi, makeup the median age of the country at 28 years old. The closest concept is L'Usine, a French-inspired café and retail space in the centre. It's like Lileo in Toronto's Distillery District; a hip and modern gallery, emporium and clothing store in one space.
A vendor features handmade leather bracelets and wallets in a variety of styles. Photo credit: Kristen Marano
When visiting Sydney's Paddington Market, a community destination to buy Australian-made goods, Doan, 27, was inspired to bring a modern flea market to Saigon. But, her love of fashion started from an early age. Since she was six-years-old she learned to sew and often begged for scraps from the local tailor to design clothes for her Barbie.
Doan wanted her market to bring together young local and foreign designers to buy one-of-a-kind items and create a cool commonplace to collaborate and connect. She also wanted to cater to both local and foreign shoppers. It's a refreshing rarity in a city where travelers have to get uncomfortable if they want authentic travel moments from dining with locals to riding on the back of a motorbike.
Despite her market experiences from an early age - Doan visited markets as a child in the Northern Vietnam countryside with her mother - introducing a flea market in Saigon wasn't an easy feat. Young people didn't understand the concept in a city with an ingrained history of overflowing fast fashion. In fact, Vietnam's clothing and apparel industry is slated to still be the country's largest export by 2030 according to HSBC Global Connections.
Doan's first attempt failed. The Vietnamese didn't understand such a modern concept. Doan then met a young British woman, who owns a shop downtown and they partnered In 2011, the market started and its been successful since.
"I want to have a cool space where young people can sell their designs and find other great things from vendors," said Doan. "Or, also to chill and network with other people in town who love fashion and art."
While bargaining at popular markets in Saigon's centre can be tiring as locals try to make the most profit from cheap materials, a market like Saigon Flea presents quality and authentic products. Its foundation is built on one thing: trust.
As Doan recalls when she visited the markets as a child,
"...you look at the face of the farmer, which you can trust for the quality of the eggs and by oranges that you know the seller picked up in the morning."
It's the same at Doan's market -- you will meet the designer, learn about the product and leave with an appreciation for its craftsmanship.
For more information visit www.saigonfleamarket.com. The Saigon Flea Market runs once a month at Boomarang Bistro Saigon (107 Ton Dat Tien, Phu My Hung, District 7). Check the website for specific dates.