This post is the start of a series on travel and fashion that will give insight into the style, designs and fabrics of cities and people around the world.
I noticed scooter style in Ho Chi Minh City when I arrived in May. The locals refer to the city as Saigon, where the scooters never stop. From sunrise to sunset, the best way to see Saigon style is when Vietnamese men and women are commuting. According to TNS Vietnam, a market research company, there are more than 33 million scooters in Vietnam, signaling the high visibility of fashion in the country's largest city.
Style reigns by scooter from colourful patterned mouth masks to polka dot ponchos. While many European cities have long romanticized riding in style -- Vespa appearing films of Sophia Loren in Signs of Venus, and Audrey Hepburn in Roman Holiday --motorbikes are at the heart of Vietnamese life more than in any other country in the world according to Bike to the Future, a whitepaper by the Saigon Scooter Club.
I was on a bus after visiting the Mekong Delta when it started raining and scooter drivers pulled over to put their ponchos on. Their ponchos were dotted with pink polkas and drenched with bright hues of yellow. To my surprise, they weren't the ad hoc, boring blue of a clear garbage bag that you might see in my hometown of Toronto.
In between the rain, the sun scorches the city from 29 to 33 degrees at this time of year, and women are not dressing for the weather. While foreigners are hot and sweaty in shorts and T-shirts, Vietnamese women and men are cool in jeans, long-sleeve shirts, hats, skin-coloured socks and light gloves. The women guard their skin like SPF 100. Somehow they aren't sweating.
Women wedge cream-coloured socks into platform foam sandals while driving. While unfashionable in North America, it works for them because they're putting health before style.
But while North Americans in hot climates will wear less and reveal more for temperature and style, some Vietnamese are stylish even when covered head to toe.
While wandering the Ben Than market, a popular attraction in Saigon, I met two young girls hopping on a scooter. They both donned matching masks and helmets illustrating a badass collage of Mickey Mouse interpretations from Disney Mickey to a skull head of Mickey, while their bangs graced their foreheads.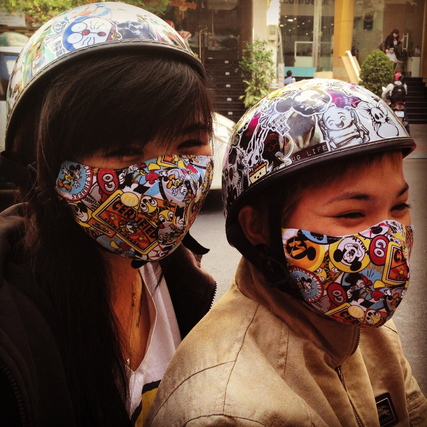 Photo credit: Kristen Marano
Another set of friends was more classically dressed -- one woman suited a butter cream-coloured blazer and mustard skinny pants driving in black strappy and chunky-heeled stilettos. Underneath her jacket peeked a sheer, mesh black top. Her friend on the back was muted in a white T-shirt and pants and a classic kitten heel. They matched a white, sleek scooter.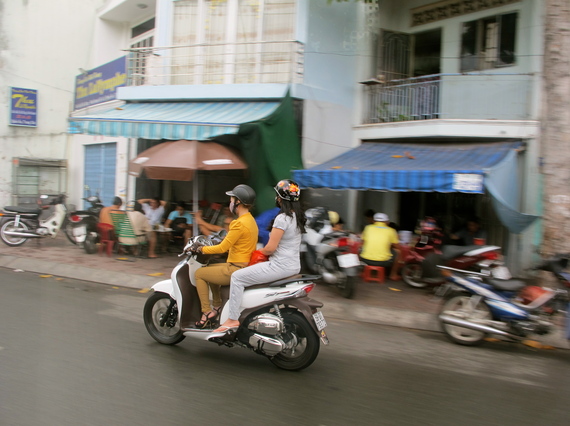 Photo credit: Kristen Marano
While walking, I spotted a handsome young man wearing a thin cotton sapphire dress shirt. He lifted the collar, left one button undone and tucked a black and red scarf into the neck of the shirt. Army green trousers popped the blue shirt, which he accessorized with a retro, faded black helmet and brown leather messenger bag. For style or purpose he sported black fingerless leather gloves.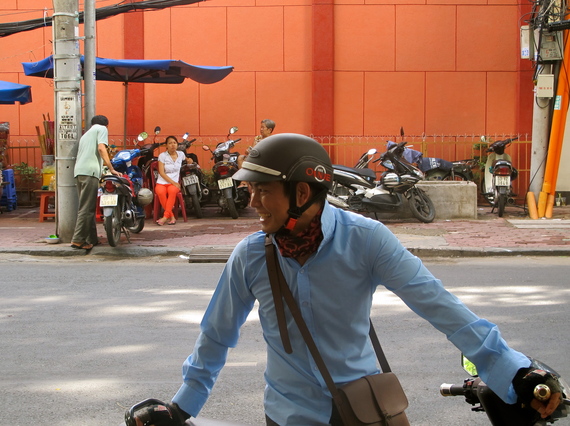 Photo credit: Kristen Marano
By evening, women will wear classy dresses with a stiletto or platform. Sleeveless dresses with prints -- think 60s inspired -- and pieces you could find at many North American stores but Vietnam-made such as Zara, Forever 21 and Gap. Some women, if not driving solo, will sit on the back of the scooter sideways and legs crossed, wearing flowy dresses and heels.
This glimpse into Saigon style is a true reflection of purposeful fashion in a bustling city where people lean, sleep and eat on their scooters.
Canada's city centres are similar to Vietnam in that style is often seen while in transit-from Toronto's subways and streetcars to, Vancouver's rapid-transit and seabus-and now in summer by bicycle and walking. The difference is that in Canada we want to be seen; we want to be stylish, we want to wear the latest trend. We could use a bit of Vietnamese practicality and conservatism to find our own style and identity that works for our lifestyle. Or, simply buy a scooter to ride in Saigon style.
ALSO ON HUFFPOST:
Citizen Style: Summer Trends And Street Styles From Across Canada