It's that time of year again, and fitness centres across the country are packed with people running treadmills and lifting weights.
But beyond fulfilling a New Year's resolution to lose weight and feel better, why are people really visiting the gym? Why have they dedicated themselves to move their bodies more often? Perhaps to decrease stress, clear their minds or increase energy.
For Toronto Yogi Sarah Anderson the question of "Why am I doing something?" leads any type of movement she practices, from a headstand to chin ups.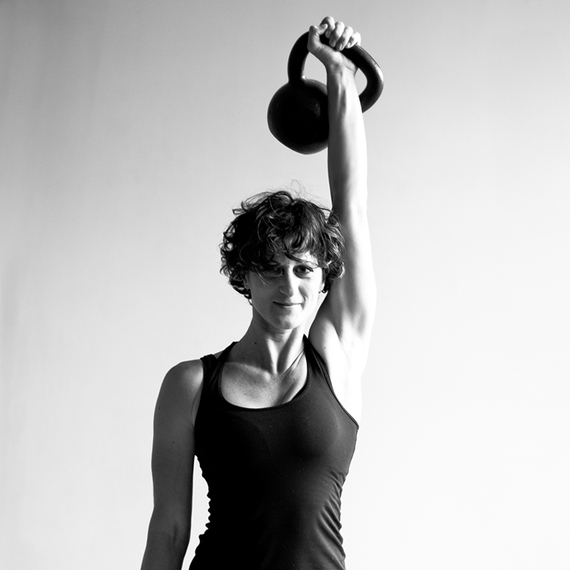 Photo credit: Phil Garwood
Anderson, a movement enthusiast, started exploring this question about eight years ago. At the time she had started a daily yoga practice to decrease stress from a busy advertising design job, but she quickly felt a desire to learn more about her body, mind and the power of the practice.
She gives us a glimpse into her journey, and she shares why it's important to move our bodies:
Tell me about teaching yoga.
I've been teaching yoga for three years and practicing for eight years. I teach yoga including yoga fundamentals, vinyasa, prenatal and yoga for runners and cyclists, and I also facilitate movement and mobility labs, kettlebell and cycle classes. I also train people one-on-one.
How did you evolve into a dedicated practice?
Initially I saw yoga as a source of stress relief from my work, but it didn't take long for it to evolve into more. After a while I started to see subtle changes taking place. I was eager to learn and develop my own practice, but I wanted to learn from someone who could teach me; I wanted to learn the "correct" way to align myself in the poses and understand all the little actions taking place.
I began a daily practice under the guidance of a certified Ashtanga teacher--Mysore, India, style--and I was immediately hooked. I spent two years navigating all the insights and challenges that come with a dedicated self practice, and as my passion for yoga grew, so did my desire to share it with others.
It was then that I pursued my Ashtanga Vinyasa Yoga teacher training in Toronto, and soon after I became certified to teach prenatal yoga. I started down the path toward my dream of becoming a yoga instructor and transitioning from a stressful career in design and advertising.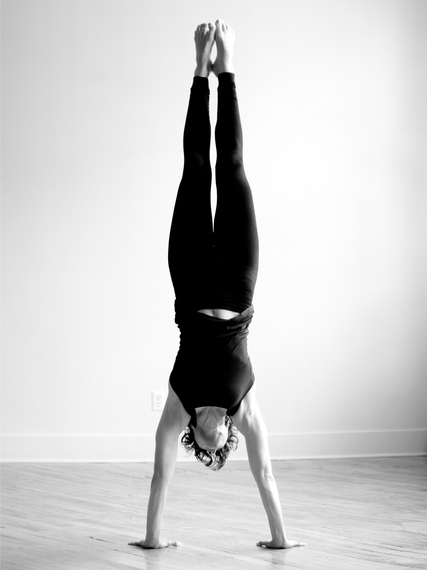 Photo credit: Phil Garwood
What did you learn about yourself?
When I found myself overcoming injuries that were potentially caused from repetitive strain like over stretching, and discovering imbalances in the body that I never knew I had, I was dumbfounded.
I thought, "The thing that transformed me, renewed and grounded me, and lifted me out of my own head while trapped in a depression was also hurting me?"
Like any thing we commit to and make time for in our daily lives, it's essential to always ask yourself "Why am I doing this?" and "What is the point?"
"Is getting my leg behind my head important?" "Is it my ego that is driving me to my mat every morning to see if I can progress to the next difficult pose and feel good about myself?"
If there is any mantra I think I could attach myself to besides love, it's authenticity. The constant search for finding purpose in my daily life to avoid going through the motions would have to be one of my biggest motivations. And it all starts by asking the most simple question, "Why?"
Why should we move our bodies every day?
Movement has a direct effect on our nervous system; our cells respond. The clarity that comes with this innate response is what brings us closer to our uninhibited selves. Intelligently integrating movement with breath will bring us this clarity regardless of the discipline. Whether it is yoga, martial arts, walking, powerlifting, gymnastics or meditation (often finding stillness can move us beyond what a physical practice can provide), the element that remains constant is mindfulness.
Seeing our thought patterns and our actions through this lens is what provides us the perspective we need to dig deeper into ourselves to be better humans, whatever your preferred practice might be. Whether you are in a handstand or hitting VO2 Max intervals on a bike, the necessity to remain present and mindful is there; that is the motivation behind the action. It really is all yoga.
Sarah teaches and trains at Spirit Loft, Energia Athletics, The Toronto Athletic Club, and Toronto Yoga Mamas. Follow Sarah on Instagram for daily movement inspiration.
I champion creative women -- their passions, challenges, and contributions to society. If you know a creative woman to feature, please tweet @kmarano.
Follow HuffPost Canada Blogs on Facebook
MORE ON HUFFPOST:
Top 5 Apps To Help You With Yoga