"No more pencils, no more books," sang American rocker Alice Cooper in his 1972 song "School's Out." More than 40 years later, Cooper's lyrics are getting schooled. Brooklyn, New York's Steven Peterman is Alice Cooper reinvented -- people are asking him for more pencils and more books.
If art was the only class you went to in school, you'll be happy to meet the 21st Century Library: The Sketchbook Project, a collection of more than 27,000 sketchbooks from 135 countries. The crowd-funded project, dubbed a traveling library of artists' sketchbooks, started in 2010 and invites people -- artistic or not -- to tell their stories by filling and donating sketchbooks for other people to read, interpret, and put back on the shelf for someone else to explore.
Peterman, 27, and Shane Zucker, are the co-founders of the Sketchbook Project. Peterman and his wife Sarah Peterman were in Toronto June 7 to kick off the North American Tour. Now, they're making a few stops in the United States before visiting Montreal on June 16.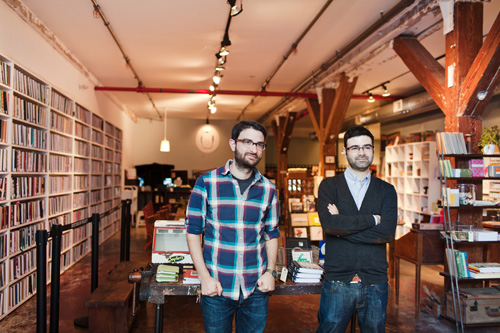 Steven Peterman, left, and Shane Zucker at the front of The Brooklyn Art Library, housing more than 27,000 sketchbooks from around the world. Photo credit: Blue Window Creative
They'll travel through 35 cities until October before bringing new books home for the shelves of the Brooklyn Art Library in Williamsburg, where Sarah Peterman is the keeper of the project. While this tour travels North America, Peterman tells me on a rainy day in May from his New York office that books come as far as Colombia and Cambodia and participation is as far-ranging as a book from a school kid in Sudan to a mom in Kansas.
"I was so intimated by a gallery world, and I wanted to create something anyone could be part of and show their work," said Peterman, humbly over the phone. "Art is so much more interesting when you reach more people and get more people involved."
While people can contribute to the collection, they can also browse their way through as many books as they would like. Participants sign up for a library card, and then search by name, theme or material. They find a book, sign it out and start flipping the pages. Each time a book is signed out the artist is notified.
This is the second time the project has come to Canada, and the cultural community is already taking notice of the project's vision for community art and collaboration.
Adil Dhalla, Director of Culture at the Centre for Social Innovation, is someone taking note.
"At the end of the day, the human experience comes down to a feeling of belonging and what this project has done has created a really easy and open way for people interested in this art form to belong," said Dhalla. It's in their ability to scale belonging that I'm certain that they'll continue to grow."
Steven Peterman's vision for the project includes looking at community art as single art. He tells me there are more opportunities and greater successes when people collaborate and work together, versus individually.
University of Toronto's Shauna Brail agrees. Brail is the Director of Experiential Learning and Urban Studies.
She points to the knowledge of how clusters work -- whether social enterprises or civic-minded organizations.
Brail said, "...the benefits of collaboration generally exceed the possibilities for accomplishments through individual work." She highlights Luminato Festival, inviting the world to celebrate creativity, as it states on their website, to opportunities for children and marginalized groups in programs like Regent Park Focus Youth Media Arts Centre, as examples of Toronto success stories. Will The Sketchbook Project see a library open in Toronto one day soon? I asked Peterman, but his humbleness about the project left me without a definite answer.
Instead Dhalla lends some perspective saying,
"Since the magic of the Sketchbook Project is in its ability to be accessible to anyone who shares its purpose, I'm not surprised to see their success in building an international community and expect that it will proliferate in Toronto."
I stepped into the Brooklyn Art Library at the end of the May on my way to get a coffee. I didn't know what I was walking into. Only a few weeks later following my visit, I'm one of several Canadians connecting with the rest of the world this summer by buying a sketchbook and filling its pages.
The Sketchbook Project visits Montreal June 16. For a full schedule tour visit: the project's website.
Best Cities For Street Art