Doughnut... healthy. Did you ever think you'd see that in the same sentence? Probably not! If you've joined the Pinterest craze, you may have seen the fat and sugar-laden versions to this recipe floating around. I used the King Arthur Flour recipe and modified the heck out of it.
Honestly, they are really, really good. The secret is definitely the nutmeg. It makes it taste like a doughnut. My husband even loved them too. I won't disclose how many he ate, but I will tell you the dozen muffins were gone in a few days! What better way to sneak in whole grains? The kids will love these too.
Added bonus: They are gluten-free (if celiacs use uncontaminated oats) and dairy-free.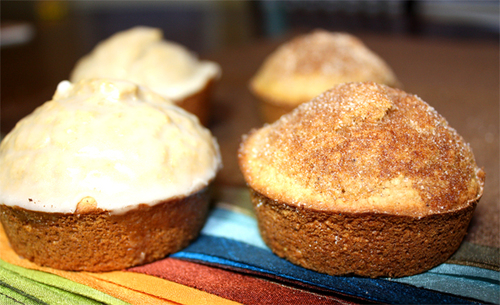 Healthy Doughnut Muffins (gluten-free, dairy-free)
Makes 12 muffins
Ingredients
1/4 cup vegan margarine, could also use butter if not dairy-free
1/4 cup unsweetened applesauce
1/2 cup Stevia baking formula (or any Stevia/sugar substitute meant for baking, or 13-14 packets stevia)
1/3 cup Sucanat (raw brown sugar)
1 egg
2 egg whites (I used 1/4 cup carton kind)
1 1/2 tsps baking powder
1/4 tsp baking soda
1 tsp nutmeg
3/4 tsp sea salt
1 tsp vanilla extract
3 cups oat flour (grind up quick or old fashioned oats into flour with your food processor or blender)
1 cup milk (I used unsweetened almond milk)
Directions
Preheat oven to 425 F. Spray a muffin tin with cooking spray, or use paper cups.
In a medium sized bowl, mix together vegan margarine (or butter), applesauce, stevia, sucanat (I used an electric mixer/egg beater) and beat together until smooth. Add the egg and egg whites and beat some more until combined.
Stir in the baking soda, baking powder, nutmeg, salt and vanilla with a spoon into the butter/sugar mixture. Stir the oat flour, alternating with the milk, stirring well after each addition.
Spoon the batter into the muffin tins and bake for 14-15 minutes, until they are a pale golden colour and a toothpick comes out clean.
Serve warm, or cool on a rack. Eat them plain, or add the cinnamon/sugar or glaze them (see below). Store in an airtight container. They will last a few days at room temp. Will freeze well too.
*You could also use this recipe for mini muffins, which would be like cute little doughnut holes! Cooking time will be around 8-10 minutes.
Optional Toppings
Cinnamon/Sugar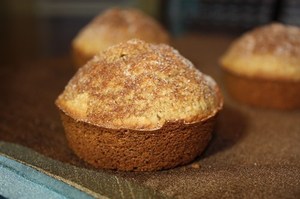 Lightly brush the tops of the warm muffins with melted vegan margarine (or butter) and sprinkle with Stevia and cinnamon. This would be a low calorie add-on.
Glazed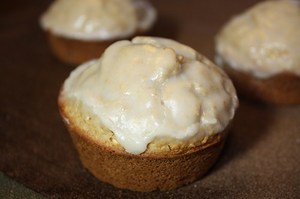 If you're a glazed doughnut fan, you can mix a tablespoon of melted butter, coconut oil or vegan margarine, 3/4 cup powdered sugar, 1 tsp vanilla and 1 tbsp of water. Mix into a glaze and dunk the warm muffin tops in it. For a sugar-free glaze, blend your favorite sugar substitute with cornstarch, and use that as your powdered sugar.
Nutrition (per muffin, plain) Calories: 157 Fat: 6.4 g Carbs: 23.9 g Fiber: 4.2 g Sugars: 5.6 g Sodium: 289 mg Protein: 4 g
For more great recipes, visit www.busybuthealthy.com