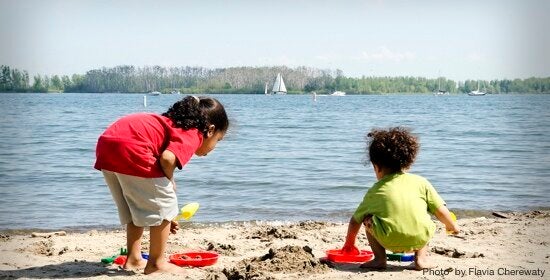 Every summer starts the same way for me. In May, I say to everyone I know, "This summer is going to be the best! I'm going to camp more often, leave work before the sun goes down, and spend more time with good friends." Before I know it, September is here and the days are shorter, and it is autumn.
I am not alone in doing this -- everyone I know tries to cram each summer day full of the things we love most. We rarely do everything we set out to do (Camp every weekend! Work from the cottage!) but we do enough to make summer count.
The most surefire way I know to make a grand summer memory is to visit a beach. I'm not alone in this, either. According to the 2012 RBC Canadian Water Attitudes Survey, 22-million Canadian residents take the plunge every year. We love being by the water so much that one in three people say going to the beach is their fondest outdoor experience.
Creating the quintessential beach experience is easy. There are really only six things you need to do.
Step 1: Don't think you need the "perfect" beach
If the word "beach" makes you think of white sand and ocean waves, think again. There are also lake beaches, river beaches, stone beaches and dirt beaches. Most people in Canada live within driving distance of a swimming hole of some kind.
Tip: Find your beach with the Waterkeeper Swim Guide. The app lists 3,000 official beaches in Canada and the U.S.
Step 2: Make sure the water is clean
If you live in a city, a highly developed suburb, or near some animal farms, there is a very good chance that your waterway has bacteria in it. Never swim if you see a red flag or other warning sign indicating that the beach failed water quality tests -- you risk developing a rash, stomach ache or serious illness.
Tip: Swim Guide also helps you decode water quality tests quickly and easily. Green beaches passed. Red beaches failed.
Swimming is a popular activity that, like many other sports, can be dangerous. You should never swim alone. If possible, swim at beaches when lifeguards are on duty. If you are learning to swim, wear a life jacket. Never swim near dams or shipping channels. Never enter the water if you cannot see a clear, easy route back out.
Step 4: Connect with what you love
There are endless things to do at the beach. The best memories are made when you do something you love, whether it be something active like playing volleyball or more laid back like reading a good book.
Tip: If you are taking kids to the beach, their favourite place is often just before the water's edge. There is no hot sand to burn their feet and you are in a prime spot for building sandcastles and collecting rocks.
Step 5: Document the moment
You never know which day will stick with someone forever. A few snapshots help preserve the magic.
Sometimes it rains. Sometimes you forget the picnic lunch on the counter. Sometimes a trip to the beach just seems... unremarkable. But you never know when magic moments might come.
Twenty-five years ago, my parents stuck my brother and I in the car. We drove for what seemed like forever. When we had gone as far west as we could possibly go, we stopped. Lake Huron greeted us, with waves that crashed on shore all day and night.
We stayed for a few days, and I think it rained the entire time. I doubt my parents remember the trip. They definitely do not know that I learned a life-changing lesson that weekend: I like being by the water, even in an endless rain. As Jacques Cousteau, famed explorer, once said, "The Sea, once it casts its spell, holds one in its net of wonder forever."
I have spent many more days by the water since then. I have been to beaches in Ontario and B.C., in California and Florida, the Caribbean and Asia. I have noticed that all beaches are connectors. They link land to water, link us to the people we love. They strengthen our connection to the environment and to our community. It's no wonder we think of them so fondly.
If you haven't been to the beach yet this year, August is the time to go. The air is warm. The water is warm. Autumn is still weeks away. For the next few weeks, life's most pressing question is simple: which beach will you choose?