flickr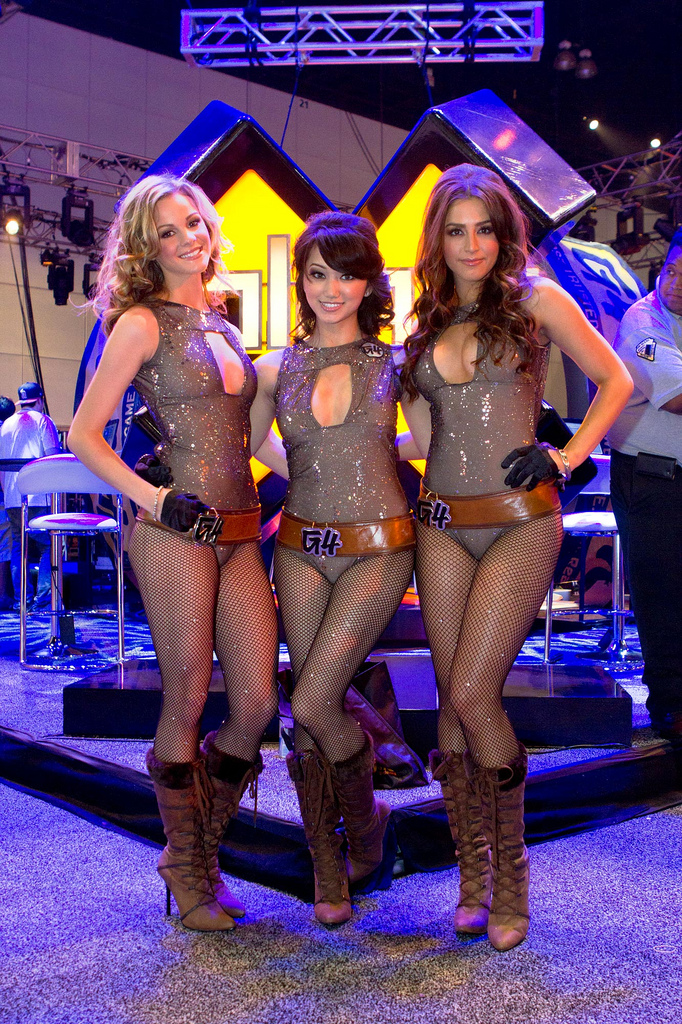 If you've ever been to any sort of male-heavy convention, such as comic book/sci-fi or tech ones, then you've probably seen (or heard of, if you follow any coverage of these events) the anachronistic phenomenon known as booth babes. For the uninitiated, booth babes are women who are dressed in as little clothing as possible (sometimes none if they are body painted) for the sole purpose of attracting more attendees to their vendors. They're essentially signposts with boobs.
That this advertising model is cheaper and easier to deploy than traditional ones, has led to its inclusion on convention floors around the world. Still, it hasn't come without its criticisms and some have chosen to leave this practice in the past altogether.
Conventions such as PAX and Eurogamer Expo don't allow them. Speaking to me on the former (which is running in Boston this week from March 22-24), Robert Khoo, the President of Penny Arcade, explained some of the rationale behind the decision to ban them from the convention's conception: "It's true that there are a large number of folks that bring their kids to the show, so it probably wouldn't be terribly appropriate, but honestly, we've just always thought the practice was a bit silly. Let the games and content speak for themselves."
It's especially surprising that other organizations continue to hold onto this archaic practice, given that attendee reaction to the ban has been generally positive; he continued: "It's always been widely supported from the fans and the exhibitors, and only once in a blue moon do we hear complaints about it, usually in the vein of us trying to "repress sexuality" or us taking away the freedom... to ... look at scantily clad women, I suppose. Everyone has their right to voice their opinion, but ultimately we are really happy with the policy and think it's both the right thing for the show and gaming culture as a whole."
E3, the largest video gaming convention in the world, also banned them in 2006 which was notable at the time because it marked a significant step forward from the "women being designated as sex-objects/eye candy" mentality -- and the message was being sent from one of the leading conventions. Unfortunately, E3 later back-pedalled and booth babes returned in 2009.
In 2012, the BBC produced a video report that explored booth babes' inclusion in CES. Needless to say, many attendees weren't happy with the way women were being portrayed, and felt like they detracted from the actual product.
In the video, one Rachel Sklar, founder of Women's tech group Change the Ratio, got at the heart of the problem when she explained that booth babes "revealed CES to be devoid of forward looking leadership... the products that are being made and distributed for giant trade shows like that are not just for men." The fact that these shows are so narrowly directed towards a male audience is one possible explanation for why there are so few women in the engineering industry -- even if it is really just one symptom of a much larger problem.
Going forward, it is unclear how long it will be before booth babes are a distant memory. In recent times, visual studies on this topic like the documentary Miss Representation and Anita Sarkeesian's Tropes and Women in Video Games series have generally succeeded in raising awareness on the patterns seen in popular, gaming, or ad culture's portrayal of women.
In the BBC video though, the official representing CES called the booth babes issue irrelevant, indicating that the higher-ups don't seem to care about banning them because it's a profitable strategy. So, in much the same way that the fate of the rest of the technological mediums that alienate women can be decided, it basically boils down to how much support they receive from us, those attending these conventions.
As Khoo, in a final point about how conventions can think carefully about their continuing support for booth babes, stated, "Think about who you're beholden to, and let that guide your decision making."
Photo by flickr user, richcz3, and licensed under Creative Commons 2.0.
Young Stars Open Up About Body Image & Self-Esteem