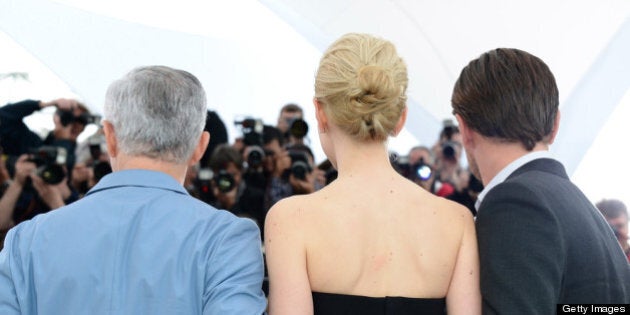 As part of Telefilm Canada's Not Short on Talent project, 40 short-film filmmakers from across Canada are travelling to the 2013 Cannes Film Festival, where their films will be highlighted in the market. The Huffington Post Canada is pleased to share diary entries from a selection of these filmmakers, who describe their experiences at Cannes as Canadians on the rise in the industry. Here is Kyle Thomas with the first entry in our Cannes Diary series.
As I cross the Atlantic on my overnight flight from Calgary, Alberta, on my way to the 2013 Cannes Film Festival, I can't help but think how lucky I am to be attending for the second year in a row. The not-so-distant memories from last year still lingering; the late nights and early mornings, the countless bottles of Rosé, the crowds of tourists, press, film industry professionals, and celebrities that pack the Croisette....ah yes, this is Cannes.
Last year I was fortunate to have been selected to screen as part of Telefilm Canada's Not Short On Talent screening with my short film Not Far From The Abattoir, a film which had its U.S. premiere at SXSW a few months prior to Cannes that year. I thought it would be unlikely that I could complete another short before Cannes 2013. Fortunately, I was able to complete my latest short, The Post, in time to once again submit to Telefilm's shorts program at Cannes. I had recently received funding from Telefilm for my first feature film, so when I got word that The Post had been selected for the NSOT program, I knew I would have more than enough reason to return to the French Riviera for the 2013 festival.
So what does it mean to "get into Cannes"? I always like to clarify for people back in Canada, whose eyes widen when I tell them that my latest short is screening at Cannes, that it is a market screening. There is a huge difference between screening at the market and being accepted into Cannes official selection. I am going to assume that my trip would be drastically different if I were selected by Cannes to screen in competition. That being said, it is a privilege to be selected by Telefilm and they have put a lot of effort into showcasing Canadian talent (specifically short films). I am proud to be one of them. Cannes tries to weigh art and industry equally, which can be a difficult thing. It is a global festival that allows you to see what's going on in diverse cinematic cultures around the world. There's nothing quite like it.
Based on my experience last year, Cannes is really all about showing your face to other Canadian producers, filmmakers, and decision-makers. You likely won't walk away with a huge film deal (although it's not out of the question), but you will get the opportunity to rub shoulders with serious players in the film world. It's an expensive networking trip that might not pay off immediately, but I truly believe that it will in the long run. Folks who might not normally give you the time of day will gladly chat with you at Cannes. Maybe it's because it is apparent that you are serious about what you are doing, or maybe it's because they are drunk; either way, it does happen. A lot of Cannes is about putting yourself out there and being ready to go with the flow. Don't get me wrong, you must be prepared (armed with screeners, postcards, and business cards), but in my experience, the most important moments in Cannes are unexpected. You never know who you're going to be standing next to in line, sitting beside in the restaurant, or what party you are going to get into.
After the long journey I am struck with a sense of Déjà vu as I disembark from the train in Cannes under pouring rain. Luckily, I learned my lesson last year and packed an umbrella and raincoat. I check into my apartment and quickly find a restaurant for a meal and a bottle of wine. Despite being exhausted from the journey to Europe, I am revitalized in this environment where fellow producers and filmmakers share the common goal of one day walking down the red carpet that leads to the Lumiere Theatre. I can't wait to see what this year has to hold.