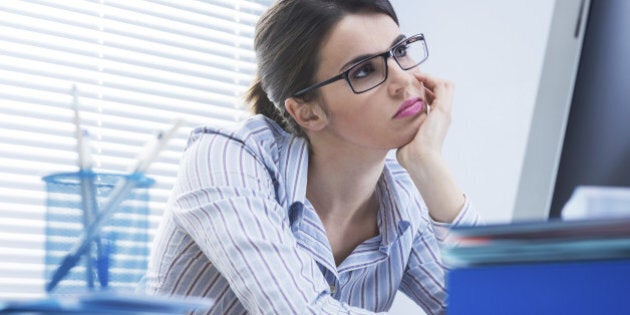 As I sit and reflect on life, society, relationships, career choices etc. I have come to notice a startling commonality that many of us share in North America: settling. At the ripe age of 27, with a bachelor degree, post-graduate certificate and five solid years of industry experience, I don't want to settle. I feel like society is setting us up to settle, which in turn I believe gives us a false sense of happiness, and fuels this rat race we are on to be "successful".
I am urging you to stop settling, don't settle for the job that "pays" enough or gives you that "title" you want, because in the end it will only give short-term happiness.
If we stop settling and start fighting for the job/lifestyle we want to invest our years with, we will then get a real sense of happiness and fulfillment. Just like any relationship, there are fundamentals that you need to check off to feel secure in your decision: does he/she communicate well? Does he/she make you laugh? Challenges you? Supports you? Teaches you? Nurtures you? If so, these are great characteristics for a solid foundation in a relationship AND career.
Currently, my partner and I are in a middle of a transitional period in our lives (which ironically enough, we were just in two short years ago). What I have learned in these past few months, is without proper communication, sense of humour and trust in the whole "everything happens for a reason" (which I must say, I believe in, but if I have to hear it one more time, I may have to gouge my eyes out). That one can become complacent and have this urge from society to settle. For me, it would mean, settle for any job, no matter the pay, the growth opportunity, the hours, location, passion (or lack of) in the industry.
We are fortunate enough that we have decided to go against these claims and not settle. So I have started to search/ hunt for a company that will support me, teach me, push me, and invest in me so I can in return invest my years with them. I don't want to feel that I've settled for any job just so I can be what society wants: a happily married wife, with a home and a white picket fence with 2.5 kids and a dog.
So, if you are with me, here are my 5 questions to consider when you are in a transitional period in life. Ask yourself:
1) Do I believe in the company's morals, values, and mission? If not, why bother investing your time and energy.
2) Is there room to grow? If you are going to invest many years with this company, do you have the opportunity to learn and grow up the ladder?
3) Can I make a difference with my creativity and skills? If this isn't important to you, then maybe you need to think of a different career. I wholeheartedly believe we are all here for a reason, and if we are not making a difference, then what are we really doing with our lives?
4) What's the company culture like? Are there similar personalities that will jive well with yours? If you're a crazy type-A person like me, I need to know that there are others in the company that will engage in mild doses of OCD with me.
5) What's the vacation time like? If a company doesn't believe in providing time off for their employees, then run out the door! We all need time to unwind, clear our minds and open our eyes. Vacation does this, and will bring you back to work with more creativity, productivity and appreciation.
With that, I hope wherever you are in life, you stop settling. Stay focused on the principles that are important to you, and go live the life you want. Whether it takes you weeks, months or years, in the end it will all be worth it. You are young, wild and free, don't let society or anyone let you think otherwise.