Mother Nature may be playing a bad joke on us, but today marks the first day of spring, which is the Persian New Year (Nowrūz)! I consider myself a Persian Canadian -- even though I haven't had the chance to travel to Iran, my family makes sure that we keep up with the Persian culture and celebrate this joyful occasion together. Spring signifies to me new beginnings, growth and the season we are all hoping for after this dreadful winter. On the eve of the last Tuesday of the Iranian year, we celebrate Chahārshanbeh Suri (also called the Festival of Fire) which is the prelude to Nowrūz.
The celebration usually starts in the evening, with people making bonfires in streets, backyards or neighbourhood parks and then jumping over the fire, while singing "zardi-ye man az toh, sorkhi-ye toh az man". This is loosely translated as my yellowness to you and your redness to me. This symbolizes giving to the fire ones sickness and problems and taking from the fire its warmth, energy and health. This celebration is based on the Zoroastrian religion which is one of the world's oldest monotheistic religions.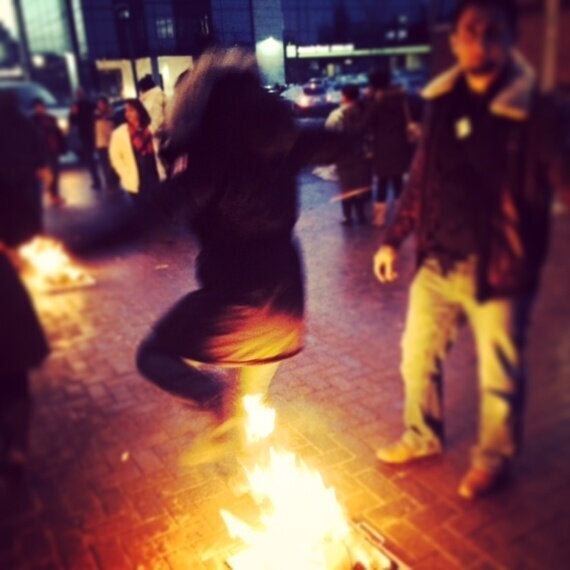 In an effort to keep our Persian culture alive, my mother gathers all family members for a trip to Toronto every year, in order to celebrate this occasion with the larger Persian community. This year festivities were held at Le Parc Banquet Hall, where I jumped over the fire (image above) and shopped at the spring bazaar where different vendors sold sweets, nuts, rugs, and everything you need for your Haft Sin table (a spread of 7 items that begin with the letter "S").
Like many Iranians, my family and I set up a Haft Sin table with symbolic items, which include:
1. Sabzeh (sprouts) symbolizing rebirth
2. Samanu (sweet pudding) symbolizing affluence
3. Senjed (dried oleaster wild olive fruit) symbolizing love
4. Sir (garlic) symbolizing medicine
5. Sib (apple) symbolizing beauty and health
6. Sumac (sumac fruit) symbolizing sunrise
7. Serkeh (vinegar) symbolizing age and patience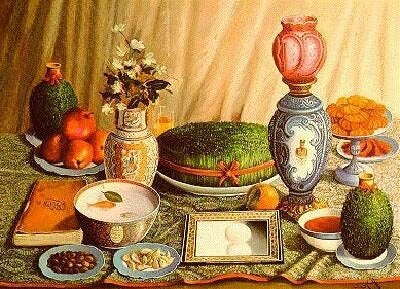 Others items that can be found on a Haft Sin table are:
• Candles for enlightenment and happiness
• Mirror for cleanliness and honesty
• Goldfish for life within life
• Holy book: Qur'an/Bible/Torah etc.
After gathering items needed for our Haft Sin, we went to Mel Lastman Square to enjoy the firework celebration that happens every year. The two week Nowrūz celebration ends with SeezDeh Bedar, the thirteenth day of the New Year. Families leave their home and head for the outdoors to eat, play games and celebrate a happy and healthy holiday season. This fun and exciting outing includes all family members tying a knot with grass and making wishes for the New Year. When the knot is opened, it is believed that their luck will open and wishes will come true. An interesting ritual performed at the end of the day is to throw away the sabzeh from the Nowrūz Haft Sin table. The sabzeh is supposed to have collected all the sickness, pain and ill-fate which would have been hidden on the path of the family throughout the coming year. SeezDeh Bedar is intended to end the holiday season on a relaxing and positive note.
I'm grateful that my family has kept this ancient Persian tradition alive and hope that one day I can pass it on to my children. Whether you celebrate Nowrūz or are getting ready for a healthy dose of spring cleaning, I hope this season brings you happiness, health, endless prosperity, and ease of mind.