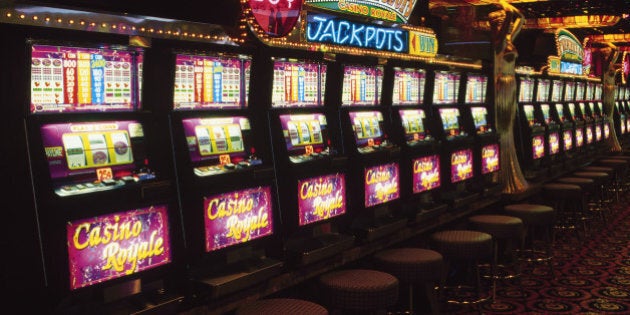 It's been several weeks now since management at the Rideau Carleton Raceway Slots (RCRS) locked out 124 of its workers after they rejected what any reasonable observer would conclude was a very lousy offer.
This has meant that every day since then, these workers have spent hours picketing various gates to the facility and explaining their situation to clients in the hope that some will turn away, as many in fact have.
First, the slots, operated by the provincially owned Ontario Lottery and Gaming Corporation (OLG) hasn't provided the workers in question a raise since 2009, and at the bargaining table insisted on an additional wage freeze for the first two years of any new contract. Second, management demanded, and continues to demand, that the workers acquiesce to the removal of existing pension language from their current collective agreement
As a general concept, almost everyone can agree that not receiving a raise in six years is bizarre and, barring a really good justification, unacceptable. In this particular case, we have a corporation -- the OLG -- which registered a net profit of $2 billion in fiscal 2014 and forecast an additional $2 billion in profit for the following year.
Moreover, the OLG reports that the RCRS generated $128.4 million in revenue in fiscal 2014 while salaries for the facility's 243 employees (the 124 locked out workers as well as management and staff belonging to other bargaining units) for the year totalled about $12.5 million, or 9.7 per cent of revenue.
In rough terms, giving the 124 locked out workers a raise of, say, three per cent would only increase annual labour costs by around $200,000, which comes out to a mere 0.16 per cent of the facility's annual revenue. Given these numbers, it's hard to understand how OLG's slots management cannot see all this as a very reasonable -- and relatively cheap -- opportunity to recognize the hard work and dedication of its workers.
"It's ironic that a government so vocal on the need to expand the Canada Pension Plan is allowing its own crown corporation to strongarm workers into giving up their long-standing workplace pension plans."
While giving its employees a raise is an inexpensive proposition for OLG -- allowing it to more or less maintain its massive profit margin -- it would mean a lot to the locked-out workers. According to Statistics Canada, the Consumer Price Index in Ottawa has increased by 8.7 per cent between 2010 and November 2015, meaning that these workers, like everyone else in the region, have experienced a significant rise in the cost of living.
But given that their wages have been frozen since 2009, they have effectively experienced a major wage cut over those years, making the need for a raise in the current round of bargaining ever more critical.
As for contention around the pension issue, the OLG appears to be setting the groundwork for the eventual sale of the RCRS to a private operator. By forcing employees to give up existing pension language -- a huge (and unacceptable) concession by any account -- the OLG is hoping it can appear more financially attractive to potential buyers who want to keep costs low by not offering their workers retirement security.
This brings us to the bigger picture. The OLG, as mentioned above, is owned by the Government of Ontario, yet Kathleen Wynne's Liberals have shown little interest in ensuring that, as a provincial entity, the OLG follow some basic standards when engaging in collective bargaining.
It's certainly most ironic that a government so vocal on the need to expand the Canada Pension Plan is allowing its own crown corporation to strongarm workers into giving up their long-standing workplace pension plans. In fact, it's absurd, but perhaps we shouldn't be too surprised.
As Ontario Auditor General Bonnie Lysyk summarized in her 2014 report, despite its sizeable annual profits, the last decade for the OLG under the Liberals has been one marked by upheaval and mismanagement.
Moreover, in this period, the Liberals reassigned ministerial responsibility to a mind-boggling four different ministries and five different ministers. Regrettably, the consequence of all this seems to be that the OLG's approach to labour relations is becoming increasingly aggressive and uncooperative.
Today, the OLG is run by Stephen Harper's former national security advisor, Stephen Rigby, and reports via its board of directors to Ontario Finance Minister Charles Sousa.
Given the corporations history of locking out its workers, it would seem that neither the new CEO, the board, nor the minister appreciate that treating OLG's workers with respect and fairness must be a critical component of any effort to escape the last decade's organizational dysfunction.