ljubaphoto via Getty Images
This Mother's Day, I am reflecting on where I have been and where I am going on my journey as a mother and stepmother to four beautiful girls.
When I was a teenager, I started smoking because it was the thing to do. I tried quitting a few times, but the day after my 42nd birthday, I was in a car accident. The physical and emotional pain from this accident has caused me to make choices that have affected my health, my well-being and my family. I needed a distraction, so I turned to smoking again.
I smoked 20-plus cigarettes a day; chain smoking at times, even in the freezing winter cold. I smoked outside because I didn't want to harm my family with second-hand smoke. My children are always my priority.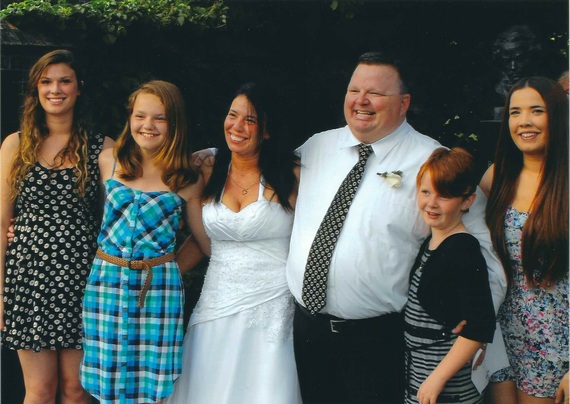 Unfortunately, so was smoking. I always liked to smoke. I believed it helped me maintain a reasonable weight, keeping me from wanting to eat. Smoking also gave me a distraction, some peace, like a five-minute meditation period. So, quitting wasn't easy -- I was scared and it seemed impossible.
It's time to finish what I started
I needed to prove to myself that I had the discipline and the courage to finally quit because I wanted to quit for good. I decided to start the process of quitting: TODAY IS THE DAY! My doctor recommended the Stop Smoking Clinic so I called and made an appointment for March 16, 2016.
I met with two wonderful counsellors, Lee and Rachel. They started my journey with Nicoderm patches and offered me coping strategies on how to be successful in kicking my smoking habit for good. They presented advice on how to change my routine and use a reward system to keep me motivated.
I selected a quit date of April 1, 2016: my 45th birthday and the day before the anniversary of my accident. I was confident and I wanted to quit not only for me, but for my family.
With Lee and Rachel's support I started my adventure. I took control and officially quit March 20, 2016. I wanted to quit and I did -- almost two weeks ahead of schedule!
My family is my strength
I chose to not smoke for the people most important in my life -- my children, my husband, my parents, my entire family and for me.
One day, out of frustration, I barked at my family and ran upstairs to cry and hide in my bed. My family was in close pursuit, they followed me up and showed their support.
They hugged me, laid with me, and told me they were proud of me, and that was exactly what I needed: their unwavering support.
A couple of days after I quit, my daughter Kylene gave me a hug, saying how much she, "loves that mom doesn't smell like smoke anymore!" She pulled me in even closer. I truly believe that hugs and the human touch are powerful, healing and necessary for both physical and emotional well-being.
My family and I continue to count the landmark smoke-free days that add up on the calendar as I reach my goal to quit for good. My stepdaughter Brooke even wrote how happy she was that I quit on the calendar.
I could not possibly do this without them. But the habitual addiction goes on, and I just have to be stronger than my addiction every day.
I'm a smoker who has decided to never smoke again
Every day, being smoke-free is not only a challenge, but a choice. The chemical addiction is almost over as I continue to wear the Nicoderm patch which has played a big role in my ability to quit.
I don't believe that I will ever be a "non-smoker." Instead, I'm a smoker who has decided to never smoke again. This doesn't come without its challenging and frustrating days.
I may not be at my preferred weight, and some days I may feel stressed and anxious, but my family is there for me, and I will be there for them: for my loving husband, my children and someday, their children. Quitting has increased my chances of being around for many more Mother's Days to come.
The Canadian Cancer Society (CCS) has resources available to help people quit smoking at www.smokershelpline.ca or call 1-877-513-5333. You can also speak to your pharmacist or doctor about smoking cessation aids.
Follow HuffPost Canada Blogs on Facebook
MORE ON HUFFPOST:
Top 10 Holistic Tips to Help You Quit Smoking