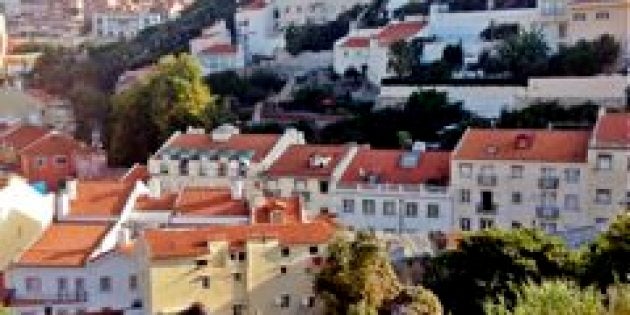 I recently returned from a trip to Portugal with my sister. We planned this trip a while ago, when I was sure I would be moving to Madrid, as an opportunity to travel but way more as a way to see each other and hang out after an extended period of sisterly withdrawal. My sister had been working on her PhD research all summer so this was a vacation for her, and I had been sin familia for a couple of months so this was a really important fix for me.
We both agreed that we weren't interested in going to museums or seeing the inside of more than a few churches, so spent most of our time walking around neighbourhoods and eating and shopping. I am sure the museums in Portugal are fantastic and I am sure there were lots of fabulous insides that we didn't see, but we tried really hard to be confident in our decision to prioritize the other bits instead.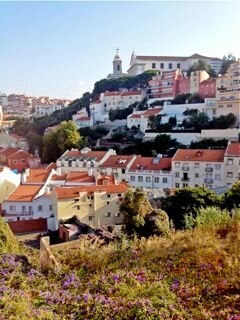 View of Lisbon from our apartment
I think we both felt a little bit guilty about our lack of interest in the historical-historical (as opposed to modern-historical which we were into) aspects of the Portugal experience. This became clear on a day trip we took from Lisbon to Sintra. Everyone told us that Sintra was the most beautiful place ever and not to be missed so, though we had been content in our aimless neighbourhood walking in Lisbon, we agreed to do some official sightseeing on our day trip.
Our first stop was the Sintra National Palace. In the interest of diving head first into the tourism, we spent 20 euro on a combined sight ticket so we could see everything we needed to see around town. My sis and I walked through the palace, and didn't say much. One of us commented on something every now and again. We both noted how we were the only people in a room sometimes without security guards or curators, which we thought was strange and cool.
After the national palace, We started walking towards a second palace, ready to get our 20 euros' worth of sightseeing, but we were slow moving and notably moody. Half way up a giant hill we started arguing about unrelated garbage which, in retrospect, was just a mask for the fact that neither of us was happy with the plan we had set up for the day. Hopping from one palace to another to another just didn't feel like the right way to experience the town that so many people told us we would love. The palace was really nice, but to be completely honest, we both walked through it and felt underwhelmed. And I think we both left feeling guilty about this apparent lack of interest.
I think we had a right to feel guilty; I mean, how effed up is it to stand in a palace originally built in the middle ages and say, "meh" to yourself? I feel like such a shit even writing it. We were so grumpy that we didn't make it to the second palace or anywhere else of note in Lonely Planet's Sintra chapter. The day was a total fail and we were ready to book it back to Lisbon until we found something called a 'tea club' that had fancy bathrooms and cozy outdoor tables that overlooked the whole village. It felt right to eat our apathy so we treated ourselves to the view, a giant cheese plate and subsequent constipation.
My sister and I had a conversation after our fail day in Sintra about why, after traveling so much, certain things about sightseeing just aren't cutting it for us anymore. The last time I traveled to Europe I wanted to see EVERYTHING. I went with a few girlfriends and we had the most incredible time experiencing everything there was to experience before 10 p.m. I think a few of my friends could have done more of the post-10 p.m. experience as well (and sure we were 21 so of course we did a pub crawl) but for me the days felt full and wonderful and complete without leaving our hostels at night.
At the time I was obsessed with Napoleon and got bizarrely ecstatic and took one million pictures any time we were near anything that he touched. My friend Yael did that trip without a camera, which at the time I thought was totally insane. How could she not want to remember our experience with 1,354 pictures like I did? At the time it felt like filling my brain with history and art and monuments, and documenting it so I could look back on it on the regular, was the only way I could possibly understand the overwhelming beauty that was before me.
When this group of friends left I met up with my friend Vanessa for a similar, though more food focused, type of travel. Vanessa and I had lots of conversations about the way we liked to travel -- going to supermarkets counts as sightseeing, avoid meeting anyone, be in bed with a book by 10 p.m. This formula worked for us, just as museum and synagogue/mosque/church-going worked with my other girlfriends.
But then something happened that changed how I would look at travel forever. We got to Budapest. And we met Tom.
Tom owned a hostel in Budapest called "The Loft," that was to be our home for the five or six days we were in the city. It is important to note that I absolutely love hostels and all the amazing best friends you can meet sharing bunk beds and showering in communal bathrooms together. So Tom owned this hostel, which normally means I would hate him, but he was so totally jaded and emo an apathetic about the whole thing that I couldn't help but fall in love with him. Him and his beard, and his half-closed eyes, and his wispy black hair. Sigh. Vanessa felt the same. On our first night in the hostel Vanessa and I ordered Thai food and invited Tom to join us so that we could charm him with our wits. He accepted our offer and our hearts and taught us everything he knew about travel and culture and the indifference with which one can pursue entrepreneurship.
After our Thai food, Tom asked Vanessa and I what we planned to do with the rest of our night. "Uhhhhh, probably just go to bed, we're not really into partying," we responded trying to sound as cool and into 'real travel' as possible. "Oh," he replied coolly, "I hate people who only care about museums and churches and totally ignore the cultural aspects of a city that can only be experienced at night."
MIND. BLOWN. Had anyone ever said anything so eloquently? How could I have missed this extremely profound truth?! And then the internal freak-out: How do I get you to love me again?! Am I sweating?! I'm cool, really! Recover RECOVER!!!
"Totaaaaaaaally," we drooled, "We're just, um, really tired tonight."
You better believe we loved this man enough to take what he said to heart. As ridiculous as it is, this was the actual moment I learned I don't need to see every sight or do everything the guide book tells me in order to be a real traveler. Thank you for blowing my mind with something so obvious, Tom. Of course Vanessa and I did go to bed that night and didn't put his sage wisdom into practice for another couple of days. Yes, we visited plenty more religious buildings throughout our trip and we loved it. But from this moment on, at least in the back of my mind, I knew that there was a certain aimlessness that had thus far been missing from my relationship with travel (You know, the kind of aimlessness that comes from living in a city hint hint).*
This brings us to three years later, mid-September, when I was traveling around Portugal with my sister. We were both feeling like total assholes because we just couldn't see what was so fantastic about a poorly restored though commendably old palace, so got to talking about the kinds of things that still make travel amazing and special and overwhelming for us today. Walking around neighbourhoods, drinking in cafes, looking at architecture, listening to music, buying too many pairs of locally made shoes, reading at gorgeous viewpoints with giant cheese plates -- these are the things we now love and crave when we think about travel. Which roughly translates to: We are SO. EFFING. LUCKY.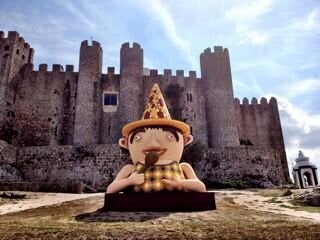 Discovered on a wander through Óbidos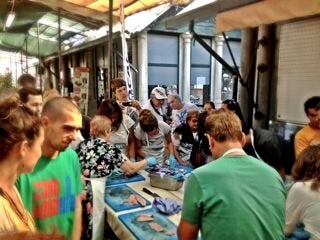 Mid morning at a market in Porto
I had to own the privilege to get over the guilt. Instead of pretending to enjoy what wasn't working, My sister and I spent the second half of our trip doing all the aimless non-touristy touristy things that we love. And this is what made Portugal perfect for us.
I don't regret for one second the way I did Europe three years ago, and I don't regret for one second the way it excites me today. My relationship with travel is just different, and my desperation to capture everything just happens to be more about the people and present way of living than it is about the hundreds of years of history I devoured at a different time. I'm certain my interests are going to continue to change and, who knows, I may even get sick of cafes, and neighbourhoods and social politics and go back to the museums.
Until then, I'm going to be okay with channeling handsome Tom and my friend Yael who totally understood the joys of seeing a city outside of the lens of a shitty point and shoot camera way before the rest of us. And I'm going to be okay with admitting that it feels fantastic.
* In a moment of nostalgia, Vanessa and I recently emailed The Loft with a cute picture of us to say hi to Tom and to see if we were as memorable to him as he was to us. Predictably, we have received no response.