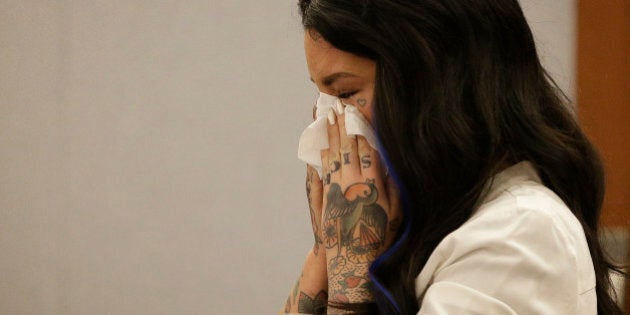 I've never really had a strong relationship with porn. For me, it was always that thing that my boyfriends watched, entertaining to watch together on some occasions. It was a vehicle that made them less stressed out, a time and place where they could indulge in the sexier, sultrier, and occasionally kinkier aspects of their desire. It was there, arms and legs open and ready, totally normal and totally healthy for them to enjoy.
In the past years, the porn industry has been called out for some pretty "dark" behaviours. Feminists have claimed that traditional porn has promoted an unrealistic representation of women, elaborating on the subservient, "down for anything" role that a lot of women have fought to quash in the modern feminist era. As a fellow feminist, I originally laughed at that critique. Porn is entertainment and everyone knows that, right? But some recent events may have made me think otherwise.
I came across a news story about Christie Mack, a retired porn actress who fell hard for a troubled MMA fighter, a man by the name of Jon Koppenhaver, better known to his fans as "War Machine." According to Christie and her lawyers, Koppenhaver demonstrated increasingly violent behavior towards her over the course of their relationship. One night, after their relationship had ended, Koppenhaver entered her home unlawfully, beat her beyond recognition, and left her with a ruptured liver and eighteen broken bones, including several missing teeth. Koppenhaver is now awaiting trial for attempted murder.
Aside from the fact that Mack was a porn star, what does this story have to do with the potentially damaging effects of pornography? The answer isn't in the story itself, but in the subsequent reaction to Mack's decision to publicly speak about her ordeal. Sharing photos and a graphic account of what Koppenhaver had done to her, the eternally revolting citizens of Planet Internet fired back with what they believe was an appropriate reaction to the news of an ex-porn star recuperating from a brutal attack.
People on Twitter, including supporters of Koppenhaver made light of her injuries, asking Koppenhaver, "How many d%&*s were in her when you found her?" Though many tweeted to her defense, there were staggering amounts of people who seemed to believe that a porn star like Mack didn't deserve sympathy because she's a porn star, and was therefore asking for it.
It's very sad to me that the perception of a woman being a "slut who deserves what she gets" doesn't turn off in the moment that the video stops. Essentially, that's what a lot of these videos show though, isn't it? You have a bevy of beautiful women who are eager to please, desperate for sexual attention and they'll do anything to get it. Despite the "real feel" elements of the film making, the porn industry is just like every other film industry -- every movie is ONLY a movie.
I've personally known a lot of men who have forgotten that. Though meant to be safe, fun, and exciting, I have seen men ruin their lives because of pornography. The perception of women in sexual situations bled into their every day lives. It changed how they treated women at work, on the street, and in relationships. I have even known a few men to display more violent behaviors towards women based on the things they have seen done to them in porn films. The reaction to Christie Mack's vicious beating and the idea that she is "only a slut" further proves that porn isn't fun for everyone. It can also be damaging.
Am I proposing the end of pornography? Absolutely not. Am I saying that women in porn need to be treated as human beings? Most certainly. Am I saying that you should stop watching porn and go enjoy a real sex life that involves to physical and emotional fulfillment that can only be experienced between two consensual partners? Yes and no. Porn is fine and well if you understand that porn actors, specifically women, are human beings. They are doing a job, and I am certain that like all people, they don't always define themselves by their work.
Having said that, you should probably have sex with real people. Turn off your perception of what you are seeing on screen, find yourself a person with whom you can have a connection, and enjoy what two people can do in a safe, consensual environment. Watching porn is a lot like watching sports: it's great fun watching the game, but it can be even better on the playing field. As long as both partners are respectful on the same page with what they want sexually, the act itself will be much more rewarding that the perception onscreen.
It is important to understand that trying to adopt the attitudes that you see in porn in your every day life is about as intelligent as adopting a Scarface approach to legitimate business modules. Perspective in films, pornography or otherwise, is all a part of the audience's desire to be entertained. I advise that we keep it that way.