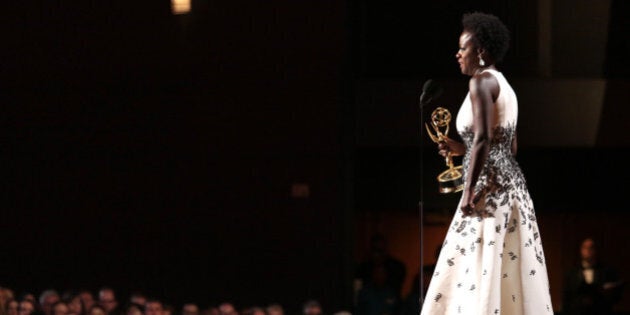 I once had to have "privilege" explained to me.
My best friend explained it in an effective metaphor. She showed me an internet meme of a cat being interviewed by a reporter. The first frame held the caption, "Sir, are you aware that you are a cat?" and the second frame had a photo of the same cat with a shocked look across its face. This, she told me, was an interpretation of the very basic concept of privilege.
Like a lot of privileged people, I originally took the mention of the word "privilege" as a personal offense. No one person in this world is without suffering, so why should we shame entire groups of people for the conditions in which they were born? Perhaps true, but privilege runs much deeper than that, and the existence of shame, though present in many groups, is not necessarily synonymous with the omnipresent privilege. I came to learn that, and it appears as though I'm not the only one.
At the 2015 Prime Time Emmys, Viola Davis made history as the first African American woman to win a Prime Time Emmy for Best Actress in a Drama Series. Quoting Harriet Tubman, Davis said, "In my mind, I see a line. And over that line, I see green fields and lovely flowers and beautiful white women with their arms stretched out to me over that line, but I can't seem to get there no-how. I can't seem to get over that line." The speech was incredibly moving, and it called for writers to create more roles for African American women in Hollywood.
Despite the importance of Viola Davis' impassioned speech, General Hospital actress Nancy Lee Grahn created a tizzy over Twitter, firing back on Davis' speech by saying, "Im a f--king actress for 40 yrs. None of us get respect or opportunity we deserve. Emmys not venue 4 racial opportunity. ALL women belittled." And so the epitome of white privilege reared its ugly head.
It is so easy for us white privileged people to do this. We play Devil's Advocate and say that we need to stop the conversation about race because it is a line that only further divides us. We refuse to admit that there is a problem, and THIS is the problem. At the end of the day, we don't get to say things like what Grahn said to Davis because we are PRIVILEGED and we will NEVER know what it is like to be in Davis' position.
Whether we like it or not, an African American actress will always have more struggles than a Caucasian actress would simply because of the colour of her skin. Caucasian people don't get to tell these women that they understand what it's like, or that they are in the same boat, or that we can even begin to fathom the kind of battle they fought to get where they are. We don't get to criticize a cry for recognition because WE ARE ALREADY RECOGNIZED. At the heart of the matter, this is why Nancy Lee Grahan's comments were completely wrong and uncalled for.
At the end of it, Grahan whole-heartedly apologized and acknowledged the need to "check her own privilege." In my opinion, it was important for her to come forward, stand before the public eye, and testify to her own ignorance, an ignorance that the vast majority of the white population shares. Privilege needs to own up to its existence, especially when it comes to matters of race. To presume otherwise is its own form of racial discrimination.
I don't know if Grahan would have withdrawn her comments if she hadn't received such immediate backlash. I'm hoping that she would have. The awareness of what we put out into the world ultimately speaks to our character. If you can't possibly imagine what it would be like to be in another person's position, don't say that you do. Don't criticize them, don't speak out against them, don't make the issue about something else (i.e. gender equality), and don't pretend that you've been there. Honour the words that women like Viola Davis speak and be aware of what it really means.
Let's celebrate Viola Davis' win today. She has earned it.