Flickr: L. Bernhardt, Resident Loon
I met an industrialist in Montreal last month who believes that art transcends all other ways of connecting with the human spirit. He told me about how, even before his six-year-old daughter was born, he and his wife played carefully selected classical music to accompany specific stages and environments along their first child's journey through life. When she was first brought home and placed in her bed, where she heard Bach's Well-Tempered Clavier for the very first time. No wonder the industrialist and his company played a major role in supporting the Montreal Chamber Music Festival.
Throughout the day, whenever I feel stress in my body or in my mood and behavior, I use classical music to embrace the stress and release it through breathing to achieve an in-the-present-moment frame of mind and reconnect positively and creatively with reality:
1. I lose my thoughts in the beauty of music
2. I align my breathing with its rhythm and pace
3. I give thanks for the joyful energy I feel
Music is like that. Quickly, and without any conscious input, the heart adjusts to each composer's unique language, and frees the mind to let go. When the body learns to align its breathing to the music's ever changing beat, the mind freely observes the flow. Classical music can be a workout for your mind. It is the dance of a yogic spirit in the real world.
I made today's playlist after reflecting back on the Montreal Chamber Music Festival; it offers a range of possibilities for slowing down, finding inspiration and beginning renewal.
• Pacifica Quartet - Shostakovich String Quartet No. 4 Andantino (for losing thoughts)
• Olivier Messiaen, ondes Martenot (for losing thoughts, for the ondes Martenot)
• Marthe Keller, Seiji Ozawa - Honegger Jeanne d'Arc au bûcher (for losing thoughts, for a moment of ecstasy)
• Antonín Dvořák - When Thy Sweet Glances On Me Fall - Cecilia Quartet (for consolation, for young romance)
• Jules Massenet - Massenet Thais Méditation - James Ehnes (for consolation)
• Fabio Bondi, Vivaldi viola d'amore, lute & strings (for consolation)
• Denis Brott, Samuel Sanders - Divertimento / Adagio - Haydn (for consolation)
• Carol Rosenberger - Bartok Dance on the Lawn (for joy and dancing)
• Brentano String Quartet - String Quintet In D Major, K. 593 : Allegro (for joy and dancing)
• Danny Kaye - Tschaikowsky (And Other Russians) (for joy and dancing)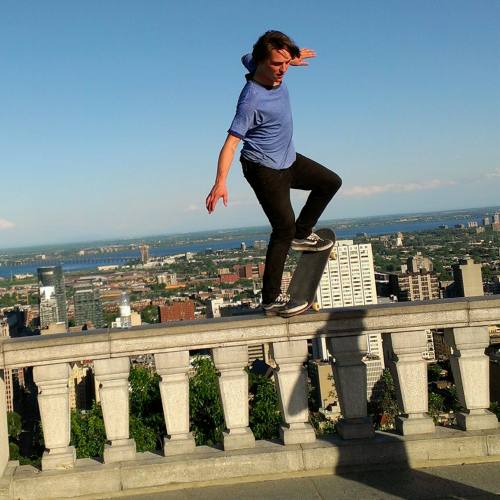 Skateboarding in Mount Royal Park Above Montreal, by Larisa Pilinsky, using HTC's new One S smartphone