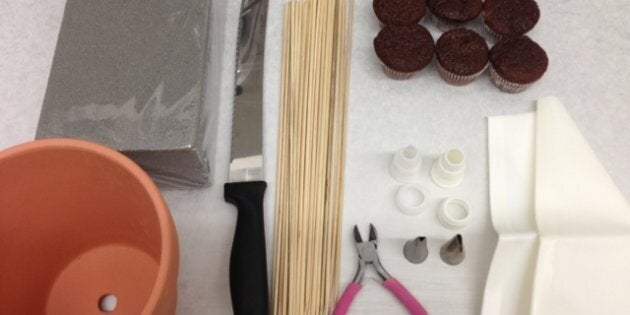 Does your mom have a sweet tooth? This Mother's Day, indulge her by making a cupcake bouquet! This six-step bouquet will show your mom how much you love her and make this Mother's Day one that she won't forget. All you need is some basic assembly tools and lots of love!
What you'll need from the dollar store or hardware store:
Floral foam
Nice ceramic clay pot
Bamboo skewers
Ribbon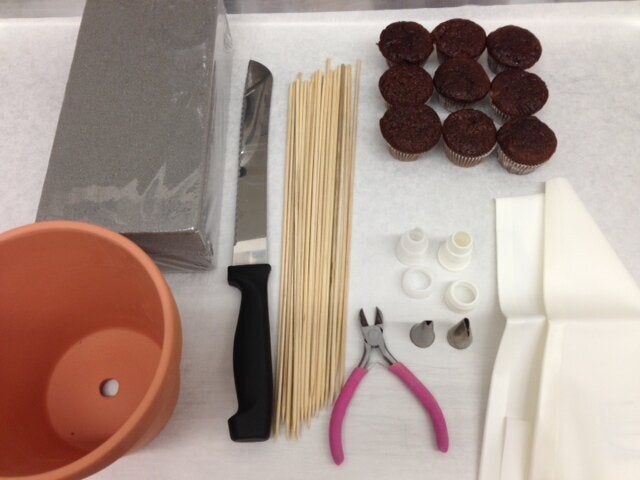 Bake cupcakes. Using mom's favourite flavours, bake some cupcakes - either mini or large - depending on how big you want your bouquet to be.
Make colourful icing. Using pastels or mom's favourite colour, make some icing to decorate your cupcakes with.
Pipe flowers onto the cupcakes. Add your frosting from the previous step into to piping bags and pipe flower petals on the cupcakes using piping tips.
Freeze the cupcakes. Let the cupcakes sit in the freezer for 15 minutes. This will harden the icing and make the cupcakes sturdy for creating your bouquet masterpiece.
Poke skewers into cupcakes and pot. Using bamboo skewers (BBQ style), poke holes in the cupcakes and insert the skewers into the foam. Gently arrange the cupcakes to look like a floral bouquet.
Decorate the pot. Place your bouquet into the clay pot and tie it with ribbon. Voila! Your edible Mother's Day gift is complete. Your mom is sure to eat these cupcakes quickly, so we can't guarantee that it will last as long as a flower bouquet.
For more tips, to bring mom to a cupcake bouquet-making class or to have a cupcake bouquet delivered, contact the cupcake experts at Le Dolci. Call Cherry at 416-262-3400 or email info@ledolci.com.