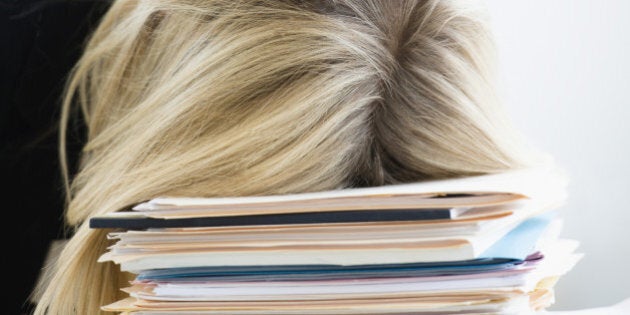 A few weeks ago, I dialled into a conference call. As usual, everyone on the line introduced themselves. One man explained that his daughter, a Grade 9 student, was sitting in on the call as part of Take Our Kids to Work day. I cringed, thinking "This poor ninth grader will think tedious conference calls are what she can expect from her future working life."
Then it hit me: This is what she can expect from her working life.
We often speak of careers in aspirational, passionate terms. But truth be told, even dream jobs include some tedious tasks, such as conference calls. Most of us adapt to these mundane challenges, taking the good with the bad. Yet the proportion of bad may come as a surprise to many young, idealistic workers.
I remember my first day at my first proper job. It was filled with so many boring, administrative tasks that, by the end of the day, I was almost too exhausted to talk. By the end of my first week, I was panic-stricken, thinking that I was probably facing 40-plus years of the same.
So how do you prepare your kids for the likelihood that some work days, perhaps even a lot of them, won't feel especially fulfilling? According to professionals with children, that conversation needs to come early and often.
Bryant McBride, chief executive officer and co-founder of Boston-based Burst, a mobile video-sharing app, said you should talk to your children about the harsh realities of working life "earlier than you think you should."
But that doesn't mean bursting their bubbles, exactly. Just bringing them closer to earth.
"We talk a lot about entrepreneurship with our kids -- the importance of turning dreams into action plans, the joy of creating something from nothing, experimenting until you find a solution, never giving up, reframing problems, sharing credit with teammates, staying calm when bad things happen and celebrating even the smallest victories," Mr. McBride said.
Mr. McBride believes in thwarting career disillusionment before it strikes and teaching kids resiliency at an early age.
"It is one of the reasons I love to coach hockey to really little kids -- the first thing you learn is to get back up when you fall down," he explained.
Other professionals and parents believe that the best way for children to learn about the reality of working life is by being open about real-life experiences.
Susan Varty, co-founder and managing partner of HeadStart Social Inc. in Toronto, said that she often talks to her kids over dinner about the challenges she faces as an entrepreneur. This past summer, for instance, she set a challenging sales quota for herself, and she shared her goals with her 10-year-old daughter and six-year-old son. Ms. Varty said she believes that hearing about her progress on a regular basis taught her daughter, especially, an invaluable lesson about the amount of work it takes to achieve success.
Teaching by example was an approach that Mark Orlan, now the executive director of Information Services and Technology at the Schulich School of Business, took with his three children, two of whom are in their 20s and one a teenager.
Mr. Orlan spent many years as a technology entrepreneur and said, as a result, his kids experienced first-hand the ups and downs of being self-employed. Mr. Orlan believes that being honest is the best approach, and that it's important for younger workers to understand that their first job, despite its frustrations, remains a "door to the future."
"How many of us loved our first job? It was a means to an end, and I think you have to emphasize that," Mr. Orlan said.
Another good reason for broaching the career discussion early is it that lets children start imagining what they would like to be when they grow up -- and those early thoughts are often indicators of one's future career, according to Nicole Williams, LinkedIn's official career expert.
As a child, she said, she wanted to be a news broadcaster. Though she eventually ended up working as a careers columnist, both jobs draw upon her talent of getting people to share information.
"I love asking people what they thought they'd do for a living as far back as they can remember. What is remarkable is that, while the title may have changed or be different, if you look at the intention and essence of the career, you'd be surprised how bang-on we are at figuring out our career paths early in the curve," Ms. Williams said.
I'm pretty sure I wanted to be the next Karen Kain. Though I can't say my childhood ambition to be a prima ballerina has shaped my current role as CEO of a technology start-up, I suspect that even the artistic director of Canada's National Ballet has to sit through the occasional boring conference call.