If you aren't old enough or you're not from the Canadian prairies, you probably haven't heard of an amazing man who fostered the sport and spirit of wrestling and amateur sport in Canada, a man who competed in three Olympic Games, and a man with a twinkle in his eye and a smile to share, my Great Uncle, James Trifunov.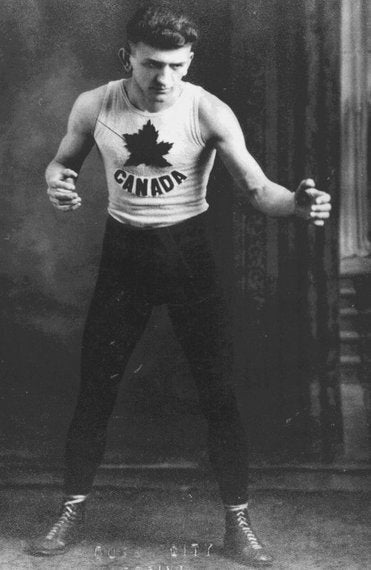 Uncle Jim was a featherweight and bantamweight self-taught freestyle wrestler who competed in the 1924, 1928, and 1932 Olympic Games, won 10 national championships between 1923 and 1933, and was awarded a gold metal in the 1930 British Empire Games (now known as the Commonwealth Games). According to the Saskatchewan Sports Hall of Fame, he had only one defeat on Canadian soil.
I was just a kid when Uncle Jim and Aunt Mary would come to Regina to my Grandmother's house from Winnipeg for Christmas, Easters, and sometimes Thanksgivings. I remember him fondly; he spoke in a voice tinged with a far-away Slavic accent, always happy, always interested in what my brother and I had to say for ourselves. I was too young to understand his passion for wrestling and his outstanding achievements, and I never knew of the difficulties he went through to make it to world-class competitions (literally).
Jim immigrated to Canada from Serbia with his family in 1910 and settled in Regina, Saskatchewan, where, I suspect, his early life must have been difficult. His father died a few years after the family relocated, and his mother had four children to take care of. Then there was the climate. Being from Saskatchewan myself, I cannot imagine what it must have been like trying to survive without central heating on the harsh Saskatchewan prairie in the winter. Hard times.
In 1922, Jim took up wrestling at the Y.M.C.A. despite the Y's lack of a formal wrestling program. Still, it sent a team to the Canadian championships and the following year, Jim won the Canadian bantamweight championship. In 1924, he was selected for the Olympic wrestling team.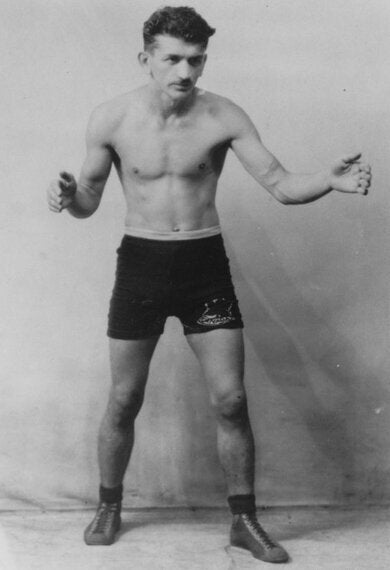 Back in those days, the Canadian government's athletic funding was rather limited, leaving athletes scrambling to pay their own way to compete in the Games. In 1924, Jim's colleagues took up a collection to send him to Paris, and in 1928, friends and help from the Saskatchewan government got him to the Amsterdam Games, where he won a bronze medal for Canada.
"For each of his three Olympic appearances," says the Canadian Sports Hall of Fame (CSHF), "he had to take his annual two-week holiday plus an additional four weeks leave from [his job at] the Regina Leader Post. In 1936, the Leader Post sent him to Winnipeg for two weeks to help with the administration of the Free Press."
Those two weeks became 57 years and Uncle Jim became an active leader in Winnipeg's amateur sport community. He started off with the Winnipeg Y.M.C.A. wrestling club, then coached at the University of Winnipeg. From then on, his list of accomplishments grew out of his love of sport:
President of the Manitoba Wrestling Association for 25 years;
Director of the Canadian Amateur Wrestling Association;
Director of the Winnipeg Y.M.C.A.;
President of the Winnipeg Bowling Association (1950-52);
Chairman of the boxing and wrestling committee of the Canadian Amateur Athletic Union (1952-1960);
Coach for the Canadian wrestling teams at the 1952, 1956, and 1960 Olympic Games;
Team Manager for the Canadian wrestling teams at the British Empire Games (1954) and the British Commonwealth Games (1970) where his wrestlers won nine medals in ten weight classes;
Inducted into Canada's Sports Hall of Fame (1960);
Inducted into the Saskatchewan Sports Hall of Fame (1966);
Chairman of the Manitoba Boxing and Wrestling Commission;
Diploma of Honour International Amateur Wrestling Federation (1976);
Inducted into the Manitoba Sports Hall of Fame (1981);
Founding Director of the Manitoba Sports Federation;
Chairman of the Manitoba Sports Hall of Fame & Museum Inc.;
Member of the Order of Canada (1982).
"Jim Trifunov was the President of the Hall of Fame when they hired me as Executive Director back in 1990, so I knew your great uncle fairly well," says Rick Brownlee, Sport Heritage Manager at Sport Manitoba, "Jim was a role model who taught me what a solid work ethic could accomplish, what a few kind words could do to encourage, and what a firm handshake meant."
"He just happened to be the most energetic octogenarian I had ever met."
Uncle Jim was a true gentleman, polite, friendly, and always neat in a jacket and tie. My family remembers him fondly as a kind, happy, generous man, the kind of man who could carry on a conversation with anyone, and a man who loved to be with family. He was an absolute delight.
My brother remembers him as a gentleman of a by-gone era who taught him the difference between Greco-Roman wrestling and the campy 1970s Western Canadian Stampede Wrestling (that bore the Hart brothers).
"When I was seven, we went through the Sears Christmas Wish List catalogue to see what I would buy with one million dollars," Danny says, "It stopped at about $100.00 when I got bored of it. He thought it was great fun."
Though I didn't get to see much of Uncle Jim as I got older, he continued to do amazing things for sport, wrestling, and for the people of Manitoba. The CSHF explains that Jim "worked tirelessly to achieve a permanent home for the Manitoba Sports Hall of Fame, which opened five days before his death."
"When we finally cut the ribbon to open his dream of the Manitoba Sports Hall of Fame Museum in 1993," Rick Brownlee recalls, "Jim as wheelchair-bound and a shell of his former self. But he cut the ceremonial ribbon nonetheless and I saw a spark in his eyes that day that I had not seen for quite a while."
Jim Trifunov changed the face of Canadian amateur sport and built a foundation for future athletes with a passion I had never imagined. I'm fortunate to have known him, if only for a brief time, and it's the memory of his spark that still brings a smile to my face.
*Images courtesy of the Saskatchewan Sports Hall of Fame