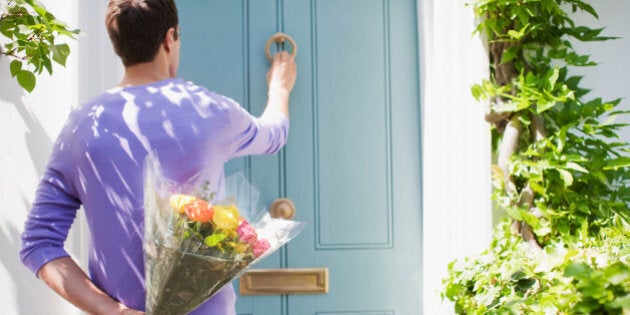 Nice guys finish last. There is some debate over how this quote came to be, but there is no doubt that it came from a cranky New York Dodgers manager, Leo "The Lip" Durocher, a man famous for arguing with umpires. During the summer of 1946, Durocher's response to sports reporter, Red Barber`s question, Why don`t you be a nice guy for a change? prompted an answer that would morph into the famous line:
"Nice guys! Look over there. Do you know a nicer guy than Mel Ott [NY Giants coach] ? Or any of the other Giants? Why, they're the nicest guys in the world! And where are they? In seventh place! Nice guys! I'm not a nice guy -- and I'm in first place."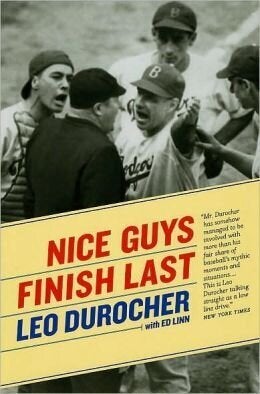 That fall in the Baseball Digest, Durocher's quote about nice guys in seventh place boiled down to nice guys in last place, and the phrase was born.
So it's that idea of Durocher's that nice guys perhaps aren't tough enough to win pennants or to be in first place that has captured our imaginations and damned nice guys to be unworthy, spineless, second-rate wimps. But is it really true, or have nice guys just given up and accepted the assumption that they're unworthy, spineless, second-rate wimps?
Nice guys: It's all about perception
I had the opportunity to speak with First Gentleman, Zacchary Falconer-Barfield, at The Perfect Gentleman in London recently and I asked him if gentlemen -- i.e. nice guys -- the considerate, polite, chivalric types, have more luck with women. He said that the idea of women being attracted to bad boys is short-term and the appeal of the bad boy disappears quickly. Gentlemen have a lingering effect and are the ones women want to marry or have long-term relationships with.
A Psychology Today article speaks to this. In Do Nice Guys Really Finish Last? Theresa DiDonato says that "until a woman is interested in establishing a steady partnership, she may sacrifice niceness for other desirable attributes", and suggests that for short-term partners, women may choose attractiveness over kindness, but for long-term relationships, kindness and warmth will have more importance.
"Men confuse 'nice' with 'weak' and this is the problem," Falconer-Barfield says. "Being nice is being polite and respectful; someone willing to compromise. Being weak is lacking in self-confidence, but this is a temporary state of being, and it's all in your head."
I'm always thinking about the social prejudices that men live with and from what I can tell, the idea of masculine weakness is associated with the feminine and to be thought of as feminine has been a cardinal sin in the world of men (though I've never been able to understand why). That pressure to be strong, to be the man's man, to be emotionless, to be the best, is the patriarchal expectation of males and it's that kind of pressure that seems to sort out the men from the boys, or if you like, the jerks from the nice guys. But this expectation only exists if you say it does; if you don't, you're free to be who you want to be.
Who really finishes last?
While looking for graphics for this post, I found a meme that really spoke to me: Nice guys don't finish last, boring guys do. Nice is always better than nasty, but nice doesn't have to mean boring. Interesting individual characteristics blend well with "nice": one can be nice and bold, or nice and adventurous, or nice with a sense of humour. Nice guys can have some edge to them, just like bad boys, but they're probably more present and attentive.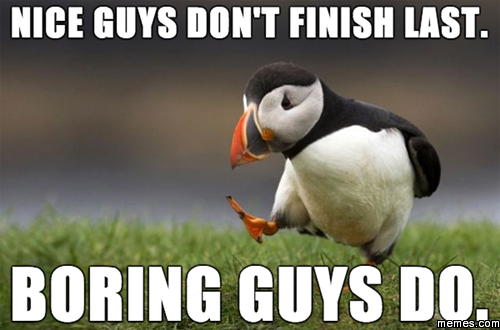 If I created another meme for this post, it would be Nice guys don't finish last, guys that try too hard do. There are nice guys out there who have the best intentions but cater too much to other people and invariably cast their own needs aside in order to please others. Then there are the nice guys who don't know how to say no and can easily be taken advantage of by those looking out for their own gain. Nice guys like this run the risk of turning into doormats, and honestly, people don't respect doormats; they wipe their feet on them.
Scientific experiments discussed in this short video about nice guys finishing first explains that "[f]rom an evolutionary perspective, animals which contain genes that promote nice behaviour are likely to have more offspring. It's the basic underlying code for altruistic behaviour -- you help me and I'll help you. And ultimately, we'll all do better! So while some mean, cut-throat, or envious people may temporarily exploit and gain from others, in the long run, not only nice guys, but nice people, really do finish first."
A friend of mine who has had several long-term relationships (some with bad boys) recently met a nice guy who has won her over. "It is a long race and the nice ones win," she says, "I finally found my "nice guy" and I cherish him. He is my winner."
So to all of you lovely, nice men out there, don't give up; it may take more time for you to be fully appreciated, but your time will come. In the words of philosopher Jean-Jacques Rousseau, Patience is bitter but its fruit is sweet.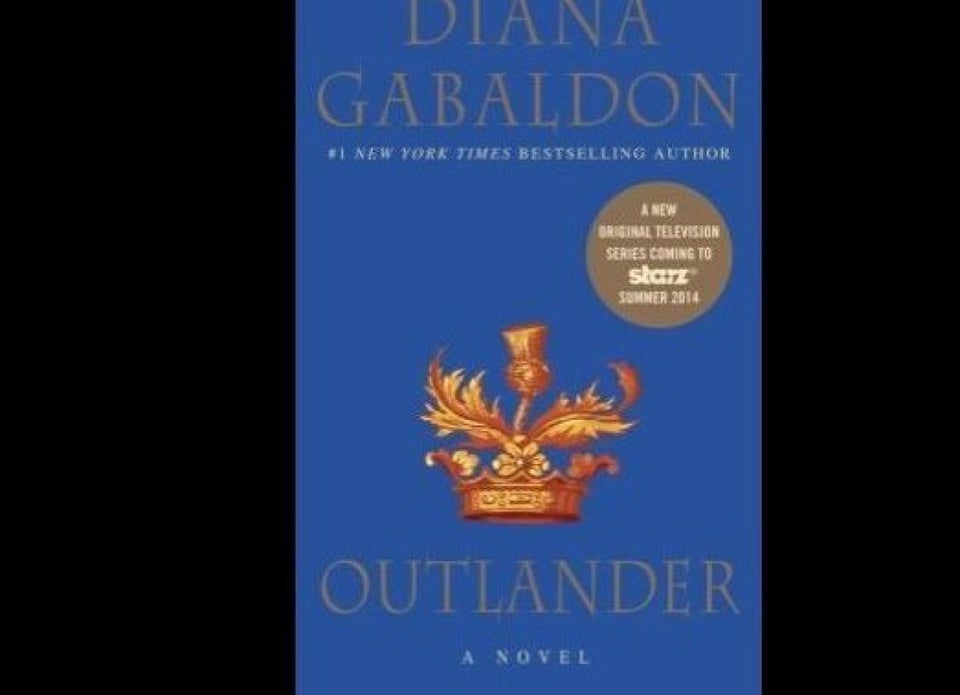 Guy friendly romance novels