Loretta Hostettler via Getty Images
In my work as a family historian, I have found that sometimes the most hair-raising tales are the ones that aren't shared by the camp fire but the ones lurking quietly in the background. Families share genes, homes and memorable moments. Yet even the most open families don't always share the full truth. As the family tree grows, so too do the branches that conceal the secrets and what was once "a hunch" or well-known "secret", disappears altogether from our history.
I was recently reminded of this when I was doing some research for my own family. Using AncestryDNA, I was able to connect with cousins who share common great grandparents with me, going back over five generations. The oldest of these is my husband's 95-year-old cousin once removed. As we began to discuss our own family histories, what we discovered is actually quite surprising: the woman he thought was his mother was, in reality, more likely his grandmother.
Since he was the youngest in a large family, it is probable that his real mother was actually one of his older sisters. As shocking as this is, it was actually quite commonplace in a culture that once frowned upon "illegitimate" births. Imagine finding out at 95 that the person you called your mother was not really your mother at all?
What are the hidden roots of your family tree? Is your history really as black and white as you believe? In the spirit of the ghost and ghouls season, here is a bare-bone guide for uncovering your family secrets this Halloween:
Start at the top: To find out about your past, start with yourself. Compile all of your records and build a detailed picture of your own story. Look at those of your siblings, first cousins and aunts and uncles. Reflect on all of the family members that you may have come across in your lifetime to develop a rough sketch of your family history.
Quiz your family: Often times, people wait too long to ask their parents and grandparents important questions about their family's history. Don't wait. Ask now. Compare one person's take to another's. Are they the same? What inconsistencies exist and how can they be explained? Also, check in with other family members to see if anyone else has already started building your tree.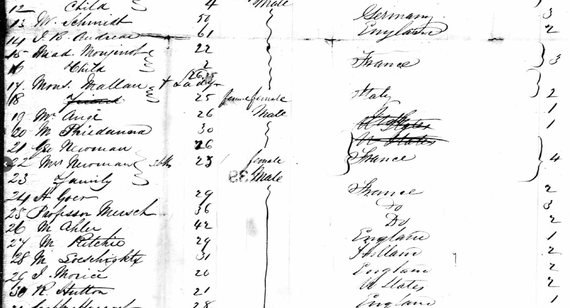 [Example record New York Passenger Lists,1820-1957]
Follow the sheep: The black sheep that is. Black sheep are the family members who go against the grain. The family's "black sheep" is usually a good place to start digging for family secrets because they tend to leave deep paper trails. And, as the "black sheep," they sometimes get into some messy stuff. Aside from family lore, the notes in census records can also give you a sense of who the black sheep of a generation may have been. For example, the below record lists one of the family members as a "drunkard". Try checking court records and newspaper clippings for more information about your family's skeletons.

[Example record where a family member was listed as "drunkard"]