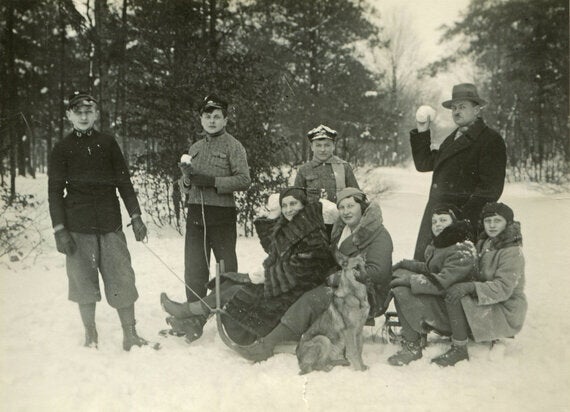 Almost 60 per cent of Canadians will spend this holiday season with at least two generations of their family. With all this time spent together, it's nice to have fun projects to collaborate on. Some obvious activities come to mind: cooking a big family meal, holiday shopping or outdoor pursuits like sledding or building snowmen. All are fun ways to enjoy time with your loved ones, but allow me to add another idea to the list -- building your family tree and looking in to your past.
Genealogy, the official name for family history research, is a fun, addictive hobby with often great rewards. The family bonding that comes from discovering stories about shared ancestors is like nothing else, believe me. I have been researching my family history since I was a teenager and my relatives love hearing about my new discoveries when we're together each holiday season.
The holidays are an ideal time to get started. With everyone gathered together you can have conversations and share stories about your ancestors that you might never hear otherwise; stories that can help answer that most difficult of questions, who do we think we are, really?
Family history research might seem like a daunting task, but getting started is easy.
I always tell people the first step is talking to your family. So this holiday season, when you're all together, here are three things you can do to begin the journey into your past.
1. Dig up old family photos.
Remember that shoebox in the attic or that trunk in the basement full of old papers and pictures? Bring that out, dust it off and sort through what's inside. Check the backs of photos for names, places and dates. Old papers can also be a treasure trove of information. Look for names, places and gems like signatures. There's something almost haunting in seeing the signature of an ancestor who lived 100 years ago.
2. Talk to the older generations.
Ask your parents or grandparents for their stories. Ask what they remember most about their parents, their grandparents, aunts and uncles. Ask about the first generation of your family to arrive in Canada. Ask for stories about their arrival or, if your family is more recently arrived, ask the older generations for stories about where they were born and what they remember about growing up. Write everything down or, better yet, interview them on video.
It's free to build a family tree on Ancestry.ca. Just start with yourself and add in the names and dates you've collected with your family. Then you can attach photos, videos and stories and use the collection of historical records on the site to find out even more. In fact, hundreds of millions of the historical records on the site will be accessible for free from December 26 to December 29.
For me, the true meaning of the holiday season is spending time with the people you love best. So whatever you decide to do, enjoy it, be safe and have fun!