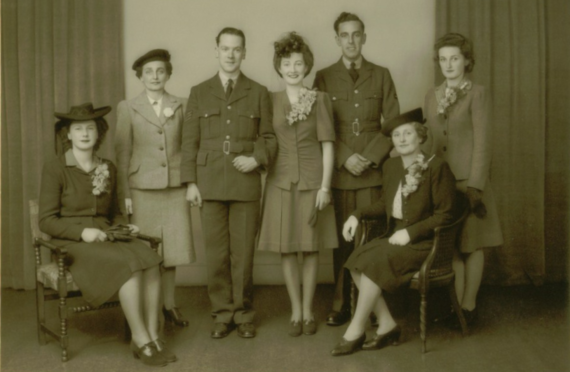 Photo of Walter Thurgood and Margaret Parking, Lesley's parents, on their wedding day
For many Canadians, February is one of the dreariest months of the year. It's cold and dark with no signs of spring for several weeks to come.
Despite this, I love February. Especially this year as my husband and I are celebrating our 30th wedding anniversary. Looking back on the last 30 years of our marriage has inspired me to think more about the love stories in my family's past and of all of the marriages that took place in order for me to be here today.
If you're looking for a way to beat the winter blues, take a look at the circumstances that surrounded the marriages of your ancestors and discover what kind of lives they lived with their spouses. You could find a love story that warms your heart, if not your toes, this winter.
Here are some helpful tips to get you started:
One of the most effective ways to start is to ask your relatives what they know, whether it's names and dates or stories and secrets. By talking to my family, I discovered that I had a great grand-uncle who wrote a book of poems describing his love for his large family in Derbyshire.
The next thing to do is to start a family tree online and search for your family in historical marriage records, which tell you when and where a marriage took place. Then, pairing marriage records with other historical documents, like birth and death records, you can shed more light on the details of your ancestors' lives. Using a combination of records I have actually discovered that many unions in my family must happened under pressure or for convenience, and that some marriages were never even finalized with a legal certificate.
Once you've secured marriage details you can dig through census records to gather additional information about a person's life. Census records are rich in detail and reveal where a family lived, who lived in the household, who worked and what he or she did for a living, who went to school and even how much money the family had in their name. All clues that, when pieced together, will paint a bigger picture about a family's life.
Then, collect old wedding photos and letters and add them to your family tree to enhance the story even further. I always find that after I've discovered new information from the records about my ancestors, I have a greater appreciation for the people and faces in those old photos, because I start to really understand who they were and what life must have been like for them.
So while many others will spend February worrying about the snowy roads and blustery weather, I will think about the marriages of my ancestors, my own wedding anniversary and all of the people whose lives led to me being here today.